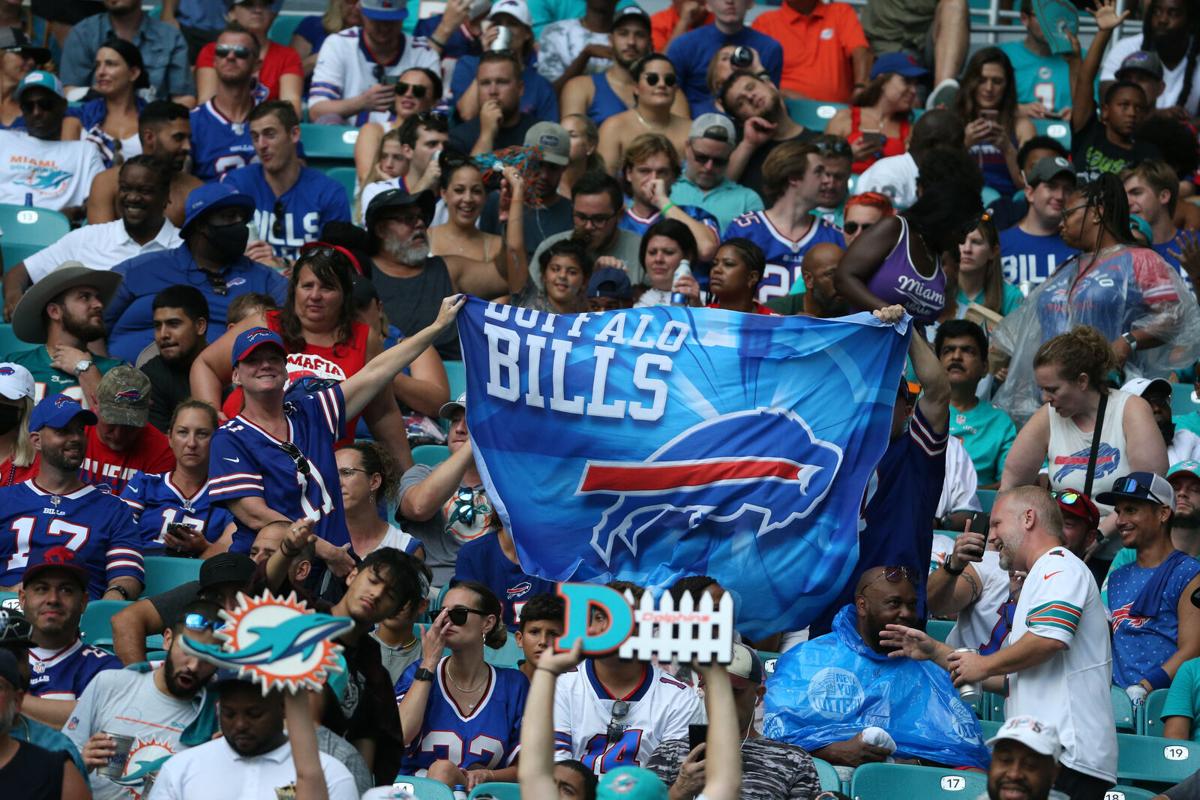 Remember when football was just football, and not political football?
Those were the good old days, when you could go to a Buffalo Bills game and not have to think about the worldview of the person sitting next to you.
We were all Bills fans then, and that was all that mattered. Whatever tribes we belonged to outside of the stadium, inside we were all one. Just by rooting for a football team, we belonged to a larger team.
It's different now, of course. We aren't just one big happy family anymore. We are vaccinated – or not. We are happy that only the vaxxed can come to Sunday's game – or we are angry about it.
All this burst into the open at the home opener, when Bills fans by the thousands ignored a mask mandate. Reports surfaced that off-duty cops mocked those who obeyed the mask rule as "morons." It is a word that other fans think applies more accurately to a certain un-vaxxed slot receiver.
This sort of fan-versus-fan dynamic predates the pandemic. Hereabouts it goes back at least five years, to the day when Colin Kaepernick came to Buffalo with the San Francisco 49ers. T-shirts sold outside the stadium that day showed him in the crosshairs of a gun: "Wanted: Notorious Disgrace to America."
The 2016 election was then only weeks away, and its profoundly divisive nature had made its way to the newly named New Era Stadium. That day really was a new era – one when we brought our politics into the grandstand with us. Some booed the opposing quarterback not solely because he was the opposing quarterback, but because he had made national news by kneeling during the national anthem. And maybe we learned something about some folks in our section – how they felt about the movement known as Black Lives Matter.
None of which is to say that we should go back to a time when there were no politics in sports. Such a time never existed.
Politics has permeated the Olympic Games since ancient Greece. Its city-states temporarily set aside wars so the Games could go on. And today's Games – with their anthems and flag waving – are politics on a global scale. The Winter Games, coming in February, will be in Beijing. The U.S. State Department calls China's persecution of its Uyghur Muslim minority a genocide and a crime against humanity. If genocide is not reason enough for a boycott, what is?
The Bills' opponent Sunday is the Washington Football Team. Washington, as it happens, is the place of our national political discourse – and of our national political discontent. The game will be played at Highmark Stadium, which is itself at the center of our local politics nowadays: Will we build a new stadium? And if so, who will pay for it?
The Romans would understand all of that. They built the Coliseum. (Though they might not understand the need for a new stadium; theirs is still standing.)
The NFL is a league built on politics. Most of its money, which is to say most of its power, comes from its mammoth TV contracts. The Supreme Court ruled in 1957 that the NFL's method of negotiating broadcast rights violated antitrust law. Then Congress passed the Sports Broadcasting Act of 1961, which offered the NFL a limited exemption from such law. Forget the Immaculate Reception. That's the most important pass in NFL history. The league's real MVPs are its lobbyists.
And so today comes a game where some Bills fans are welcome, and others are not. Matters of public health should always be above politics. Sadly, that's not where we are. Politics, like a virus, infects everything these days.
Sports used to inoculate us against all that. The stadium was our safe space. We could go there and leave our troubles on the outside.
We can get back to that – to a day when the worldview of our seatmates is something of which we are blissfully unaware. And there is nothing like a home-team win streak to make the real world fade away for three hours of an autumn afternoon.
Maybe Sunday can be the start of that. Maybe then we can get back to the good old days.