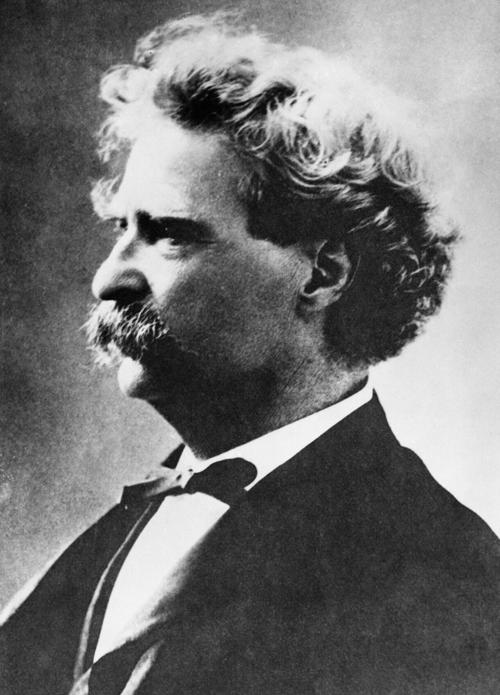 Samuel Clemens left Buffalo 150 years ago today. He was happy to get away from us.
You know him better by his pen name, Mark Twain. He is probably the most famous citizen Buffalo ever had. Millard Fillmore and Grover Cleveland were presidents, but they are no match for Twain as household names. Heck, they aren't even a match for Huckleberry Finn, Twain's greatest creation.
In 1963, a three-alarm blaze broke out in the house and it was narrowly saved from destruction. After seven years of effort to raise money to save the house, Buffalo's Twain mansion was torn down.
Clemens came to Buffalo in August 1869 as associate editor and part-owner of the Buffalo Morning Express. He left 18 months later – on March 18, 1871 – with an ailing wife and sickly son. He had arrived with high hopes and departed amid great sadness. Two weeks before leaving, he wrote to a friend that he had come "at last to loathe Buffalo."
How he felt in that moment would come to infect the way scholars viewed Twain's time in our town. Albert Bigelow Paine, his literary executor, wrote a biography published in 1912, two years after Twain's death. Paine's take: Twain lived in social isolation in Buffalo, and his writing there was insignificant to his literary development. Those assertions would be accepted as gospel by dozens of Twain biographers and critics in the decades to come.
Until, that is, Tom Reigstad came along. He is our foremost local scholar of our foremost former citizen. His well-researched book – "Scribblin' for a Livin': Mark Twain's Pivotal Period in Buffalo" – disposes of the notion that Twain had few friends here, or that his writing while in Buffalo is of little note. We will get to all that in a bit. But let's begin at the end: on the day Twain left us.
Olivia Langdon Clemens, his ailing wife, was carried out of their home on a mattress and taken to the Exchange Street train depot. By the end of the day, Twain and his wife would be at home at a Langdon family estate in Elmira, where they would care for Langdon Clemens, their 4-month-old son, who had been born prematurely in their Buffalo home. They would move next to Hartford, Conn., where their son would die of diphtheria, in 1872, at 18 months old.
Jervis Langdon, Twain's father-in-law, was a wealthy businessman in Elmira who owned a coal monopoly in Buffalo. He helped stake Twain to his one-third ownership of the Express while Twain was courting his daughter. They were married in Elmira in February 1870 and, after a joyous ceremony, took a train to Buffalo and then a horse-drawn sleigh to 472 Delaware St. (not yet Avenue). There Olivia and her family surprised Twain with an astonishing wedding gift: a newly furnished mansion complete with coachman, cook and maid.
While Delaware Avenue has been a fashionable address for Buffalonians for almost two centuries, exactly where along the most wealthy and influential lived has moved further north as time moved
Their first months as newlyweds passed happily. Then, in August, Olivia's father died of stomach cancer. In September, a dear friend of hers died of typhoid fever in the Clemens home. In November, Langdon was born sickly and frail. And then, in February, Olivia, too, fell ill with typhoid. Their happy home was now more hospital than haven. Twain wrote to a friend: "If that baby goes on crying 3 more hours this way I will butt my frantic brains out."
They decided to return to Elmira, where Olivia's family could help care for her and her son. Twain took a 60% loss in selling his investment in the Express. He railed against the taxes he owed in Buffalo. And he described his final weeks here as a "state of absolute frenzy" and being "buried under beetling Alps of trouble."
So it was, on March 18, that Olivia was carried from a home that had begun for them as a romantic fairy tale and ended, little more than a year later, as a place to flee and forget.
As it happens, Reigstad took a seminar on Twain while in graduate school at the University of Missouri. That would prove to be a life-changing event.
"I grew up in Buffalo and had a dim awareness of Twain's brush with the city," he writes in the prologue to his 2013 book, which was expanded in 2018. "When delving into Twain's Buffalo period for my course at Missouri, I realized that books and journal articles consistently wrote off the Buffalo era, describing it as insignificant to Twain's literary development, as dominated by personal tragedies, and as a period of sparse social contact and bleak weather."
"Accusations of ill intent, spurious and otherwise, are at the heart of our political moment. Mark Twain reminds us there is nothing new in that," writes Erik Brady.
Reigstad, a professor emeritus of English at SUNY Buffalo State, spent decades researching Twain's time in Buffalo. What he found was that Twain had a wide network of friends here. Many can be found today in the earth at Forest Lawn Cemetery. "This roll call of names, ghosts from Mark Twain's Buffalo past," Reigstad writes, "add up to a sizeable social register of family and friends who touched Twain's life in Buffalo."
Twain held onto many of these friendships for the rest of his life. It is why, almost 15 years after leaving Buffalo, he gave his manuscript for the "Adventures of Huckleberry Finn" to the Young Men's Association, a predecessor of the Buffalo and Erie County Public Library. These handwritten pages are the crown jewel of American letters. (Don't take my word for it: Ernest Hemingway once said, "All modern American literature comes from one book by Mark Twain called 'Huckleberry Finn.' ")
Twain wrote more than 100 pieces for the Express, including editorials, reviews and comic pieces, while also writing a monthly column for Galaxy magazine and some chapters of his 600-page book "Roughing It." When he left Buffalo, he simultaneously left behind the grind of daily journalism for the loftier air of literature. He arrived here as a bachelor journalist and left as a married man on his way to literary lion.
Reigstad says his book is not meant as a defense of Buffalo. It is, instead, a painstaking examination of the historical record. Many scholarly books suffer from the exactitude they require. This one is lively and entertaining. Publishers Weekly called it "a thoroughly researched love letter to a great American city and author."
The scene of Olivia being carried out of her dream home, flat on a mattress, remains poignant 150 years later. It is true Twain left us in sadness. It is also true he gifted us the greatest treasure in American literature.