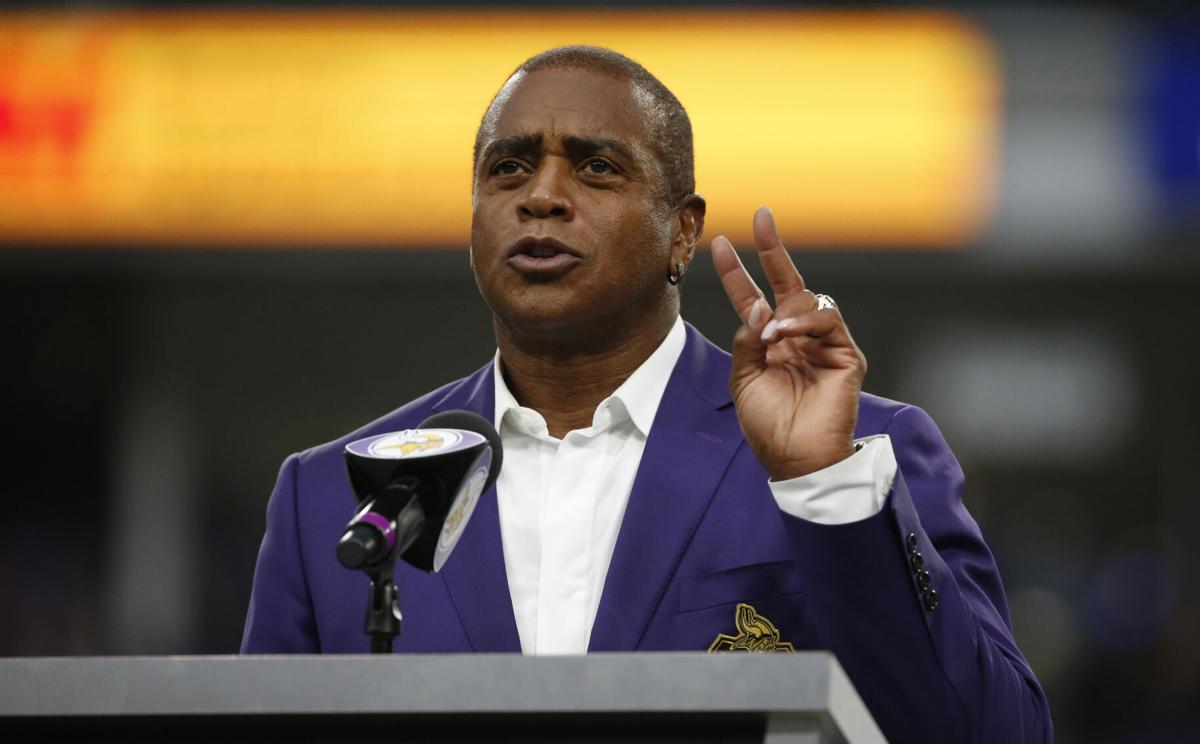 There's always a Buffalo angle.
Phylicia Rashad made news the other day when she tweeted that Bill Cosby's release from prison corrected a miscarriage of justice. For this she was widely criticized, and then she apologized.
The Buffalo angle is her ex-husband, Ahmad Rashad, who played for the Buffalo Bills in 1974, when O.J. Simpson was his roommate on the road. They were so close that when Ahmad married Phylicia, in 1985, Simpson was his best man – and Cosby, her sitcom husband, walked her down the aisle.
There is a famous photo of all of them at the altar. It remains startling no matter how many times you see it. There is Rashad, handsome in his tux, flanked by Simpson and Cosby – who were, at that moment, two of the most beloved figures in America.
Now, of course, not so much.
The marriage, which ended in divorce in 2001, produced Condola Rashad, who has her father's doe eyes. She followed her mother into acting and has a recurring role on Showtime's "Billions" – as does Jeffrey DeMunn, a Buffalo-born graduate of Nichols School.
The wedding photo makes the rounds online every few years. Travon Free, a former writer on "The Daily Show," once tweeted it with this comment: "Yo Ahmad Rashad is the Michael Jordan of terrible groomsmen."
Jordan is an apt reference. He and Rashad met when Rashad was an NBA reporter for NBC. They are close friends to this day. The same cannot be said for Rashad's relationships with Simpson and Cosby.
When Phylicia spoke up in Cosby's defense last week, it served as a reminder of what her ex told Sports Illustrated about Cosby and Simpson a few years ago:
"Yeah, I've seen that photo and the only people I see in it are me and my wife. I don't see those two (expletive) guys. They've disappeared out of my memory. I've erased them out of my consciousness."
If only it were that easy for the rest of us.
Rashad was an All-American running back at Oregon, when he was known as Bobby Moore. The St. Louis Cardinals selected him as the fourth pick of the first round in the 1972 NFL draft and turned him into a wide receiver. Moore made the all-rookie team that season, but when he converted to Islam and changed his name in 1973, St. Louis fans booed him. Teammates shunned him. And Simpson encouraged the Bills to trade for him.
The Bills got Rashad for the bargain price of backup quarterback Dennis Shaw. In the 1974 season opener at Rich Stadium on "Monday Night Football," Rashad caught two touchdowns inside the last two minutes as the Bills beat the Oakland Raiders, 21-20. "In Buffalo," intoned Howard Cosell, "the acquisition of Rashad is being termed the steal of the century."
It didn't turn out that way. Rashad had only two more touchdowns that season, then sat out the next one with a knee injury. He wouldn't round into a four-time Pro Bowl player until his next stop, with the Minnesota Vikings. But he stayed close to Simpson, and when he retired he followed Simpson's path into television.
It was Cosby who had advised Rashad years earlier to go into TV. They met when Rashad was playing at Oregon and Cosby was in town for an appearance. They stayed close over the years – and it was Cosby who introduced Rashad to his "The Cosby Show" co-star, Phylicia Ayers-Allen, as she was then known.
Rashad did not just go into television. He was a creature of it. He proposed to Ayers-Allen on national television, in 1985, while he was in Detroit and she was in New York. Bob Costas was his wingman.
On the NBC pregame show before a Thanksgiving Day game between the Lions and New York Jets, Rashad asked Costas to have someone get Ayers-Allen from the Macy's parade, where she had appeared earlier on NBC.
"You know the lady as Clair Huxtable on 'The Cosby Show,' " Rashad said. "I would like to send this message to her: 'Phylicia, would you marry me?' "
"You're not kidding, are you, Ahmad?" Costas said.
"I am dead serious," Rashad said. "Either I will be the happiest person in the world or the biggest turkey on national television."
Costas turned to NFL analyst Pete Axthelm and said: "She'll say yes, won't she?"
Ayers-Allen appeared at halftime – and, sure enough, she did say yes. Said it twice, in fact. (The wedding, and the photo, came just 16 days later.)
Costas offered congratulations, and then offered this one-liner:
"In our continuing effort to do anything to boost our ratings, Pete Axthelm plans to be seen very shortly in a secluded grotto with Dr. Ruth Westheimer."
As it happens, Axthelm once wrote a book called "O.J.: The Education of a Rich Rookie." It is about Simpson's first season in Buffalo.
There is always a Buffalo angle.