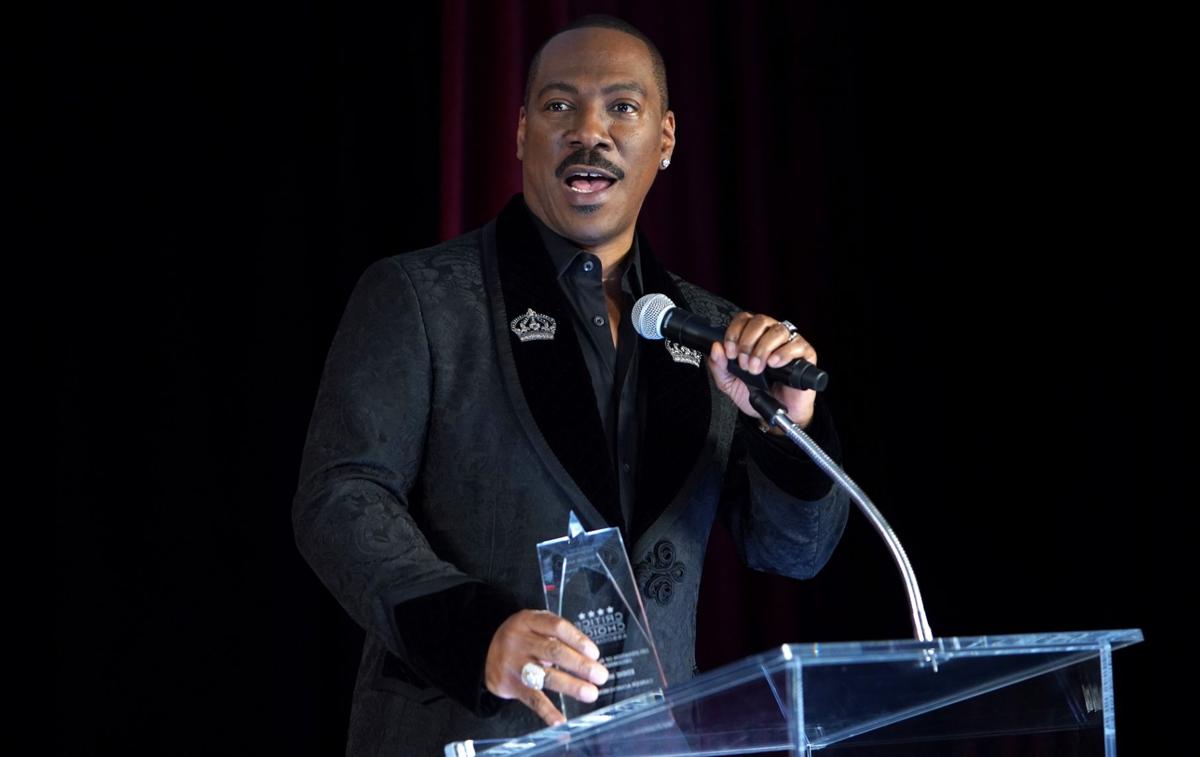 Eddie Murphy was the funniest I ever saw.
This requires some explaining. I'm talking about a specific performing circumstance here — answering questions at a news conference with the national movie media.
I've seen an awful lot of comedians perform in my life, under all circumstances. A lot of them were certainly funnier in live concert and club performance than Murphy, who was once so famously "raw." Don Rickles, for instance. Robin Williams at the Improvisation Club in Los Angeles before he was ever a TV star with his own series. As funny as Richard Pryor was in live performance, you had to discover that, at a certain point, from his mercilessly funny concert films. In late life, he couldn't quite evade the fanatic self-regarding love of his audiences that would drown out the comedian himself with constant protestations of "We love you, Richard." (There is no way to triumph over love-heckling. If you score nastily enough to shut the hecklers up, you look churlish.)
The Murphy circumstance I'm talking about is the nation's movie or TV media firing questions at a comedy star who hopes to publicize his latest project.
The big Murphy project I'm talking about was his original movie of "Coming to America." (A sequel will be coming our way in August 2020.) I'd encountered Murphy before, at a small table with other journalists before the release of his first major film "48 Hrs." He was funny, then, but he was serious, too, as befitting a monster comedian who isn't yet sure he's got serious movie chops, too. Later, before "Beverly Hills Cop," he was hilarious.
But you had to see the comedy mega-star at that "Coming to America" news conference feeding off ideas launched at him joyously by his co-star Arsenio Hall. The two of them, at the time, relished each other's performing comedy. We members of the press, their audience, were merely incidental.
An audience question would be launched. Then five minutes of brilliant back and forth with Eddie and Arsenio — straight lines, toppers, one gag after another. It was like seeing the funniest guys in your high school at a reunion after a decade or so while they quickly re-discovered each other's rhythm and set comic fire to every passing minute.
That was what it was like watching Eddie Murphy return to a love-fest at his old stomping ground, "Saturday Night Live," this past weekend after 35 years of refusing to be a guest host.
He'd nursed his resentments that long after a sour David Spade gag about one of Murphy's career downturns hit its target wrong — way wrong. Murphy's response to Spade's smug zinger was to tell him privately, "You wouldn't have a job if it weren't for me."
Which, strictly speaking, was probably true. Murphy was widely credited with being the major star who kept SNL alive when producer Lorne Michaels departed for a while and others struggled to keep the franchise popular and solvent. (I must confess one of my all-time favorite SNL periods was produced by Dick Ebersol and featured Billy Crystal and Christopher Guest at their absolute best.)
Murphy, while his movie career soared, stayed away from SNL for a long time indeed. He drifted back for a pro forma cameo or two. Then, on Saturday, dove back in up to his clavicles as guest host and got the full Lorne Michaels returning superstar fete so that Michaels could flex his producer muscles for the edification of performers and audiences alike. These days, every other week, the audience is entreated to Michaels silently telling audiences, "Check out my cameos. Ooh look, there's Alec Baldwin as Trump. There's Melissa McCarthy, too. And Robert DeNiro."
It reached its apogee with Murphy returning to old territory as guest host. It was old home week with Dave Chappelle, Tracy Morgan and Chris Rock returning to shower Murphy with love.
Murphy told the audience that in all those years off camera he was having children — 10 of them to be exact.
Who'd have guessed, he asked rhetorically, that such a famously dirty-mouthed comic would turn into "a boring stay-at-home dad" while his one-time scold Bill Cosby would be in jail?
"Who's America's Dad now?" smirked Murphy.
To which Ishmael Reed on Facebook asked, "Why is blind Bill Cosby kangarooed into prison at the age of 80 funny to Eddie Murphy?"
Most of us know the answer, sadly. Cosby's decades of moral self-righteousness about Murphy's language and subject matter — and that of the comics who worshiped him — proved to be the zenith of showbiz hypocrisy when Cosby's backstage physical exploitation of young women finally became public knowledge.
It was Murphy's Old Home week at SNL.
In return, Michaels went so far that he continued the show's 21st century violation of its old cardinal principles, which used to be that nobody gets to break character or improvise.
The script, on SNL, was to be treated as king. Milton Berle was blackballed forever when, as guest host, he decided that some script garbage ought to be replaced by Berle's half-century of experience in vaudeville getting cheap laughs any way he could. In other words, Berle was laughing at the show for audience laughs.
Michaels condemned him to professional senility ever afterward away from his studio.
But here was Murphy, at age 58 — once one of SNL's all-time biggest stars, if not the biggest — during Weekend Update and burying Michael Che in guffaws by donning his green Gumby costume and repeatedly saying, "I'm Gumby, damn it" whether it was in the script or not.
So much for Michaels' rule the script was king and nobody improvises. The great SNL stars could decorate scripts with shtick (Kate McKinnon is a genius at that) and not replace them with their own comic instincts. That was "the new way." The old way, a la Berle, Red Skelton, Steve Allen, Carol Burnett, Tim Conway and Jackie Gleason was to "leave room for comedians doing their thing, even if it cracked up other cast members."
A performer's medium to make the audience laugh, not a writers and producers medium to make the performers tow the line and do what they're told.
It's true not all comedians are funny without a script.
Bob Hope, famously, used to go on "The Tonight Show" to deliver crass, crummy gags and plug his miserable prime-time specials, all to host Johnny Carson's contempt and annoyance. So from the first word, Carson's rapier-quick wit would outmaneuver Hope's lousy written gags. On one show, a frustrated Hope famously stared at Carson and said, "If I had my writers here, I'd kill you," a line so good it was almost certainly contributed by a writer to Hope to use in case Carson gleefully gave him trouble.
But that's the thing about Murphy. He's funny, script or not. He's engaging to listen to, script or not.
Soon, he says, the private father of 10 will be going back to stand-up around America to remind the country — and himself — just how good he is as a stand-up comic.
I'm here to tell you that under the right circumstances, just the word "funny" alone doesn't begin to cover it.