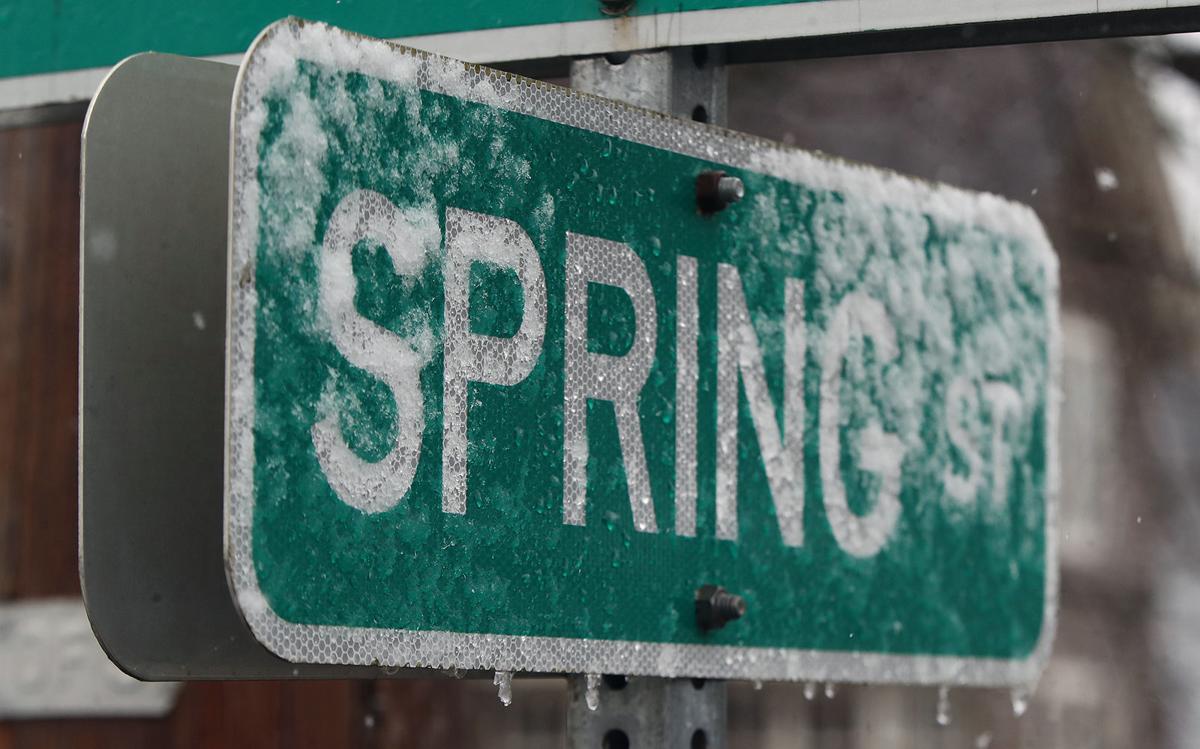 Not too many days ago, it appeared we were headed toward a substantial warmup this week. There were indications a southerly downslope flow could develop a heated high not far from 80 Wednesday and, possibly again, on Thursday. Those indications have faded, though some temporary warming is still on the way.
In the big picture, spring has been significantly milder than average, even if you include the 5.1 inches of snow which has fallen officially at the airport observatory in April. March ran more than 6 degrees warmer than the average over the last 30 years. So far, April's mean temperature as of Sunday was 2.8 degrees on the mild side, although Monday's cool temperatures will chip into that anomaly a bit more. The day started with widespread low 30s and a few upper 20s inland. The average low is 40, and the average high is approaching 60.
In the meantime, another indicator of our mild spring is found in the Buffalo Lake Erie temperature. The temperature is now up to 44 degrees, running 6 degrees above average. After a fairly wintry February, March's warming with more-than-usual sunshine gave the lake quite a boost.
By Tuesday, milder air will be reaching Western New York on a developing southwesterly flow, which allows some influence from Lake Erie to keep readings lower than they would be with a southerly downslope land flow. A warm front will be approaching our region, bringing some increase in cloud cover.
Afternoon high readings will make it to the upper 60s inland, with cooler readings in the low 60s closer to Lake Erie. A few afternoon and evening sprinkles can't be ruled out.
The warm front will be past us on Wednesday, but still close by. That frontal proximity and a developing brisk southwest breeze will temper our temperatures, keeping them from going beyond the low 70s inland, and cooler again closer to Lake Erie. A few afternoon showers and thundershowers will be possible over the northern counties.
More widespread periods of rain on Thursday will likely take readings back to the low 60s, so the modified warmup doesn't hold up for very long. Thursday looks like the wettest day of the week.
The frontal boundary will drop south as a cold front before Friday, taking temperatures back into a cooler range, along with a brisk northwest breeze, some spotty showers, and only limited sunny breaks. Temperature projections will be running 6-7 degrees below average.
Saturday looks breezy and just as cool, but dry with more helpful sunshine … yes, this is a little cooler than what I'd projected Sunday evening on WIVB, if you were taking notes. The American GFS, recently upgraded, throws in some showers Saturday night and Sunday morning, which the European ECMWF keeps us dry. At this early juncture, since the GFS has been improved, I'll have to call Sunday a toss-up on shower chances.
It appears the unseasonable 80s will remain elusive for some time to come. Current extended range upper air ensembles do suggest some seasonable moderation will be returning after next weekend. The upper air flow will be more west-to-east, which would cut off the supply of the chillier air masses from Canada.
Of more immediate concern for allergy sufferers sensitive to maple, juniper and elm, there may be some limited relief a little later in the week when more widespread showers arrive, and wash some of the pollen out of the air. Here is the estimated pollen count from Pollen.com for the week.