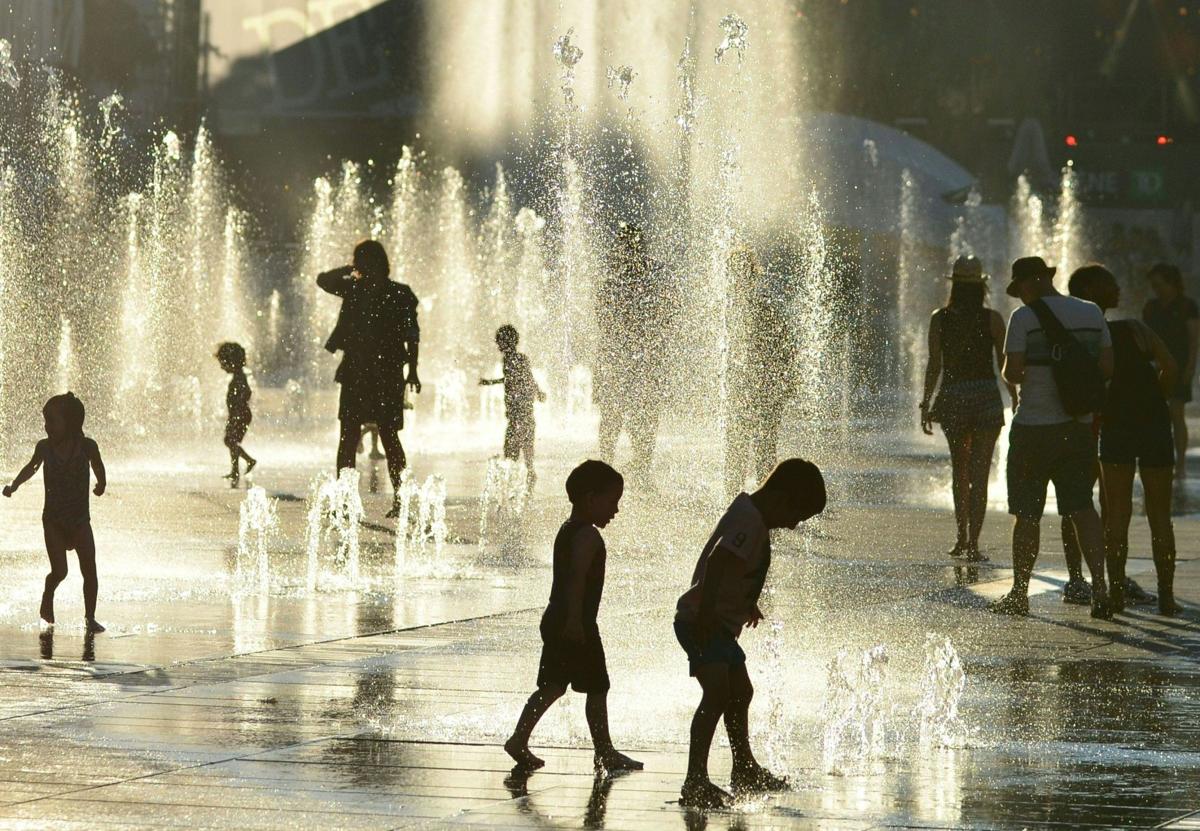 Our mean warming climate and catastrophic extreme weather events, often at least partially tied to the warming, get lots of press. The impacts on public health from mean warming are less frequently discussed, with the exception of disaster death tolls. The Medical Society Consortium on Climate and Health, a group of medical societies representing more than half the nation's physicians, wants to get more information on the health threats out to the public.
A recent survey they cited showed only 32 percent of a cross-section of Americans could name a way in which climate warming could affect public health, while many more people have at least heard of rising sea levels and other prominent physical, geographic impacts. Among health professions, the Medical Consortium notes most physicians are well-aware of health effects because they are seeing them firsthand.
Here is a consortium summary statement:
"These harms include heat-related illness, worsening chronic illnesses, injuries and deaths from dangerous weather events, infectious diseases spread by mosquitoes and ticks, illnesses from contaminated food and water, and mental health problems."
Some of the direct health harms include extreme heat. Record highs have been outpacing record lows by at least a 2 to 1 margin, where the past norm would be an approximate 1 to 1 ratio. This ratio will increase dramatically by mid-century and beyond:
Moreover, nighttime low temperatures have increased substantially. Extended heat waves can really take a toll on the elderly, infants, and the poor living in non-air conditioned housing. Student athletes, outdoor workers, pregnant women, city dwellers, and those with chronic heart or lung disease are also at higher risk.
Dr. Samantha Ahdoot, lead author,  American Academy of Pediatrics on climate change, reports a 133 percent increase in emergency room visits for heat illness between 1997 and 2006. Nearly half of the victims were children or adolescents. Heat illness can escalate to heat stroke, which is fatal if not promptly treated. This increase has continued since 2006.
There appears to be a direct link between climate change and the impacts of storms like Harvey and Florence.
Following climate related-disasters such as Florence and its catastrophic flooding, more people are at risk of stomach and intestinal disorders due to lack of electricity and refrigeration. There is also the issue of flood victims who are sick being separated from their medicines and proper medical care. And, there is the stress and anxiety caused by prolonged flooding and displacement. Flooding also increases breeding grounds for mosquitoes and encourages the growth of mold.
Hotter summers mean more days with air quality problems in stagnant air masses. The higher ozone levels in the afternoon and evening hours exacerbate asthma, bronchitis, heart and other lung disease symptoms. Almost needless to say, the frequency of wildfires has gone up with often lengthier and more severe droughts, and with those wildfires comes acute, toxic air pollution from the smoke. Not all droughts can be demonstrably tied to climate change but the overall increase in their coverage and duration does have links to the warming. Climate models indicate there is more regional drought to come.
The spread in coverage by mosquitoes and ticks is well-established. The tick which carries Lyme disease is now documented in 45.7 percent of U.S. counties, as opposed to 30 percent in 1998. Each year, the geographical spread grows. Dr. Nitan Damle, president of the American Academy of Physicians, reported he and his colleagues used to treat 2 to 3 tick-borne disease cases a month in his practice. Now, they're up to 40 to 50 cases per month. With warmer, longer growing seasons, the time during which people are at risk has lengthened as well.
There are more episodes of contaminated drinking water due to flood runoff, more contaminated shellfish, more algae and toxic algae due to warmer lake waters (you may recall Toledo had to close water intakes due to these toxins in 2014). A 1993 Cryptosporidium outbreak in Milwaukee which sickened 400,000 people was due to heavy rainfall-driven runoff rates into Milwaukee's drinking water. Heavy precipitation events in wetter parts of the country have also increased with warming, as 1980s climate models had predicted, so the increased runoff has occurred as expected.
Several surveys of allergists reveal a majority of them report worsening airborne allergies in recent decades, possibly due to those longer and warmer growing seasons, and increased mold from heavy rainfall events.
Agricultural researchers have data showing higher carbon dioxide levels reduce the nutritional value of wheat, barley, rice and potatoes, though some corn varieties seem to do better with more CO2. Higher temperatures and humidity lead to more spoilage of stored food.
Because additional warming is now baked into our climate, even if we mitigate some impacts and slow the rate of CO2 growth, all these problems will continue to worsen. Carbon dioxide has a longer shelf life in the atmosphere than was first thought, so there is no magic "off" switch for mean warming. There is only the chance to slow it down and lessen the chances for worst-case scenarios.