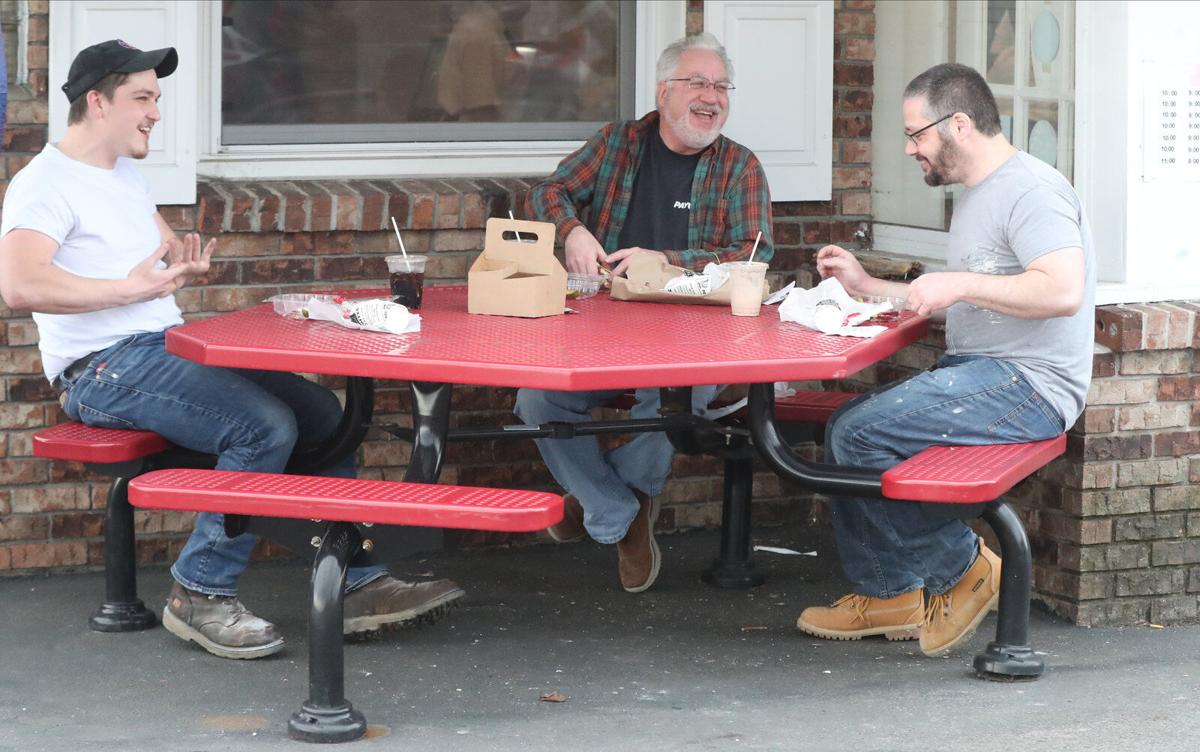 The well-forecast roaring blizzard for southeast Wyoming, parts of Colorado and western Nebraska is a blizzard no more, as it heads east.
Upon first glance, this NOAA GOES satellite imagery may look a little ominous for our region but, on the whole, that is not to be the case. The remnant low pressure system will be running smack into a blocking ridge of Arctic high pressure which will greatly lessen its impact in the eastern Great Lakes. The ridge brought Monday morning lows in the teens, including 18 at Buffalo, and will keep Monday highs below the 41 degree average (the average low is now 25).
Despite the recent cold spell following last Wednesday and Thursday's upper 60s, our monthly mean temperature was 3.4 degrees above average as of Sunday, monthly snowfall was 6.6 inches below average, and seasonal snowfall was 13.9 inches below average.
As the remnant low pushes east, it may bring a minor icy mix to Western New York early on Tuesday, marking the advent of warmer air aloft. This may make for slick spots to start the morning commute, as depicted in this Weather Prediction Center forecast map for around 7 a.m. Tuesday.
Actual high-resolution model data also puts some light icy mixed showers into our region at that time. It should be kept in mind even a minor coating, especially on bridges and overpasses, can produce hazardous conditions. Let's hope the salters are out early Tuesday.
When we get into the afternoon, surface temperatures will be above freezing, with just a chance of scattered rain showers as readings climb to the upper 30s to near 40.
On the warmer side of the storm system's circulation, chances for widespread severe thunderstorms and a few tornadoes will increase Tuesday in parts of Kansas and Oklahoma. Even when the low was producing a blizzard over the weekend, its warmer side triggered a tornado outbreak in the Texas panhandle, with imagery posted by severe storms researcher Dakota Smith. By the way, if you're a fan of great satellite imagery, I strongly recommend following him on Twitter.
At this point, SPC feels the greatest tornado risk later in the day and into the evening will extend from Arkansas across Alabama and into central Georgia. Yes, it's that time of the year. There is some significant evidence this year's severe weather season may bring more outbreaks due to the ongoing presence of La Nina conditions in the Pacific (cooler tropical waters in the central and eastern Pacific, altering jet stream position and speed).
A 2015 Columbia University study and research by NOAA suggest an ongoing strong La Nina such as we have can increase the presence of warm and humid air over much of the south, as was the case in the disastrous deep south April outbreak of 2011. More details on this relationship.
Back here, Wednesday will bring a partly to mostly cloudy sky with high temps edging into the low to mid-40s, with only a light breeze.
Friday night at WIVB, I had some limited concern a late week storm system might bring us a wintry mix by Thursday and/or Friday this week. It now appears high pressure to the north will now suppress this vigorous low-pressure system far enough south to eliminate a significant impact.
We may get some light rain showers Thursday, and a bit of a mix Thursday night on this system's projected trajectory. In its wake, as it pulls out to sea, we'll get a cooldown to the upper 30s on Friday, before temps again moderate during the weekend to the mid to upper 40s Saturday and mid-50s on Sunday. By Monday, we may again flirt with more springlike temperatures.
The Climate Prediction Center's experimental weeks 3-4 temperature probability outlook goes "whole hog" for warmth across the nation for late March and early April. I may feel it's somewhat overdone, but it's worth showing.