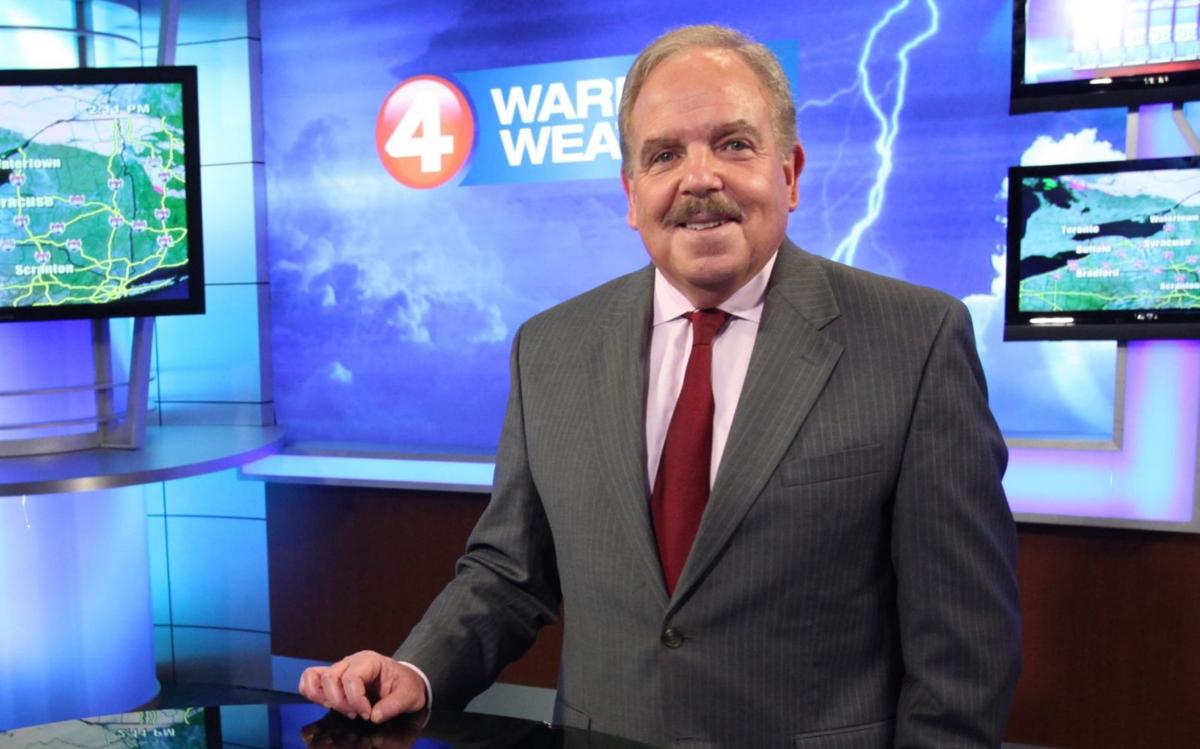 After a few weeks off, the last thing I expected to be doing was writing about 73-year-old Don Paul's return to WIVB (Channel 4).
But I'm back and amazingly, so is he. The reason for his return is the abrupt departure of rising meteorological star Stevie Daniels after impressing in only 15 months in Western New York.
Paul, the Buffalo Broadcasting Association Hall of Famer, left the station four years ago and worked part time at WKBW-TV (Channel 7) until December of 2018. He was the chief meteorologist at Channel 4 for 29 years and for three years at WGRZ-TV (Channel 2).
He announced his return to Channel 4 on Facebook, saying he is working Monday and Tuesday nights.
Showcasing his typical humor, Paul wrote he needs a crash course in graphics from Channel 4 meteorologist Andrew Baglini.
"So if WNY shows up in the Adirondacks, you'll know I didn't absorb it all," cracked Paul.
In a text exchange, Paul said he received a "sudden" phone call from Channel 4 News Director Lisa Polster Friday morning about returning while he was writing an online story for this newspaper.
"Last thing I was thinking of," he added.
He added he could be working beyond this week.
"We're supposed to talk about the possibility of something longer term," he wrote. "If I'm going back, at least it's my most familiar workplace, which feels better."
"Don Paul has been a trusted meteorologist in WNY for decades," Polster wrote in a text. "We're happy to have him back on News 4."
Polster called Paul a day after Daniels – a Baltimore native – announced on social media that she was leaving the station she joined in March of 2019 after a stint at WETM, the Nexstar station in Elmira.
It is highly unusual for someone to leave that soon, especially since most contracts are for at least two years.
According to sources, Daniels was unhappy with her work schedule, which included long and difficult hours. She also had bigger market aspirations, which may have led her to decide to leave as soon as possible.
It is believed that she had to buy out the remainder of her contract, since that is standard Nexstar policy.
Daniels couldn't be reached for comment and Polster declined comment about the contract situation.
For the last two weekends, Channel 4 brought in Elmira-based meteorologist Jessica Camuto to fill in.
Daniels is the latest short-term meteorologist to leave Channel 4 in recent years, with the list including Amelia Segal, Bryan Shaw and Kaylee Wendt. Segal headed to the Washington, D.C., market, Shaw is in Cleveland and Wendt is now at Spectrum News.
Channel 4 appeared to be understaffed in the weather department even before Daniels left.
It is left with three full-time male meteorologists working on-air – chief meteorologist Todd Santos, Baglini and Mike Cejka. A fourth male meteorologist, Jonathan Cubit, isn't in the union and can't go on-air and works exclusively online.
Even with four on-air meteorologists when Daniels was there, Channel 4 had one fewer than WGRZ-TV (Channel 2) with Patrick Hammer, Heather Waldman, Maria Genero, Kevin O'Neill and newcomer Elyse Smith.
Channel 4 also has the most hours of local news in Western New York, with the morning show "Wake Up!" on for four and a half hours combined on Channel 4 and sister station WNLO instead of two hours for its rivals, an hourlong 10 p.m. weekday newscast on sister station WNLO and the only 6:30 p.m. weekday newscast on WNLO.
If you add the 4 through 6:30 p.m. newscasts and the noon newscast that means the combination of WIVB and WNLO puts out a weekday total of 9½ hours of local news daily in a market that often doesn't have enough news to fill all the time.
Channel 2 has 6½ hours of news daily on its station and WUTV, while Channel 7 has 5 hours of news daily.
Of course, repetitive weather forecasts fill up much of the time, with several weather hits in a 30-minute newscast.
With all the extra news time at Channel 4, you can understand why Daniels and all the meteorologists at the station might feel overworked, especially if any of them get sick or go on vacation.
Catch the latest in Opinion
Get opinion pieces, letters and editorials sent directly to your inbox weekly!