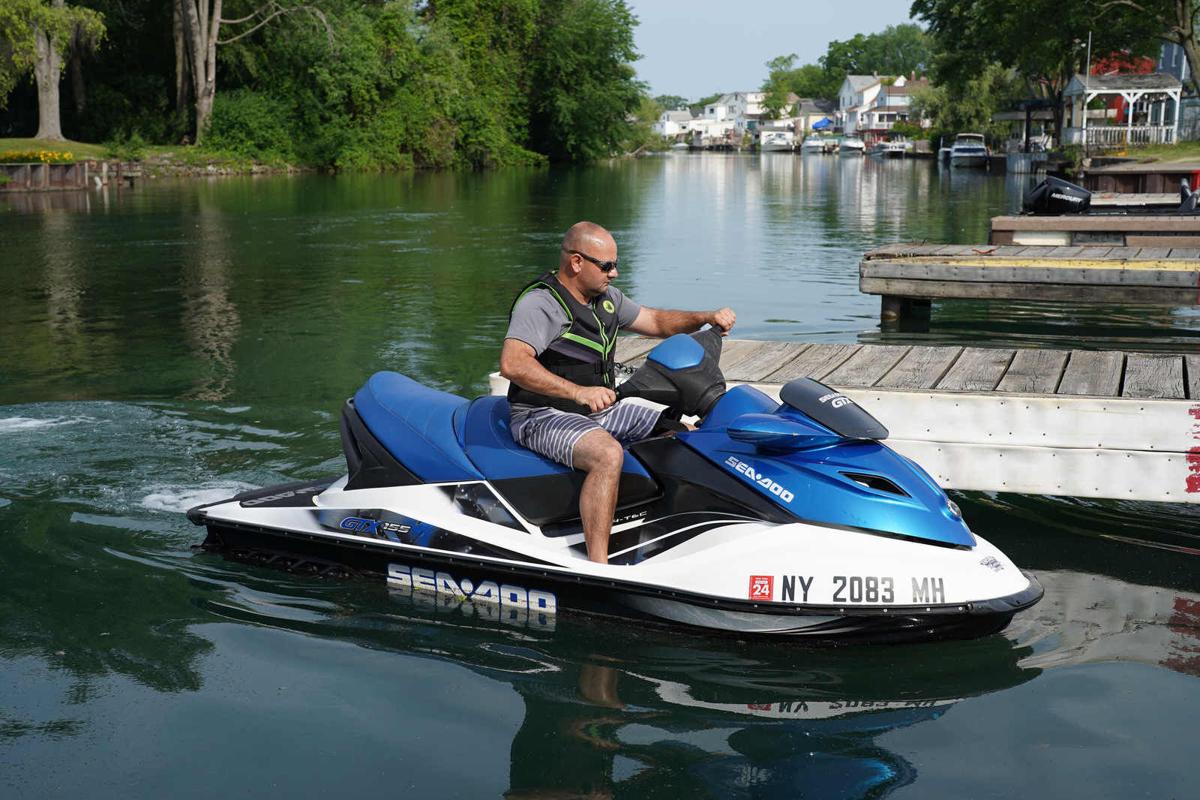 We had a seasonably toasty July 4, with a Buffalo high of 84 degrees and comfortable dew points. Now, nature is going to add more humidity to the mix along with the presence of a nearby frontal boundary, to likely trigger scattered convection by Tuesday morning.
While parts of Western New York received some genuinely helpful rainfall from more numerous showers and thunderstorms Friday, much of the region is still in need of additional rain. It is the heart of the growing season, and soil moisture is still coming up somewhat short.
Buffalo itself is one of the driest locations, running 6.84 inches below the average of 19.23 inches for the year as of July 4. No part of our region is in true drought, but a large majority of the area is classified as abnormally dry.
Streamflow volume in most counties has, however, improved since mid-June, according to U.S. Geological Survey data.
A disturbance drawing closer to Western New York by Tuesday's predawn hours is not modeled to produce much areal coverage from any convection.
While the lower atmosphere will be receiving plenty of daytime heating and carrying abundant humidity, models are in poor agreement for the timing and placement of triggers to organize convection over the next few days. Actual heating peaks Monday, but the main threat of occasional rounds of scattered showers and thunderstorms will be with us each day Tuesday through Thursday. However, this is more a matter of a generally unstable air mass with the aforementioned poorly organized triggers, so there should be abundant rainfree periods and very uneven coverage whenever convection does actually develop.
This time around, amounts may be lower in the Southern Tier. On Tuesday, a southwest flow off 67-degree Lake Erie will also create a shadow of greater stability across the metro area and parts of the Niagara Frontier which would lessen shower probabilities. We'll have a partly to mostly sunny sky Tuesday and at least limited sunshine Wednesday.
On Wednesday, there is some suggestion the nearby frontal boundary might drop south of Buffalo as a cold front, bringing temperatures down to the upper 70s. On Thursday, when the front is expected to be to our south, it will still be nearby. Even so, our readings should stay in the 70s.
The estimated position of Tropical Storm Elsa could add more humidity to the mix again, though much of that moisture initially looks as if it will stay south of our region.
By Friday, weak high pressure over Michigan will bring another good chance of a dry day. However, the front will crawl back northward as a warm front on Saturday, gradually increasing heat and humidity once again. With that will come a renewed risk of scattered and occasional showers and thunderstorms, with rainfree periods likely. Weekend readings will be back in the low to mid-80s.
Keeping in mind the weak signals from both nature and weather models, the estimated rainfall potential in Western New York between Tuesday and Thursday does not look overly impressive. However, the Weather Prediction Center does up the ante during next weekend due to the proximity of that warm front.
My own confidence estimate for next weekend's rainfall potential is low at this early stage. Confidence is higher for the seasonable warmth and humidity, so it will at least feel like a midsummer weekend … not extreme, but typical for July.
For those of you with relatives or interests in the Southeast, the National Hurricane Center will automatically update its website every six hours with their latest advisories and details on Tropical Storm Elsa. The plain English text is under "Public Advisory."