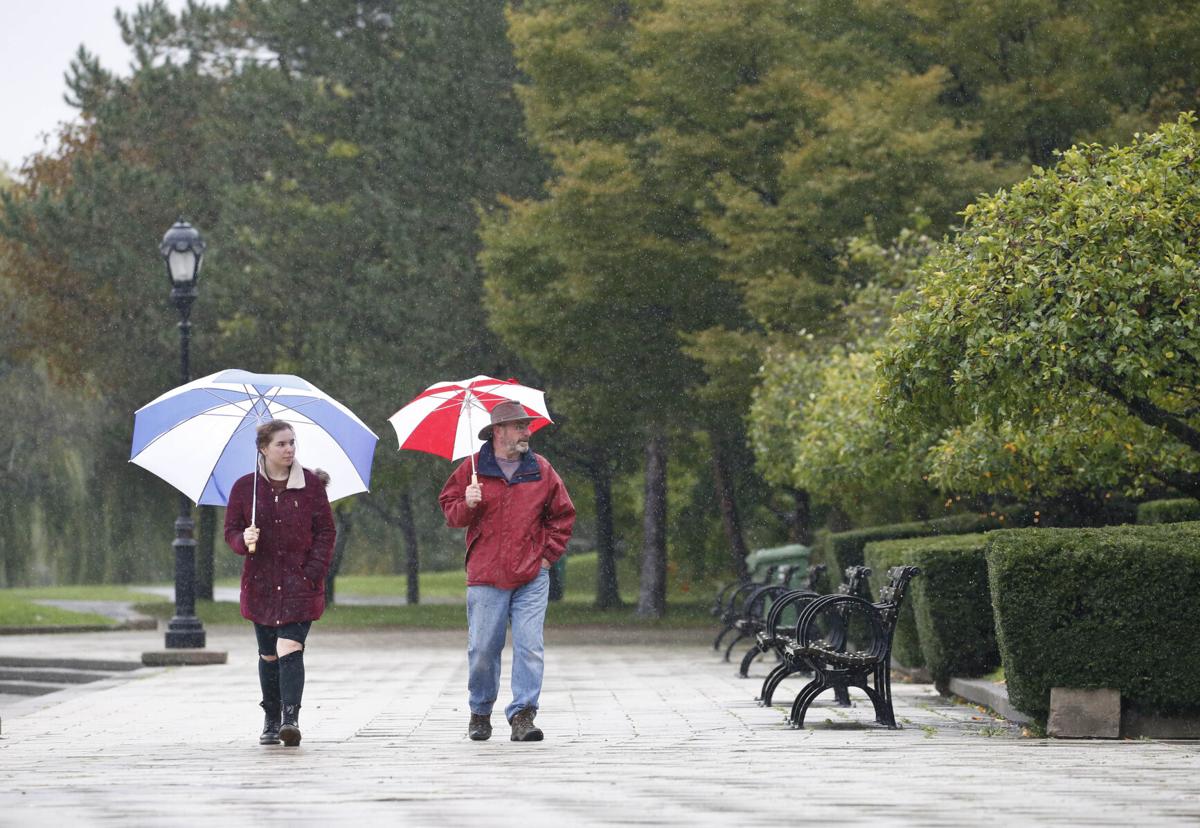 A cold front has now passed off to our east, preceded by gusty winds and showers late Thursday night. The somewhat drier air on Friday will give way to the development of lake-effect by later Friday night as cold air deepens. Even during mid-Friday morning, lake rain and some snow could be observed upwind on northern Michigan radar.
In Western New York, we pride ourselves on familiarity with every kind of precipitation — but
In fact, the temperature differential between 55-degree Lake Erie (5 degrees warmer than normal) and the atmosphere about a mile up will be great enough to induce lots of instability/buoyancy over the lake at times, creating convection with occasional lightning. Those soft white pellets called graupel also generate static electricity, and if they start to fall, they will make some thunder even more likely.
Over the course of the weekend, lake-effect and some more widespread showers would bring enough moisture to produce some heavier amounts of snow if the air mass were cold enough to allow more accumulation on the hills. However, as was the case with lake-effect early this month, temperatures will be marginal for snow, allowing for more melting. There also will be shifting low-level wind directions ahead of and behind passing disturbances, moving the organized band of lake-effect around. Late Friday night, as the cold air deepens, a south-southwest flow (as seen in the Michigan radar) will steer much of the lake rain toward the north-northeast, depicted in this model.
By Saturday morning, we may see some wet snow mix in with the lake rain even at lower elevations. A passing disturbance during Saturday may disrupt the lake-effect as it goes by, but before that it could enhance upward motion in the air and intensify the lake rain, wet snow and graupel for a time even near the metro area toward midday.
Later Saturday, the disturbance will be east of us, causing winds to veer more from the west, steering most of the lake precipitation south of the metro area to hilly terrain.
Winds will be gustiest on Saturday into Saturday evening, and somewhat less gusty on Sunday. Daytime highs will range from the upper 30s on the hills to the low 40s at lower elevations. As we head into Sunday night, once again some models are posting fairly impressive "total snowfall accumulations" for the weekend on the hills.
The total accumulation, with marginal temperatures, critically does not account for the melting which occurs with such readings. Actual modeled "snow depth" includes melting, and the numbers are lower, even on the hills.
Even so, some high elevations could see a range of 3-4 inches of slushy snow by that time.
On Monday, another passing low-pressure system will veer winds to northwesterly, sending more rain and snow showers across the region in that cold breeze, with most of the snow falling on the hills well south.
Monday night, most of what's left of the precipitation will fall as snow showers. During Tuesday, the last of the snow showers will dissipate under a partly sunny sky, with readings still in just the low 40s.
On Wednesday, another low-pressure system approaching central Canada will bring us a moderating southwest flow, with a brief, gusty warmup into the mid-50s.
Behind this storm system's cold front, chillier temps will return later next week.
As I wrote in my Wednesday article, we will be in a more changeable upper level flow, with a progression of briefly mild ridges and chilly troughs bringing us ups and downs rather than persistent warmth or cold.
Moving on to the seasonal range, I've already expressed my misgivings on winter outlooks in a recent article.
Many forecasters seem to be hanging their hats on the climatology normally associated with La Nina, which brings cooler waters to the central and eastern tropical Pacific, often altering the path of the polar and subtropical jet streams which steer storm systems and air masses. During this past summer, indications were pointing to a weak La Nina, which would have lessened its impacts on weather patterns. On Thursday, the Climate Prediction Center reiterated for the second consecutive month models now favored a moderate, not weak, La Nina. Taken by itself, this would enhance La Nina's impacts, which would typically look like this.
Yet, in looking at what's called the North American Model Ensemble, or NMME, which is an average conglomeration of all the many model ensembles, the December-January-February period does not show much evidence of typical La Nina impacts in temperatures. In the mean, the clear evidence of a moderate La Nina is there in the tropical Pacific region shaded in blue. Yet, the NMME shows scant evidence of the typical cooling one would expect even in the Pacific Northwest.
In addition to the inclusion of the ongoing global warming signal in these products, there is evidence the polar vortex will remain strong much of the winter, which bottles up the true polar air masses at high latitudes much of the time, allowing more moderate temperatures in midlatitudes. But the biggest caveat of all is future disruptions in the polar vortex are not predictable more than two to three weeks in advance. These disruptions occur when warming in the stratosphere may weaken the polar vortex for several weeks and allow pieces of it to drop southward with polar air, often bringing harsh wintry outbreaks.
That is, no meteorologist can reliably predict on Nov. 12 a disruption of the polar vortex will occur in February, which is a large part of what did in Texas during last February's catastrophic cold outbreak and failed power grid.