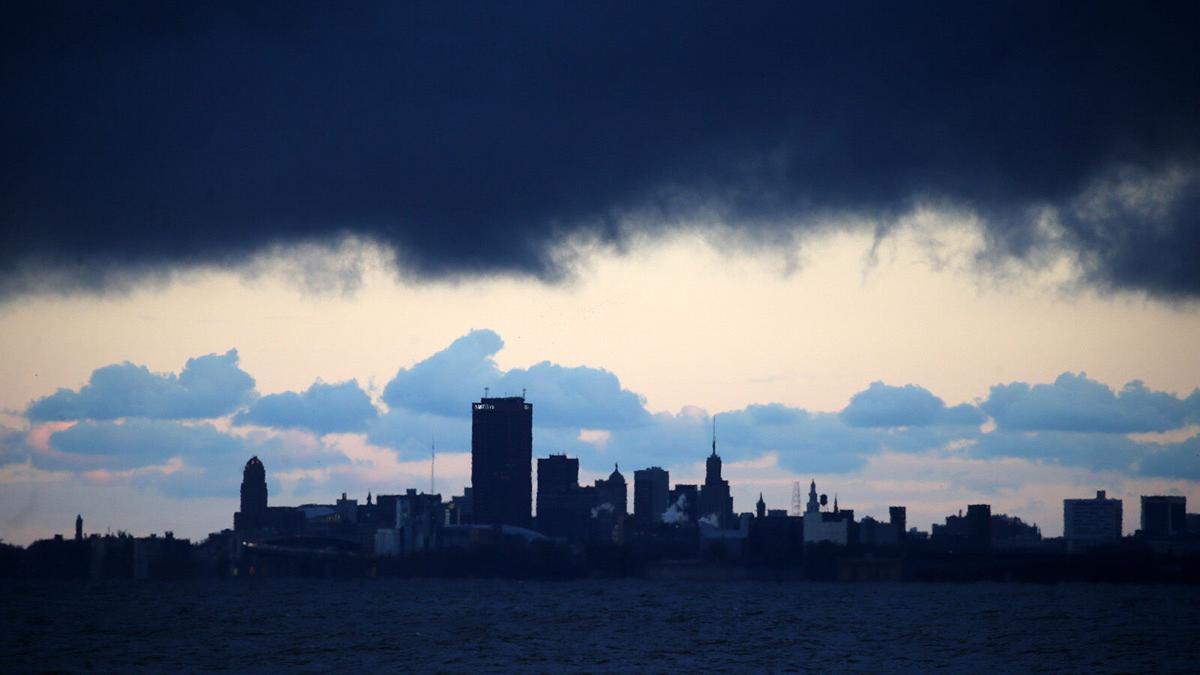 Monday's 65 degrees, Tuesday's 62 degrees and Thursday's forecast in the mid-60s are not a sign of things to come heading into the weekend.
Wednesday's abundant sunshine will be replaced by clouds giving way to partial sunshine on Veterans Day, but even with less sunshine, a brisk downslope, warming south-southeast flow will boost Thursday's high back to springlike levels. Generally, such a flow becomes stronger as it accelerates downhill toward the Lake Erie shoreline in Chautauqua and southwest Erie counties, where gusts will exceed 40 mph.
A brisk, cooler and drier southwest flow will bring a partly sunny sky back to Western New York during Friday with near-steady readings in the low 50s during the day (average is now 50). During Friday night, colder air will begin to deepen and set up some modest lake-effect rain showers, mixing with wet snow at higher interior locations to the south by morning, as seen in the American GFS.
By Saturday night, the wind will originate mainly from due west, driving what most of what lake snow there is toward the Southern Tier, in the GFS.
Both the European and GFS models continue mixed lake rain and snow showers through Sunday, with temperatures ranging from the upper 30s on the hills to the low 40s on the Niagara Frontier, still with a noticeable wind chill. As I've pointed out in two previous articles, if you look at the GFS and its "total accumulated snowfall," the numbers can look impressive.
The problem is, total accumulated snowfall simply adds up how much snow has fallen and, with these marginal temperatures, does not account for inevitable melting. You can see the difference in actual modeled "snow depth" by comparison, which does estimate depth with melting included.
Again, this disparity is much less of a factor in truly wintry temperatures with deep Arctic air later in the season.
Some weaker lake snow and rain continues on Monday into Monday night on a west-northwest flow, steering most activity well south, with a light mix probably turning to mainly rain by Tuesday afternoon.
At that point, a more progressive flow of alternating milder upper air high pressure ridges and colder low pressure troughs will bring more ups and downs in temperatures, rather than prolonged periods of cold or mild weather.
Some disturbing greenhouse gas data has been released, independent of the Glasgow climate summit, from two different sources. CAT, or Climate Action Tracker, is comprised of two independent scientific research associations, who have found there is a massive credibility gap between COP 26 pronouncements of where our efforts toward emission reductions are versus where the data actually shows the data to be. CAT's report was made public by the BBC.
The hoped-for goal of capping human-driven global warming at 1.5 degrees Celsius would afford the world more controllable impacts from the warming, with lesser sea level rises, floods, expansion of droughts and other extremes. CAT's analysis shows the world to be on track for a 2.4-degree Celsius rise, which would allow far more devastating impacts to occur. Keep in mind, we are already experiencing more extreme weather events, made more probable by the warming climate, from wildfires to megadroughts in arid regions to more flooding in wet regions, to rising sea levels, only to name a few. These events are multiplying while we are up just 1 degree Celsius.
The Washington Post has released new analyses of emissions data, demonstrating major shortfalls in greenhouse gas measurements. The Post found, in consulting with some of the world's leading expert scientists, some nations make no realistic effort to track their emissions, while others make wildly optimistic and unsupportable claims. Just as an example, Malaysia reports its forests absorb four times more carbon than the similar forests of neighboring nations.
As The Post reported, "An examination of 196 country reports reveals a giant gap between what nations declare their emissions to be vs. the greenhouse gases they are sending into the atmosphere. The gap ranges from at least 8.5 billion to as high as 13.3 billion tons a year of underreported emissions – big enough to move the needle on how much the Earth will warm."
Stanford professor and Global Carbon Project (a collaboration of hundreds of researchers) leader Rob Jackson said if we don't know the state of our emissions today, we don't know "if we are cutting emissions substantially or meaningfully."
"In the end, everything becomes a bit of a fantasy," said Philippe Ciais, a scientist with France's Laboratory of Climate and Environmental Sciences who tracks emissions based on satellite data. "Because between the world of reporting and the real world of emissions, you start to have large discrepancies."
It appears to these leading experts that if the world is to have any real hope of avoiding the bad-to-worst-case scenario impacts from warming by later this century, we will have to get a much better handle on where we are now with emissions, and how we can motivate nations and industries to measure them with accuracy.