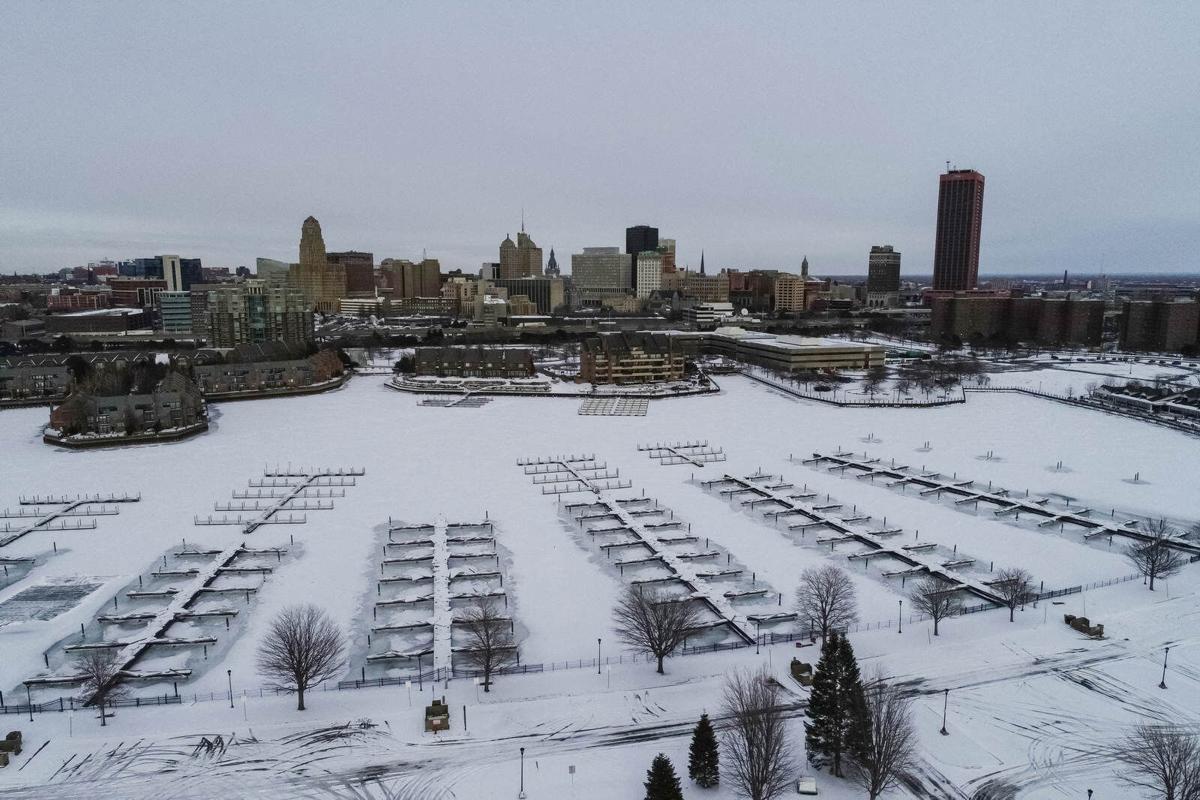 As of Monday morning, the new 2.9 inches of snow brings Buffalo's monthly snowfall to 26 inches, which is nearly 11 inches above average. The monthly mean temperature has been 4.6 degrees below average, and 14 of the last 16 days had high temperatures in the 20s.
While it would be difficult to characterize the month as brutal, some people in a portion of southern Erie County might beg to differ. They have late Friday night and Saturday's intense lake-effect snow fresh in their memories. The heaviest totals fell below the densely populated Southtowns, in more distant southern portions of the county, although southern parts of Hamburg and Orchard Park took quite a hit as well.
With Lake Erie at or over 80% ice coverage during last week, how could such huge amounts of pure lake-effect fall over a relatively small area? It appears some of the looser ice on Lake Erie's surface had shifted around beneath cloud cover, enlarging the opening. This is visible in a high-resolution MODIS image from Sunday, Feb. 21. The lake is still classified as slightly over 80% covered in calculations made Sunday.
However, the shape, location and size of the remaining opening proved more than sufficient to be tapped by the west-northwest Arctic flow for plenty of moisture within a band of lake snow. The location of the opening is also in the deepest part of the lake, meaning there is a greater volume of water to give up its relative warmth and water vapor. The persistence of the lower level flow direction created a much longer residence time for the band over the same terrain, allowing the snow to really pile up. In addition, there was some additional moisture flowing in from Lake Huron. It is also possible the shape and roughness of the edges of the opening lent more friction to the west-northwest flow, which might have generated more convergence of the moisture into a more intense band.
It turns out such an event with these precise parameters was not something the models could handle very well, even with the added human factor of pattern recognition which should be part of every forecast.
Now that we can all see that opening, you might think it leaves us vulnerable for another such event. Given identical factors, it would. But Monday morning's few inches of slushier snow was actually the outer marker for the pattern change I've written about in at least two recent articles. The ready supply of continental polar air is getting cut off, to be replaced by modified Arctic air and, at times, milder Pacific air masses. Lake-effect potential over open water is drastically reduced in such circumstances.
The messy, slippery Monday morning snow was triggered by the approach of a warm front. A series of low-pressure systems will be passing by to our north the next few days, each preceded by such a warm front and followed by a weak cold front.
The air masses behind the trailing cold fronts will simply be cooler, not really colder, so the contrast between the lake surface and air temperatures at 5,000 feet will not be large enough to generate the lift of warm, moist air to make a lot of lake snow. A little, yes, may still result ... but not a lot.
The next couple of rounds of snow will be widespread, and of a slushier consistency where it sticks. The snow will probably mix with rain in such marginal temperatures during the daytime, and won't add up to much. After wet roads for the Monday evening commute, there may be a few snowy patches on lightly traveled roads early on Tuesday.
The best chance for several inches to accumulate will be on higher terrain to the south.
The warmer temperatures during the day will be melting some of the extensive snow cover we have. The highest temperature this month was 40 degrees back on Feb. 5, and we should come close to that reading on Tuesday, beating it on Wednesday with temperatures heading to at least the low 40s.
For walkers, the warmup will be tempered by gusty winds, keeping a bite in the milder air. Some gusts Monday through Wednesday will approach 40 mph on the Niagara Frontier, especially in the afternoons. Wednesday may still bring a few spotty rain and wet snow showers. By Thursday, we'll be cooling back to the low 30s, with seasonable mid-30s on Friday, and milder low 40s by Saturday.
No major snow is anticipated this week through next weekend.
The upper air steering pattern will continue to keep the polar vortex placement farther north, keeping true polar air bottled up in higher latitudes. Such an alignment is what we experienced most days in December and January. Even in early March, this American GFS ensemble mean still keeps milder ridging of high pressure close to eastern North America.
It's not that every day to come will be milder than average. Winter is not over, and there will still be a few shorter periods of colder weather. The protracted cold period we've just experienced, though, is exiting for the foreseeable future.
The battle zone between colder air masses and warmer air can still help to spawn active areas of low pressure which can produce snowstorms in March. For now, no such air mass battle can be seen coming this week.