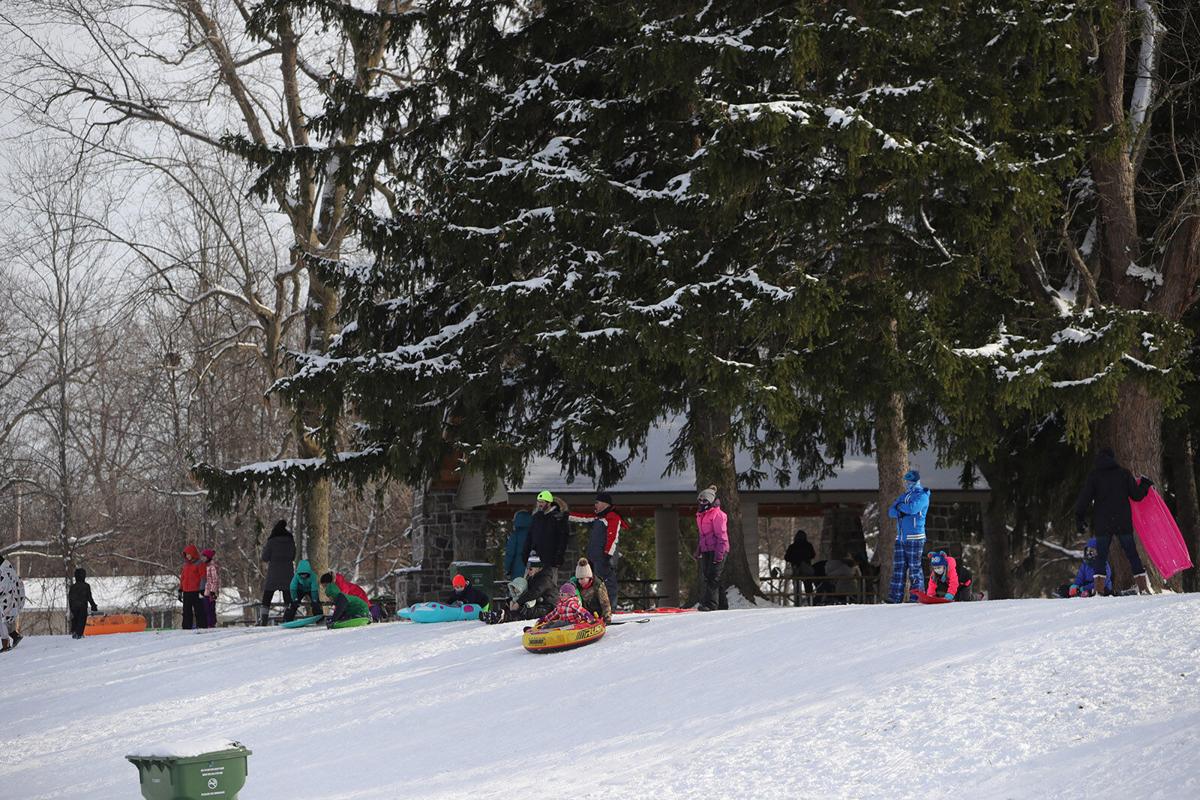 Between some rain and gusty winds with above freezing temperatures, our snow on the ground is getting cut down to size in short order. If you missed the complete list of lake-effect totals, which does not include the widespread synoptic snow from Christmas Eve, here it is, including Buffalo's daily record of 18.5 inches at the airport.
As is common, I received a couple of comments questioning the sense in having Buffalo's official climate record, since 1943, kept at the Buffalo Niagara International Airport instead of downtown. (Records prior to that were kept at a downtown location.)
One reason is the conditions at the airport are somewhat more representative of Buffalo metro area climatology than a downtown location near the lakeshore, where there is more marine influence from the lake. Proximity to the lakeshore produces warmer temperatures early in the winter than most of the metro area and cooler temps in the spring and early summer. This is somewhat analogous to the National Weather Service in the New York area using the Central Park Observatory for city climate records, rather than the Battery location, right on the edge of the Atlantic.
While the snow spotter list above is fairly complete, the Buffalo National Weather Service can always consider more volunteer spotters. If you don't see your community in the list, it's most likely because no one has volunteered to do the job. From the Gaylord, Mich., National Weather Service office, here is what is entailed in being a snow spotter.
If you follow these rules of thumb, you can access National Weather Service Buffalo's Facebook page or Twitter with reports. You may also email Warning Coordination Meteorologist Mike Fries if you need more information.
The rules of thumb in the link above are very important, in order that there is more continuity and reliability in the snow spotter measurements, rather than someone just sticking a finger into the snow on top of the recycling container … and don't think I haven't done that (but would never submit my stubby finger report).
Temperatures already moderated on Sunday, reaching 36, and got into the low 40s on a very windy Monday morning. Peak gusts exceeded 50 mph in parts of the metro area and near Warsaw.
After weeks of a large snowfall deficit, Buffalo has finally seen its snowfall total exceed average for a couple of days. As of late Sunday, the airport seasonal total is up to 33.7 inches, 1.7 above average to the date. The surplus won't last long. Temperatures have begun falling behind Monday's cold front but melting will continue into the early evening. The very gusty winds will slowly diminish Monday night, having produced a nasty wind chill during the day. It gets just cold enough for some weak lake snow to set up mostly over the hills by later Monday and Monday evening, where a couple of inches may fall.
Tuesday will be the only day this week with a below normal high only in the upper 20s. The average high is now down to 33. By Wednesday, a strengthening south-southwest flow will boost temps right back to at least the low 40s, with some wet snow and rain showers on a rather breezy day. By Friday, a more vigorous low pressure system will be approaching from the southwest, with increasing rain and snow showers.
As of now, the air mass ahead of and behind this low does not appear to be cold enough to support accumulating snow. Even on Saturday, behind the storm's cold front, a brisk west-northwest flow will not be bringing any true Arctic air, with temps in the mid-30s to near 40, along with scattered snow and rain showers. There may be some modest lake snow on the hills. Sunday's final game looks to be dry and seasonable with a gametime temperature near 35, a slight weather advantage for the Buffalo Bills.
Some limited skiing is out there to be had as of early this week. I can't speculate as to whether resorts will undertake the expense of snowmaking on the most favorable nights, which are Monday, Tuesday, possibly Friday and Saturday.
The resorts have to take into account what the probabilities are for the expense to be worth it. Much of the time over the next couple of weeks, the upper air pattern does not favor the presence of any persistent Arctic air, as seen in this model tweet posted by WBZ's Eric Fisher in Boston.
If this pattern continues to verify, it makes it much more difficult and costly for resorts to maintain good bases and conditions.
The Climate Prediction Center also has probabilities which favor above average temperatures in our region most (not all) days out through two weeks.
It should be remembered January statistically is usually the coldest month of the winter, so "above average" does not put snow out of reach when the so-called normal is down to 31 with adequate conditions for nighttime snowmaking. There are some inconclusive hints of some changes coming as we get a little further into midwinter.
Without burying you in the esoteric science, some indications of a rapid warming in the stratosphere, if realized, may end up weakening the polar vortex and allowing it to drop farther south with its polar air, at least for a couple of weeks. As I've written several times, when all is said and done this winter is likely to end up being milder than average. But that does not preclude a temporary, wintry interruption which would last longer than our Christmas blast.