A few thousand lucky people in Buffalo are about to see what a little competition can do for their internet service.
Having a choice of internet provider is a rare treat because it costs so much for companies to provide it. Even Verizon, which had big plans to expand Fios throughout the region, decided it was too expensive and scrapped its rollout.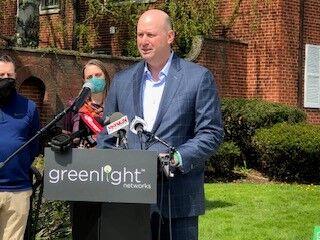 But there is new hope. And it's coming from Greenlight Networks.
A precious few Buffalonians on the West Side and Elmwood Village can now preorder high-speed fiber optic broadband through Rochester-based Greenlight Networks and can expect live service by the end of summer.
Greenlight charges $50 per month for standard data speeds of 500 megabits per second for downloading and streaming, with the potential for upgrading to two gigabits per second. There are no additional taxes, fees or surcharges.
Spectrum Cable charges $70 a month for standard, 200-megabits-per-second standalone internet service; plus taxes, fees and surcharges. Spectrum customers who purchase bundled television, phone and internet service may pay less for internet.
Greenlight Networks has already begun laying cable, and other Buffalo neighborhoods are lined up next for expansion. Owned by former Buffalo Sabres owner Tom Golisano, it has plans to offer access to 10,000 homes by the end of the year. Though they wish they could get access sooner, consumers in Western New York are ecstatic.
The phone calls, emails and social media comments I receive from readers about Spectrum internet and cable are downright venomous. Readers passionately express their unhappiness with Spectrum's prices and service, aggravated even more by its monopoly on broadband internet in Western New York (and almost every other community it serves). But in any consumer situation, competition brings lower prices, better terms and a superior product.
The process of starting a new broadband network is incredibly complicated, expensive and time consuming – which is what keeps competing broadband providers from entering the market.
They have to seek easements from private property owners block by block (which in itself is quite a process that can involve going door to door), then dig up the owner's property (busting up their driveway, for example), lay the cable underground, then put the property back the way they found it.
We have finally gotten better choices when it comes to television. Western New Yorkers have gleefully cut the cable or satellite cord after years of skyrocketing costs, surcharges, fees, taxes and often bad service. But alas, even without cable, we are still beholden to the internet that brings all of our lovely streaming services.
Consumers can only pray that Greenlight follows through on its plans to expand throughout Buffalo Niagara (unlike Verizon FiOs).
The Covid pandemic has taught us that reliable internet truly is a necessity. Some will balk at that, but even before the pandemic, anyone without internet access could tell you how hard it is to live daily life without it.
Try finding a phone number or address now that there are no phone books. Try contacting just about any company about a product or service now that no one advertises their phone number anymore. Internet is just as much a utility as telephone landlines – if not more so in the 21st century.
Sadly, rural Western New Yorkers will likely be left waiting much longer for more options – as usual. Hopefully federal money earmarked for broadband infrastructure, along with state and local efforts such as ConnectEd NY and Erie Net (on pause from Covid) will bring more equitable access.