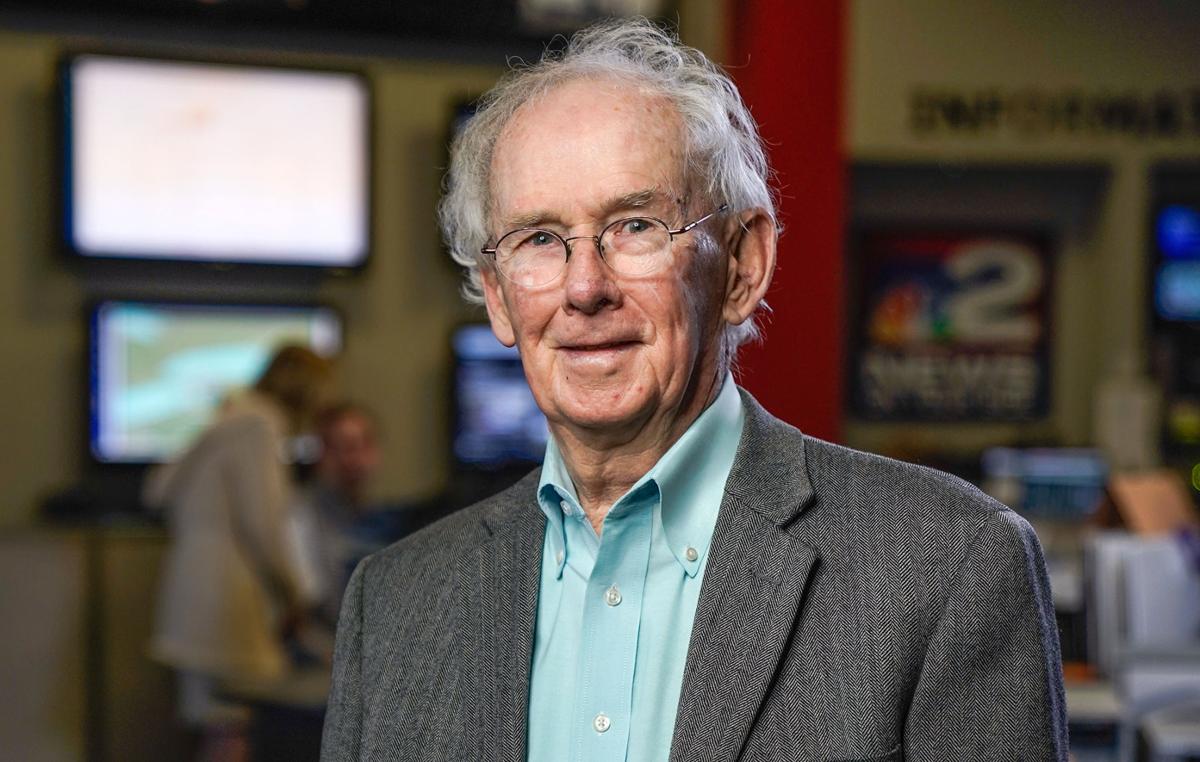 Mike Masters paused before attempting to answer the question.
The director for Cross Training Athletics and former high school football coach was trying to find the right words when he realized there is no way to quantify the late Dick Gallagher's importance to the community and the Western New York scholastic sports scene.
"Dick Gallagher, his reach is beyond the people he touched," Masters said. "That's how big it is. The people he touched are already touching other people and changing lives.
"The most humblest guy, never wanted the limelight. Served with dignity and never said a bad word about anybody. And I never heard anyone say a bad word about Dick Gallagher. He'll be sorely missed."
Many echoed Masters words.
That's because Gallagher was a gift to Western New York, impacting the lives of so many young people. Gallagher, also known as the Patron Saint of Western New York High School Sports, died Monday at age 79 following a lengthy cancer battle.
They say a man's true character is revealed by how others speak of him. The community has collectively said nothing but wonderful things while mourning the man who's a member of the Greater Buffalo and Section VI halls of fame. Gallagher was a friend to everybody – selfless, giving and a gentleman who treated everyone with class.
Helping people was his passion, whether it was through his career in social work devoted to treating others for alcohol and drug addiction or establishing his own weekly tabloid newspaper – Western New York High School Sports. Through his newspaper, published from 1983 to 2010, he made sure scholastic athletes received the attention they deserved for their athletic exploits and for being solid citizens in the community. Though the publication ceased 10 years ago, he continued covering scholastic sports until the time of his death for Channel 2.
"A big part of my football life is gone," said Williamsville South coach Kraig Kurzanski, who first met Gallagher in 1988 while serving as an assistant at South Park and later coached two of his grandsons at South. "He's an optimist, always giving glory to God."
Lancaster town historian Mary Jo Monnin remembers Gallagher for his tireless dedication to promoting all student-athletes, regardless of the size of their respective high schools.
"The guy was a real gift to Western New York high school sports," said Monnin, who covered high school sports for The Buffalo News from 1993-2015. "He had no limits to the hours he'd put in. … He knew every coach and had this knack for getting along with everybody. … He was just an incredible volunteer, thousands and thousands of hours dedicated to Western New York athletes. We all owe him an incredible amount of gratitude."
That includes The Buffalo News. For decades Gallagher has helped the sports department put together our annual football season preview section by sharing surveys he used while compiling his own preview. He also aided The News with selecting the All-Western New York football team, providing an extensive list as to which teams players should be slotted. He provided stats and other intangibles as to why one was more worthy of selection than another.
Gallagher made my job easier during football season, because he's a wealth of knowledge and a trusted confidant. And he trusted me to make last-minute changes to the All-WNY team, as it was our goal to make sure the top 25 honorees landed on the first team.
I knew he wouldn't be with us forever, but I still can't believe that the next time The News holds an All-Western New York football meeting over lunch that he won't be there to share his wisdom, insight and sense of humor.
Former Lancaster coach Len Jankiewicz remembered Gallagher's sharp memory. Jankiewicz said Gallagher remembered specific plays current Lancaster assistant Dave Mansell made on defense during Lancaster's Section VI championship win over North Tonawanda in 1988.
That's not the only player Gallagher recalled, as his former Ch. 2 co-worker Heather Ly shared a similar story on Twitter of her first interaction with Gallagher. When she told him who her husband was, he rattled off some big play he made to send Lancaster to the Section VI final that year.
"If there's somebody on this planet you can write a book or make a movie on who made a difference in the world, you look at Western New York and Dick Gallagher," Jankiewicz said. "The list goes on. The way he mixed his careers. … It was the perfect blend for his whole career, addiction treatment and giving others attention. There's countless stories about Dick putting kids on the right road. And that's all the accolades he needed. I don't think there's anybody in Western New York who can ever fill his shoes."
Kurzanski appreciated everything Gallagher did and hopes there is a season so that folks can honor Gallagher properly throughout the fall. Remember, there hasn't been a high school athletic contest since Williamsville South defeated Hamburg for the Section VI Class A girls basketball championship.
"He enjoyed being out of the spotlight but did everything to promote high school football here in Western New York and New York State, for that matter," Kurzanski said. "He was just a unique, humble man. Even the good ones have to die."
Catch the latest in Opinion
Get opinion pieces, letters and editorials sent directly to your inbox weekly!