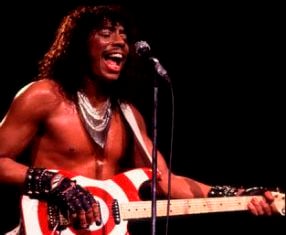 Wandering through Forest Lawn on Delaware Avenue, you're likely to stumble right upon it at some point. The stone is massive, a beveled-edge slab marking the final resting place of James Ambrose Johnson Jr., known to the world as Rick James, one of the funkiest human beings this side of the funkiest of them all, James Brown.
On the polished black stone is an image of James at his late 1970s peak. Mildly androgynous, he's clad head to toe in black leather, his trademark Rickenbacker bass strapped across his waist, one hand on his hip in swaggering insouciance, the other enmeshed in his long kinky hair. The image presents the James we love to remember – cocky, sure of himself, a survivor who pulled himself out of a seemingly hopeless urban Buffalo reality in the early '60s to claw his way to the upper reaches of R&B and pop, ultimately claiming the hard-earned sobriquet as his era's "King of Funk."
There's a legend on the memorial marker, too, one attributed to James: "I've had it all; I've done it all; I've seen it all. It's all about love ... God is love."
I stood before this marker, feeling compelled to do so while reading the recently published "Glow: The Autobiography of Rick James," assembled from the man's notes by author David Ritz. I don't know what I was expecting. Nothing, really. I'm not much of a believer in the idea that one might commune with the spirit of a dead man who also was a stranger, in the corporeal sense. Yet, I felt drawn to James' well-maintained grave, and while there, I did feel something. It was the dichotomy, I think, between the James pose on the stone, and the "God is love" legend. For in the distance between the two lies the essence of James.
"Glow" is a harrowing read, even for a fan. James wrote much of it while in prison serving time for various drug-related offenses. It's disturbingly frank, it pulls no punches, and it makes the reader wonder how James, who was already addicted to drugs by the time he was a teenager, lived as long as he did. And it serves to underscore the veracity of a statement James makes in the book's early pages; "Super talent doesn't take you to the Land of Peace; it takes you to Crazyland. And if you ain't emotionally grounded in something rock-solid, you gonna get annihilated."
James was unquestionably in possession of "super talent." And man, did he ever get annihilated. When he died Aug. 6, 2004, traces of alprazolam, diazepam, bupropion, citalopram, hydrocodone, digoxin, chlorpheniramine, methamphetamine and cocaine were found in his blood, though none at levels strong enough to have killed him alone. Rather, James' heart just gave up on him. We might want to romanticize this fact, take it as poetry or metaphor, but in fact, decades of drug abuse killed James. He simply lived too hard for too long. By the age of 56, he'd used himself up.
One could reasonably make the argument that James is the most significant pop-based musician to have emerged from Buffalo in the last century. We're proud of him here, as we should be. But what does it say about us that our biggest claim to musical fame is a drug addict with an insatiable appetite for sex who served time in prison for misogynistic acts performed amid weeklong cocaine binges?
Throughout "Glow," James is somewhat ambivalent about Buffalo. He clearly felt a fondness for his hometown, but he also saw it as tough, economically devastated and deeply racist, whether he was living in the projects as a kid, or claiming major real estate in the suburbs as a superstar. ("I was rich enough to buy the baddest house in Buffalo, a place in the lily-white suburb of Orchard Park, where racists had burned crosses on the lawns of a black doctor who owned the crib before me," James writes.)
But he also speaks to the depth of our town's culture, even amid bleak economic reality and rampant racism.
"In those days Buffalo was still alive. The Bethlehem Steel mill was going 24/7. There were jobs in the black community. There was music. And not just rhythm and blues. There was jazz, sophisticated modern jazz, that Mom heard and loved. She gave that love to me. She'd sneak me into clubs to hear Miles Davis when John Coltrane was his sideman. I got to hear Wes Montgomery play guitar and Jimmy Smith rip up the Hammond B-3 organ. I got to hear cats like Arthur Prysock sing 'Misty' and doo-woppers like the Moonglows sing 'Sincerely'... Outside the music, the world was boring. But inside the music, the world was magic."
Ultimately, the sounds James experienced in Buffalo became his own sound – a heady mixture of R&B, funk, rock, soul and jazz sensibilities. It is, more than any other sound in popular music, the sound of our city – dreamed of here, concocted here, largely performed by musicians from here.
You can still hear it, on any given weekend night in a Buffalo club.
Jerry Livingston, a member of James' Stone City Band, is perhaps our most highly visible and direct conduit to the Jamesian funk. Other members of the Stone City Band still perform in town regularly. You can hear a descendant of James' conception of groove – which revolved, always, around the bass line – in the playing of the virtuosic and soulful Buffalo bassist Zuri Elise Appleby. You can hear it when young local jam bands cover James' ode to Buffalo, "Below the Funk (Pass the J)." You can hear it whenever Kenmore-born musician Dave Schulz returns home to reassemble his band C.O. Jones, often with Livingston among the ranks. You can hear local DJs and MCs, dropping the needle on a James platter, or sampling one of his grooves, or freestlying over the bass line to "Superfreak."
And you'll probably be hearing it for decades to come, in the grooves conjured by bands that haven't even formed yet.
James left the best of himself in his music. We serve his memory best by keeping the funk alive. It's in the funk, after all, where we can really feel the "Glow."