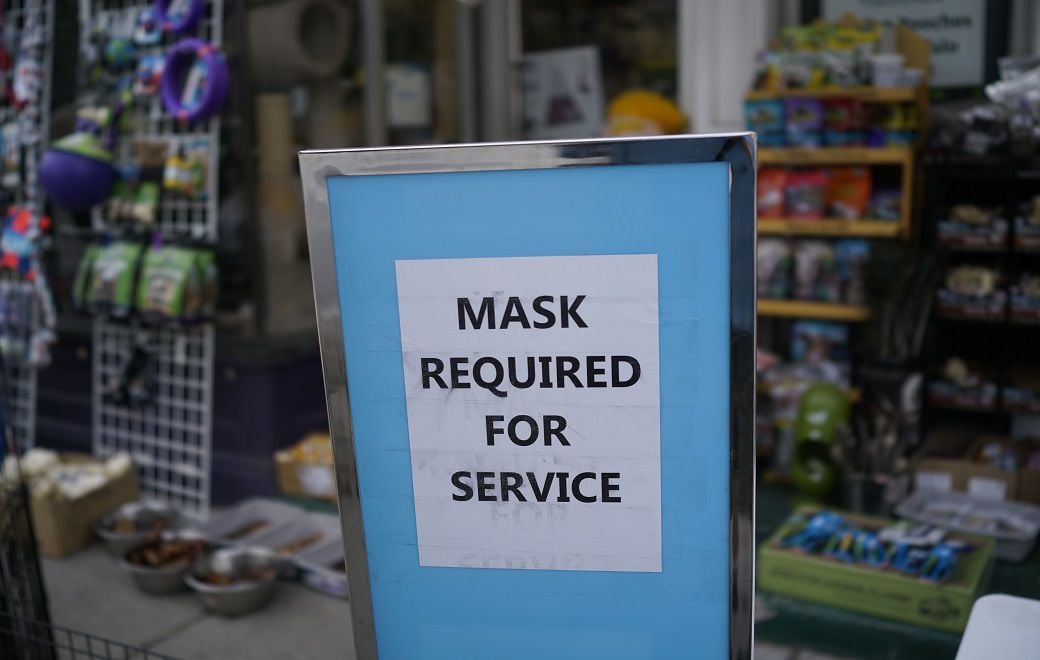 Let's face it: It's time to bring back the poll test.
I say this regretfully, fully cognizant of its racist origins as a means of keeping African Americans from the ballot box. I also say it recognizing the barriers modern-day Republicans still want to enact because they fear the consequences of too many Americans voting.
But the Covid-19 pandemic has revealed a whole new class of people whose mental state is such that they should not be allowed to play with matches – or a ballot. The mask resisters have exposed a fundamental defect in the body politic that threatens the very core of our republic: rampant and contagious stupidity.
And it's not confined to Florida, Texas, Arizona or California, where cases are skyrocketing.
Erie County public health sanitarians had to be out again last weekend trying to force bars and their patrons to stop playing Russian roulette with their own lives and the lives of others they come in contact with.
That followed a news conference in which County Executive Mark Poloncarz talked about health workers being harassed to the point that some had to be accompanied by sheriff's deputies as they tried to get numbskulls to wear masks and practice social distancing.
Seriously now, after all of the data on how to flatten the curve and keep it flat, after all of the tests showing that masks are effective, and all of the studies of how far droplets of various sizes carry, is there anyone out there stupid enough not to wear a mask and keep a safe distance?
Well, yes. In fact, lots of them.
As inspectors noted in one report on a Blasdell bar where they found maskless customers and employees, "Patrons began to yell at us to leave and told us that we should be ashamed of ourselves."
No, the shame is that patrons too dull to make the obvious decision when it comes to masks will nevertheless make electoral decisions affecting the rest of us.
Granted, an argument can be made that in a democracy, the idiotic deserve representation, too. But thanks to the Electoral College, we've seen how that works out.
While the Declaration of Independence includes the "pursuit of happiness," it does not protect the pursuit of ignorance. Nowhere in the Constitution is there anything about the right to wantonly spread disease and death to your friends, neighbors and relatives just because you want to party.
And that doesn't even count the economic costs to taxpayers. County health officials estimate they're spending about $10,000 a week in regular time, overtime and travel for public health sanitarians and sheriff's deputies to enforce what should be common sense.
The hard truth is that these imbeciles should not be voting, and we need a test to weed them out.
Modeled on the old "jelly bean test," we could ask something like: How many dotards can you pack into a bar before doubling the size of the Covid-19 outbreak?
And just as registrars in the Jim Crow era used their discretion to decide which potential voters correctly guessed how many jelly beans were in the jar, officials could use Lockport's now-shelved facial recognition system to scan crowd photos and weed out those who give the wrong answer. Of course, those who show up at the polls without a mask would weed themselves out, no questions asked.
It's already well established in most states that the mentally incompetent can be barred from voting. We just need to expand the definition a little bit.
I acknowledge there's also a partisan motive here. The dense, the selfish and the easily manipulable are otherwise known as Donald Trump's base. Not that everyone who was fooled by Trump the first time falls into this category. To quote a phrase, "some, I assume, are good people."
But we need to build a big, beautiful wall around the voting booth – and the mailbox – to weed out those others who should not be allowed anywhere near a ballot as long as they behave as if donning a mask is akin to losing your Miranda rights.
If anyone should understand the aversion to covering one's face, it should be someone like me. After all, at any other time, a Black man going into a store with a mask on would just be asking to get shot.
But Covid-19 is a greater threat than even the police. And anyone too dimwitted to realize it is too asinine to be setting the course of what used to be the world's greatest democracy.
Catch the latest in Opinion
Get opinion pieces, letters and editorials sent directly to your inbox weekly!