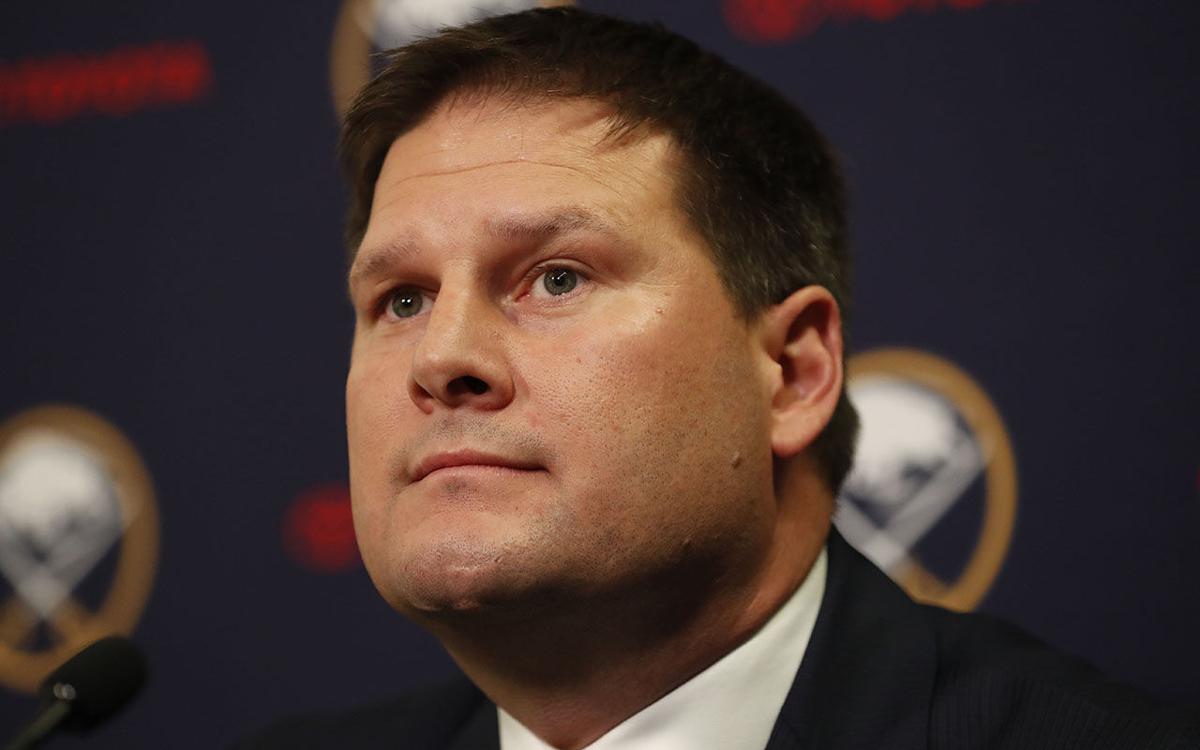 It's hard to imagine an NHL general manager having a worse spring than Jason Botterill. He's hard at work trying to redeem himself and the early returns of summer are good.
We're at the point now where I can't wait for his next move. This is a fascinating process to watch play out.
The Big One has to be coming.
And you're starting to realize it may not be simply Rasmus Ristolainen for somebody. It might be Ristolainen and somebody and somebody for three or four somebodies (or pieces) back.
Botterill has a long way to go to make up for the massive miscalculation of the Ryan O'Reilly trade, and he's forever going to stand as the first GM to trade a player who became the Conn Smythe Trophy winner the next season.
All he can do is move on from that. The GM is showing a lot more mental toughness than his team did in the second half of last season.
Think about all that's happened since Botterill brought Ralph Krueger on board as coach, a move that still ranks as an all-or-nothing shot that could be a career changer or a career killer.
Botterill got Jeff Skinner signed to an eight-year deal and then had the draft fall his way to take center Dylan Cozens at No. 7 thanks to some head scratchers from Chicago at No. 3 and Detroit at No. 6.
(Of course, it wouldn't be the Sabres without nice things getting quickly dented. What other team bangs up the No. 7 overall pick for 2-3 months in a 3-on-3 development camp scrimmage? Just a terrible break).
Botterill traded for defenseman Colin Miller, adding another good dose of experience. He traded for Jimmy Vesey, and signed Marcus Johansson as a free agent, adding two NHL-caliber players to the top 9 and maybe even the top 6.
Then came Tuesday's trade for 19-year-old defenseman Henri Jokiharju in which Botterill sent a bag of pucks — OK, actually former first-round bust Alex Nylander — to the Blackhawks.
This trade is a weird one for the Hawks, who seem to still be on the we've-won-three-Cups-since-2010 pedestal while making it. From this view, the corollary to that is you haven't won a single playoff game since 2016 and your magic touch might be wearing out.
Deposed Chicago coach Joel Quenneville loved Jokiharju, even paired him with Duncan Keith and clearly saw him as one future answer to the rapidly diminishing skills of veterans like Keith and Brent Seabrook. But when Quenneville was fired, Jokiharju's status in the organization oddly changed under new coach Jeremy Colliton and he was deemed expendable.
Meanwhile, the Hawks clearly think they can rehabilitate Nylander much like they did with former No. 3 overall pick Dylan Strome. Except Strome was an AHL All-Star in Tucson and Nylander has been MIA for much of his stint in Rochester. It's a pretty different scenario.
Dumping Nylander is one more eraser Botterill has taken to the Tim Murray era. The former GM's prime NHL acquisitions were O'Reilly, Evander Kane and Robin Lehner. All gone. Cliff Pu was traded for Jeff Skinner. Brendan Guhle went for Brandon Montour.
I've often said a hamster could have drafted Jack Eichel and the choice of Sam Reinhart was right at the time because no one knew what Leon Draisaitl would turn into. And the fact of the matter is Reinhart's career is clearly trending upward.
Other prospects left from Murray drafts: Casey Fitzgerald, Will Borgen, Rasmus Asplund, Brett Murray, Devante Stephens, Jonas Johansson and the one shot-in-the-dark that looks like it's going to work in 2014 seventh-rounder Victor Olofsson.
Jokiharju said Wednesday he's "pumped" to come to Buffalo and get a chance at a full-time role. He left Rockford in his rear-view mirror and has no intent on getting to Rochester.
Of course, that's going to require roster moves. Botterill's public pronouncements to the contrary, it's obvious the right side has been getting bulked up to prepare for the move of Ristolainen.
Behind Ristolainen on the right side are Montour, Miller, Jokiharju and Zach Bogosian (who doesn't figure to start the season due to hip surgery). Throw in on-the-cusp-of-the-NHL Borgen, Casey Nelson and Fitzgerald and you've got a massive surplus.
The Sabres are ultra heavy at right defense and left wing and far too thin at center and right wing. Hmm.
Botterill got heat from plenty of directions — this corner included — about taking on the GM job for Team Canada at the World Championships in Slovakia with Ron Hextall and Ron Francis, two other GMs out of work and not facing a major crisis back home.
It looks like I was wrong on that point.
While Canada had a good tournament and got all the way to the gold medal game, it's now clear that Botterill was using his time wisely. It was during the tournament that he sealed the deal with Krueger, and helped get Krueger set up for his first meetings with Eichel and Reinhart.
It was during the tournament where Botterill was clearly gathering intel on Jokiharju, who played in all 10 games for a Finland team that did not include many NHL players but featured No. 2 overall pick Kaapo Kakko.
And who knows what else Botterill might have been up to roughly 4,500 miles away from home? He had to be taking lots of notes on Russian winger Nikita Gusev, whom Vegas seemingly won't be able to get under its bursting salary cap.
Botterill just gave up one of his second-rounders in 2021 and a fifth-rounder in 2022 to Vegas for Miller. Might he circle back to Vegas president George McPhee about next year's second-rounder for Gusev, a player who could be plug and play in the top 6?
Forget about the Golden Season. The summer slogan for Botterill's Sabres right now is a simple one: Stay Tuned.