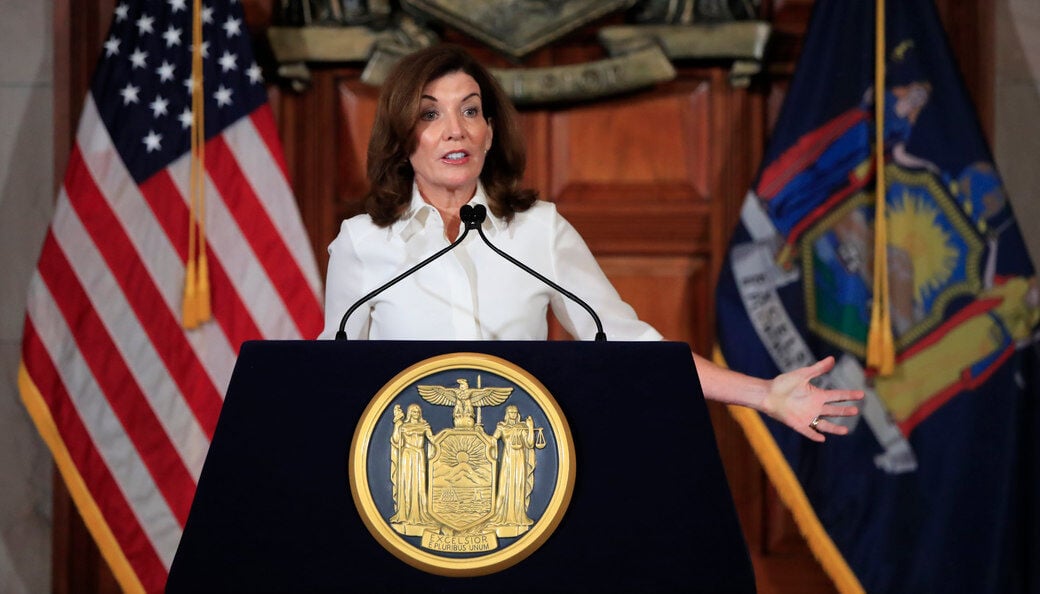 Democrats hanging on to their old Cuomo/Hochul lawn signs for a 2022 reprisal can throw them in the recycling bin. The Andrew Cuomo Era in New York ended last week. The time for Gov. Kathy Hochul has begun.
But now we know that Hochul chucked her own signs about six months ago. That's when allegations of sexual harassment against Cuomo began to surface, and that's when the former lieutenant governor said she last spoke with him. Since then, and especially after taking the oath as New York's 57th governor on Tuesday, Hochul has made every effort to distance herself from the once omnipotent Cuomo.
The once loyal running mate has morphed into the anti-Cuomo:
• The new governor on Wednesday acknowledged for the first time that 12,000 more New Yorkers died of Covid-19 since it first invaded the state. Cuomo's method of chronicling Covid deaths had long proven controversial, and he stuck to his script late Wednesday, defending his reporting methods from exile in Westchester County.
• To contrast herself from Cuomo's often bully-style politics, Hochul promised a "dramatic change in culture and accountability" after taking the oath of office on Tuesday.
• The new governor directed an overhaul of state sexual harassment and ethics policies in a clear rebuke of Cuomo.
• She immediately embraced New York Mayor Bill de Blasio, Cuomo's archenemy.
• She promised to move Albany forward "without distractions" in another break with Cuomo.
All of this marks a dramatic change for Hochul, who since the 2014 election dutifully embraced the role of loyal lieutenant. In happier days, she rarely delivered public remarks without crediting her boss. "Gov. Cuomo and I" emerged as one of her favorite phrases – as any second-in-command will acknowledge it should.
Now, Hochul is no longer bound by the awkwardness of her supporting role. And she takes every opportunity in recent days to show it. Indeed, while appearing on the CBS morning show on Wednesday, she continued down her newly independent path.
"Well, I had the title of lieutenant governor. That did not mean we worked side by side. In fact, I determined early on that the governor had his own way and I had my way," she said. "It's no secret that we were not close for the last seven years."
Ditto for her conversation with MSNBC's "Morning Joe" program.
"I want to demonstrate to people, there's a different way of getting things done in New York, a different approach can be just as high achieving and have the tremendous accomplishments without having a culture, or as I say, leaving bodies on the road," she said. "I want people to know, we're going to govern differently, and I want everyone to know that from day one, and you're going to see the same and even greater results with a very different approach."
You would not have heard that from Hochul this time last year. Now she emphasizes her distance from a Cuomo accused of all kinds of misdeeds – some under investigation by law enforcement.
Then again, Hochul has never shied away from adapting to new circumstances. Representing New York's most Republican district, she railed against any hint of gun control. As a Cuomo loyalist a decade later, she eagerly defended his SAFE Act.
All of this is already prompting sharp criticism from those who will challenge her next year. Republicans and Conservatives are asking now – and will in 2022: Where was the lieutenant governor during all of Cuomo's alleged transgressions?
"She clearly had to know – or should have known – the true Covid death toll in the state," New York Conservative Chairman Jerry Kassar said Wednesday. "So why did she stay silent as Governor Cuomo hid these numbers? Did her pledge to be transparent begin only yesterday?"
Hochul's likely Democratic primary opponents will ask the same hard questions.
But during two statewide Democratic primaries for lieutenant governor, she survived – and prospered.
Now Hochul is no longer shackled by a subservient job or as a Democrat in an ultra-Republican congressional district.