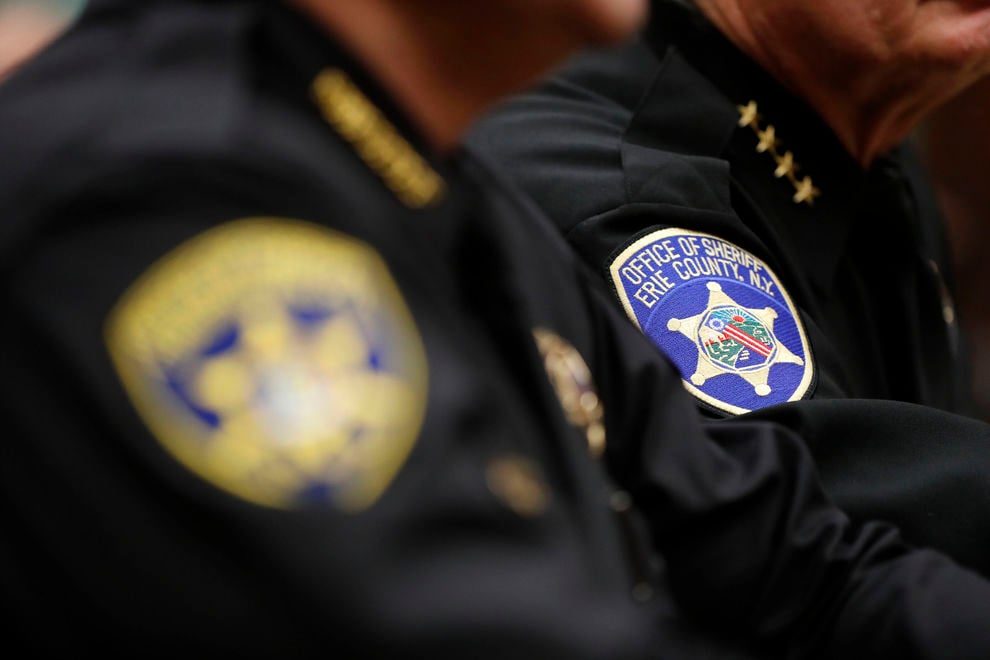 Some things to know about politics around here:
• A whole lot of people in Erie County want to be sheriff. So many, that primaries loom in both major parties. The Politics Column has been around a long time, but can't remember the last time that happened.
Interestingly, people who don't want to be sheriff are also figuring in the contest. That includes Kim Beaty, the former Buffalo deputy police commissioner who now heads security at Canisius College.
Beaty has told The Buffalo News she will not run after becoming a serious contender early in the process. She has also told leaders of the Democratic and Working Families parties she will not run (after some grumbling about her treatment by Dem leaders), as well as a number of close associates.
Nevertheless, former Legislature Chairwoman Betty Jean Grant continues to collect hundreds of signatures on designating petitions aimed at making Beaty the Democratic candidate. Working Families, meanwhile, says it will now await the outcome of the Democratic primary between Cheektowaga Assistant Chief Brian Gould and political activist Myles Carter to endorse.
Beaty isn't talking now, adding to the question marks surrounding Grant's efforts and Working Families' delay.
Normally, an independent candidate like Amherst Det. Lt. Ted DiNoto would be given little chance. But the possibility of diffused tickets stemming from GOP and Democratic primaries allows him to watch happily from the sidelines.
• Demands continue for the resignation of Gov. Andrew Cuomo following allegations of sexual harassment and hiding data on nursing home deaths stemming from Covid-19. And as a result, attention focuses on the possibility of Lt. Gov. Kathy Hochul of Buffalo taking over.
It could happen. But it's important to remember upstate's relative irrelevance when it comes to statewide elections. The last (and only) Buffalonian elected governor? Grover Cleveland in 1882. Last upstater elected governor? The one and only Nathan L. Miller of Syracuse in 1920.
Upstate might include a vast swath of territory, but politics in New York is still controlled by the Big Town.
• And since we have our trusty Legislative Manual opened to the list of governors, we might ask (just for the heckuvit, mind you) about the last governor to be impeached. That would be William Sulzer in 1913, succeeded by Martin H. Glynn of Albany.
• Some fast facts gleaned from the latest Siena College statewide poll conducted March 8-12:
– In its first ever question about Hochul, Siena found 64% of New Yorkers have never heard of the state's second in command. If Cuomo were to leave office, that percentage will change.
– However, New Yorkers seem to be watching Attorney General Tish James. She scored her highest ratings ever – 40% favorable and 14% unfavorable, up from 36-17% last month.
– Sen. Kirsten Gillibrand has a 43-27% favorable/unfavorable rating, but 30% of New Yorkers don't know who their U.S. senator is or have no opinion. Hmmmm ...
• Back at home, businessman Hormoz Mansouri continues to circulate Democratic petitions for county comptroller. Mansouri has been a behind-the-scenes influence for many years who may not be well-known, but his substantial resources could change his name recognition overnight in a matchup against endorsed candidate Kevin Hardwick.
Mansouri says he will make a final decision on his candidacy around the time petitions are submitted on March 25.
• Veteran newsman Tony Farina is hosting a new "inside politics" radio show on WEBR/1440 AM, 6-7 p.m. every Wednesday. An alumnus of the Courier-Express and Channels 2 and 7, Farina has been lining up top guests from the political and government world, and has scheduled former County Executive Joel Giambra (very much involved in this year's politics) for next Wednesday.
But you'll want to tune in for his stories spanning 50 years in local journalism. He's a got a million of them.