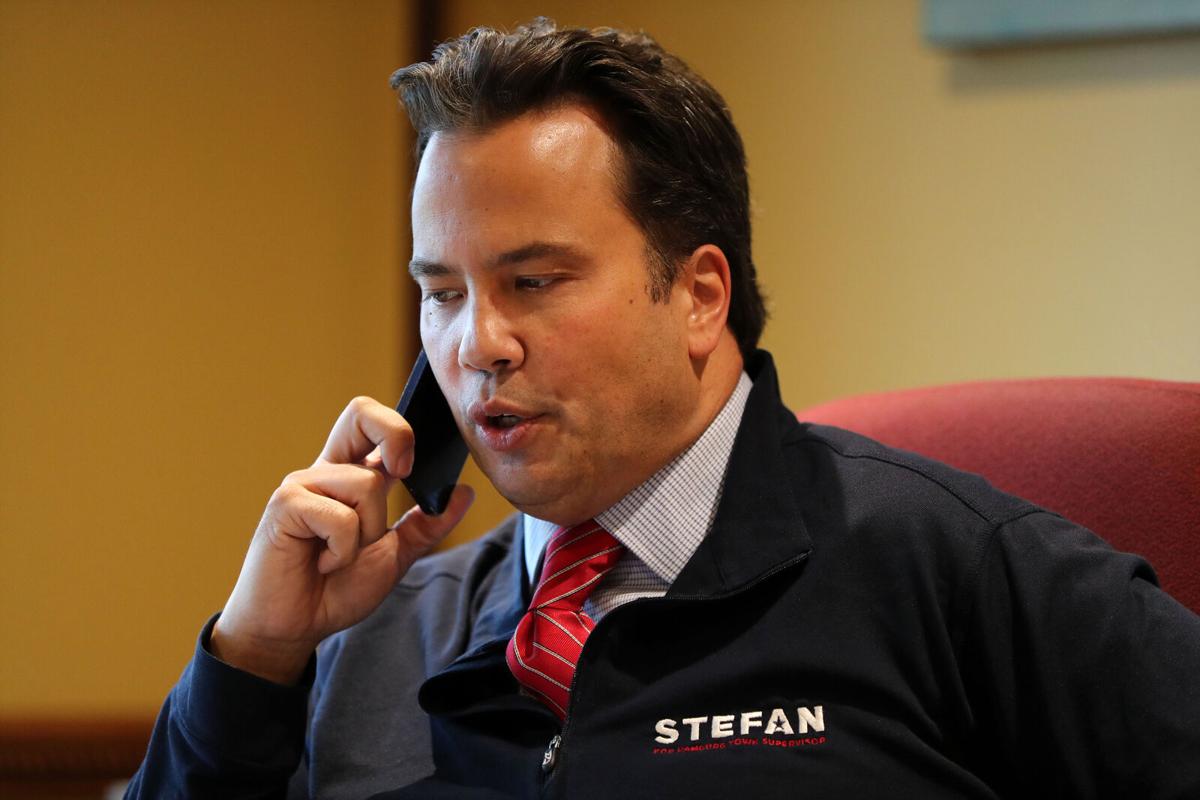 It's a leftovers weekend – in your fridge and in your New York politics, too:
• Erie County Comptroller Stefan Mychajliw is preparing to depart the Rath County Office Building after he opted against a re-election bid this year in favor of unsuccessfully running for Hamburg supervisor. Now he moves on, joining his longtime pal Chris Grant at the Big Dog Strategies political consulting firm.
"Chris' firm is one of the most influential in the country," Mychajliw said a few days ago, noting the Clarence-based operation's work on campaigns for governor, senator and the House of Representatives. "When he made the offer, I didn't think twice about it."
Mychajliw has racked up his share of careers – TV reporter, school board spokesman, campaign spokesman and for the last nine years, the top debits and credits guy in Erie County government (not to mention unsuccessful congressional candidate). Now he's stepping out of the political limelight, though remaining in the politics biz (and we're not surprised).
• Congressman Tom Suozzi of Nassau County, according to sources close to him, will decide about running in the Democratic primary for governor within the next few days. The New York Post reported last week he is also weighing an offer of deputy mayor from incoming New York Mayor Eric Adams.
Suozzi, you may recall, embraced Buffalo Mayor Byron Brown's re-election effort, while strongly opposing the socialism of opponent India Walton.
• Speaking of New York mayors, keep your eye on outgoing Bill de Blasio over the next few weeks, too. The mayor told The Buffalo News a few days ago he will travel the state after leaving Gracie Mansion on Dec. 31 to promote his proposals for universal pre-K, expanded after-school hours and other education initiatives.
The conclusion here is that de Blasio is passionate about such issues, but taking the state's political temperature outside the five boroughs may also determine whether he enters the gubernatorial fray.
• A candidacy by de Blasio, one of the Democratic Party's true progressives, most likely won't fly with Assemblyman David DiPietro. The East Aurora Republican again earned a perfect, 100% rating from the state's Conservative Party. Can't get any more conservative than that.
• Justice Shirley Troutman of the Appellate Division of State Supreme Court is headed for the Court of Appeals after her nomination by Gov. Kathy Hochul. And it's interesting to note that governors must mollify all sorts of constituencies with such appointments. Erie County Democrats pushed Troutman for almost a year. Other Western New Yorkers sought to renew the traditional Buffalo seat on the high court bench, especially with the impending retirement of Judge Gene Fahey of Buffalo.
Other groups weighed in too, especially those advocating a new "diversity" on the bench – defenders rather than former prosecutors. Twelve state senators urged appointment of two public defenders included on a list of recommended candidates.
"Attorneys who have worked on issues of indigent defense, housing, civil rights and immigration ... have a different perspective that can move our state forward in a way that represents all its people," the senators said.
Another coalition of more than three dozen progressive organizations made the same appeal to the governor. Under the Demand Justice umbrella, the group also urged consideration of the public defenders in the name of "professional diversity."
• And it was not lost on veteran observers of Erie County politics that Democrat Kevin Hardwick prevailed in his recent campaign for county comptroller following his endorsement by former GOP Comptroller Alfreda Slominski. Past candidates like Republican Nancy Naples for comptroller and Democrat Dennis Gorski and Republican Chris Collins for county executive eagerly sought her blessing – and won.
Blunt and outspoken during a political career dating to the 1960s, Slominski served as county comptroller for 20 years.
She may have retired way back in 1993, but Slominski appears to have remained a force in Erie County politics.