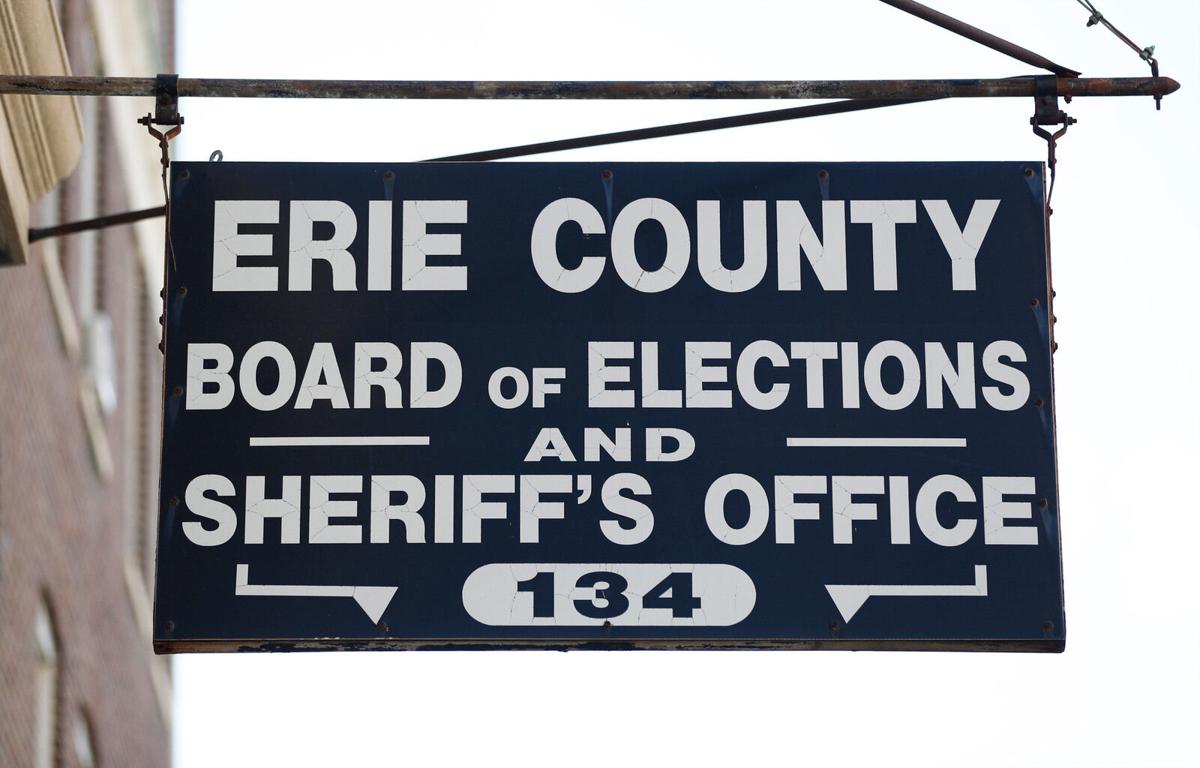 The end of January signals the end of "spring training" for the 2021 political season. With designating petitions set to hit the streets on Feb. 23 (though emergency Covid legislation could still change the calendar), the regular season begins to take shape.
Here is a roundup of politics around here:
•  And then there were nine.
Bernie Tolbert, former head of the Buffalo FBI and the 2017 Democratic candidate for sheriff, opted against an encore campaign last week, citing personal and family reasons. That leaves a "mere nine" candidates still competing for sheriff this year.
Indeed, even veteran political observers cannot recall such a crowded field. Now Republicans and Democrats must make endorsement decisions in early February.
Most of those same "political observers" (they're everywhere) view Dennis Richards, chief of detectives in the Buffalo Police Department, and Brian Gould, assistant chief of the Cheektowaga Police Department, as the leading Democratic contenders.
On the Republican side, BPD retirees Karen Healy-Case and John Garcia are most often mentioned. But Garcia is approaching the race with as much as $160,000 in his campaign treasury, knowledgeable sources say. That could compel Healy-Case to report equally competitive numbers soon.
Still, nobody is dismissing any candidate, most of whom bring sterling credentials. Kim Beaty, for example, has been making her case as an African American woman with the Working Families Party. The BPD's former deputy commissioner might force Democrats to fear split opposition against the GOP should she gain a minor party line.
•  Looking back in history, it has always proven difficult for BPD veterans running for sheriff on the Democratic line. Think Leo Donovan, Angelo Alessandra, Charlie Fieramusca, Rocco Diina and Barbara Miller-Williams – none proved successful.
Now Richards of the BPD is vying for the Democratic nod, but so are BPD vets Healy-Case and Garcia on the Republican side. That could prove an interesting matchup.
•  Speaking of interesting matchups, a rather erudite primary could be on the Democratic ballot for county comptroller. Kevin Hardwick, the Republican-turned-Democrat legislator from the City of Tonawanda, was set to gain the Democratic endorsement late last week.
Hardwick has a doctorate in political science and is a Canisius College professor.
But businessman/developer Hormoz Mansouri began making noise last week about a challenge in the Democratic primary. Mansouri also holds a doctorate – in engineering.
Erie County politics is becoming quite sophisticated.
• And speaking of Hardwick, his comptroller candidacy will now create a vacancy on the November ballot for his seat in County Hall. Erie County Democratic Chairman Jeremy Zellner says the party is expected to nominate Tonawanda Council Member John Bargnesi to run for the Hardwick post.
• Zellner also reports that he has received requests for a Democratic mayoral endorsement from activist India Walton and the four-term incumbent, Byron Brown.
The mayor's request proves significant. While nobody doubts he will "strive for five" and seek an unprecedented fifth term as head of New York's second largest city, the move marks the most tangible sign yet that he will run.
Zellner does not expect the party's Executive Committee to consider the mayoral race until late February. Brown will probably have to make an official declaration by then.
• The chairman also reports that the Democratic field for Supreme Court is also beginning to take shape. He expects Justice Frank Caruso to seek reelection, as well as attorneys John Licata of Erie County and Grace Hanlon of Chautauqua County, who ran unsuccessfully in 2016.
Caruso will run for his seat, while the others (and yet-to-be-determined Republicans) will replace Justices Fred Marshall and Dennis Ward, who will reach age 70 and be barred from running again.