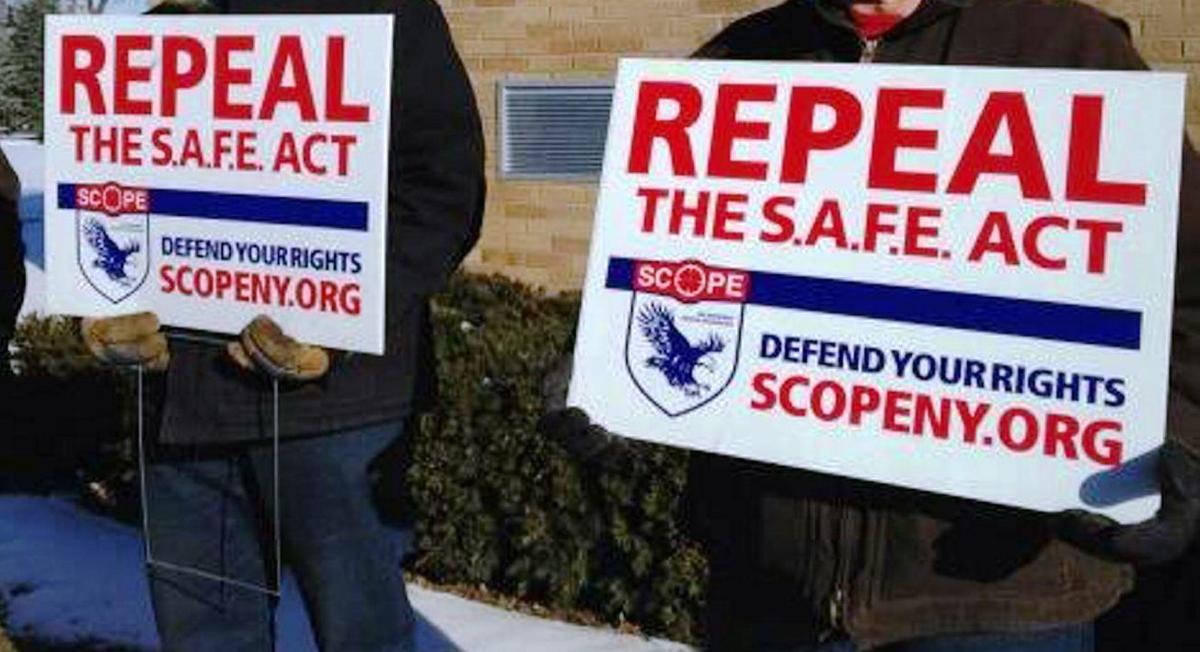 Down Sardinia way – or for that matter, in Concord, Wales, Newstead and many of Erie County's rural towns – the signs remain.
"Repeal the Safe Act," they plead.
Eight years after New York passed the tough gun control law that restricts criminals and the mentally ill from buying guns while banning some assault weapons, the controversy continues.
Despite the signs, the SAFE Act remains the law in New York with no prospects of repeal. But that doesn't mean voters won't hear about it during the 2021 campaign for Erie County sheriff.
In the crowded race to succeed Tim Howard as the county's top cop, several candidates say they will not enforce the SAFE Act. Though none claims status of constitutional scholar, several pronounce the SAFE Act "unconstitutional."
Therefore, they say, they will not enforce the law.
Other candidates waffle. They say they "don't know right now" or will not comment. But they've seen those signs in rural Erie County, and know that Howard also vowed not to enforce Albany's edict.
These candidates may be new to the campaign game, but they've gathered a nugget or two of political smarts along the way. They recognize that Republican Howard won four countywide elections in Democratic Erie County, including one with a non-enforcement vow.
Karen Healy-Case, for example, is a leading Republican contender. Some say the retired Buffalo lieutenant will have emerged from this weekend's GOP confab with the party endorsement as she vies to become Erie County's first woman sheriff (and the state's second after Jefferson County's Colleen O'Neill).
Healy-Case says her Sheriff's Office will "stand up to stop the unjust laws passed by Albany politicians that threaten our liberty."
John Garcia is the other top Republican contender. He says it's "ridiculous" to promise no enforcement of the SAFE Act. But then he adds this: "I won't enforce any provisions of the SAFE Act that are unconstitutional."
He won't comment on the particulars.
Amherst Detective Lt. Ted DiNoto could become a significant factor in the race after first seeking the GOP nod and now running on the independent Public Service Over Politics line. He's no fan of the SAFE Act either.
"As sheriff, I believe I am a guardian of the Constitution and will go along with the Constitution," he told The News. "I look at it as a restrictive law more than a public safety law."
On the Democratic side, Assistant Chief Brian Gould of the Cheektowaga Police Department is also making a strong pitch. Like all the candidates, he brings a top notch resume. But so far, he tiptoes around the SAFE Act.
"There are much more important things the sheriff has control over that need to be addressed," Gould said. "My focus right now is on more pressing issues than the SAFE Act."
Democrat Kim Beaty, however, addresses the issue directly as she also seeks to become the county's first female sheriff.
"When someone is elected to be the top law enforcement officer they can't be selective in their enforcement," said the former deputy commissioner of the Buffalo Police Department.
Then there's Dennis Richards, Buffalo's chief of detectives, a top contender until dropping out of the race last week. But in his withdrawal letter to Democratic Chairman Jeremy Zellner, the chief offered a clear parting shot.
"Some on the other side are already claiming they will refuse to enforce particular laws not to their liking. That is completely unacceptable," Richards wrote. "We do not make the laws, we enforce the laws – with malice towards none, justice for all, and without fear or favor."
Some candidates don't care to talk about the SAFE Act, but it most certainly will loom as a key part of the 2021 campaign for sheriff – even without a prayer of repeal in all-Democratic Albany.
Who says signs don't vote?