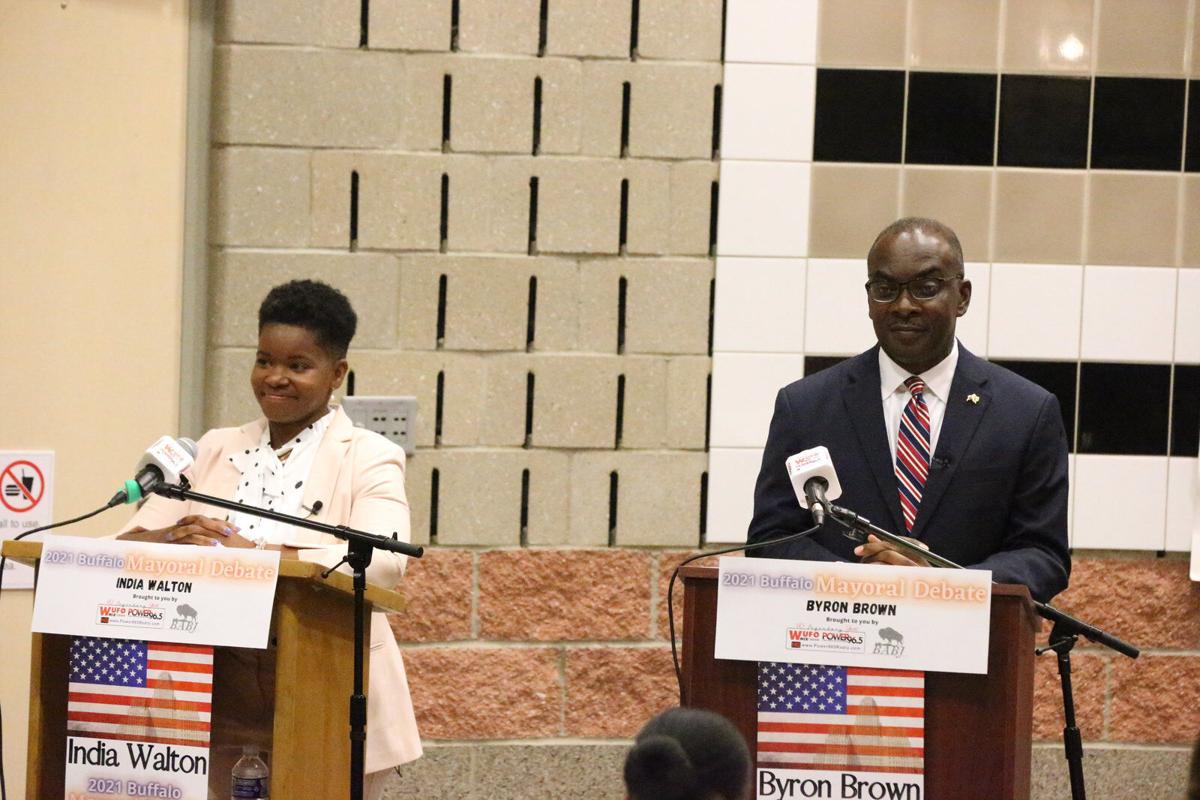 News, notes and observations:
• India Walton and Byron Brown are battling through one of the most intense mayoral campaigns in Buffalo history – even though the incumbent is not even on the ballot.
Local political historians must revert to the big mayoral election of 1977 for anything comparable. Sure, lots of Democratic primary elections were hard fought and competitive. But not since Democrat Art Eve, Republican John Phelan, Liberal Don Turchiarelli and Democrat Jim Griffin on the Conservative line met in 1977 has the general election weighed so heavily in determining who occupies City Hall's big, second floor office.
Still, the Nov. 2 face-off pits Walton from the party's left wing against the establishment Brown, who ironically enters the fray with only a smattering of party establishment support.
And to be sure, the election will determine what kind of Democratic politics holds sway in New York's second largest city for years to come.
• Walton may argue the campaign ended on June 22 when Brown lost the Democratic primary.
"I don't even know why you're here," she pointedly asked Brown during the Sept. 9 debate at the Merriweather Library.
But Nov. 2 is emerging as sort of a big Democratic primary do-over, though Republicans and the nonaffiliated will be allowed to participate on Nov. 2.
Isn't that a novel idea? Non-Dems actually having a voice in this mayoral election?
• Speaking of Republicans, Buffalo GOP Chairman Andrew Pace told The Buffalo News back in August that his organization would consider helping turn out its 14,553 enrolled members to help Brown – if asked.
The effort, The News reported, would most likely involve Republican leaders lending their contact lists or possibly raising money to aid the mayor's campaign.
But since then, Pace has gone radio silent on whether the mayor did ask for help, and whether his troops will aid the campaign. He no longer returns phone calls posing the question.
The bet here is that the Brown campaign would just as soon keep GOP help for the former state Democratic chairman on the down low. Surely, it will accept Republican votes most likely headed Brown's way, but it doesn't want Democrats to know.
Indeed, Walton rarely refers to the Brown campaign without a "Republican supported" modifier. She has made it an issue.
• Too bad the Walton campaign nixed a second mayoral debate to be broadcast over radio and television. It would have proven enlightening and entertaining.
The Brown campaign said the move is "not just disqualifying, it's disingenuous." But the mayor now gets a taste of his own medicine after ignoring Walton's calls for a debate during the primary.
• Speaking of debates, the League of Women Voters firmly believes in their value – just as it has for decades. The good government organization will sponsor forums featuring candidates for sheriff and county comptroller at the East Aurora Senior Center from 7 p.m. to 9 p.m. on Oct. 13 and at the Amherst Senior Center from 9 a.m. to 11:30 a.m. on Oct. 22.
Significantly, Karen Healy-Case says she will participate in both affairs as the Conservative candidate for sheriff, even though she acknowledges little chance of winning after losing the June Republican primary to John Garcia.
"I think it's important," she said a few days ago. "Why wouldn't I, as the Conservative candidate, show up?"
Healy-Case's continued campaign, which she labels "semi-active," cannot be welcome news over at GOP HQ. Split Republican-Conservative opposition against Dem Kim Beaty (especially in view of heavy Democratic turnout in Buffalo for the mayor's race) remains a concern.
Big question: How will independent candidate Ted DiNoto affect the race?
• As if the politics of 2021 is not enough even for political junkies, future races are also beginning to take shape. Some local Repubs are sponsoring a fundraiser Thursday at Sinatra's Restaurant for Florida Gov. Ron DeSantis at $5,000 a ticket.
And it's a given that one of the top names in the 2024 Republican presidential mix would not be venturing to Buffalo without the guarantee of a successful haul.