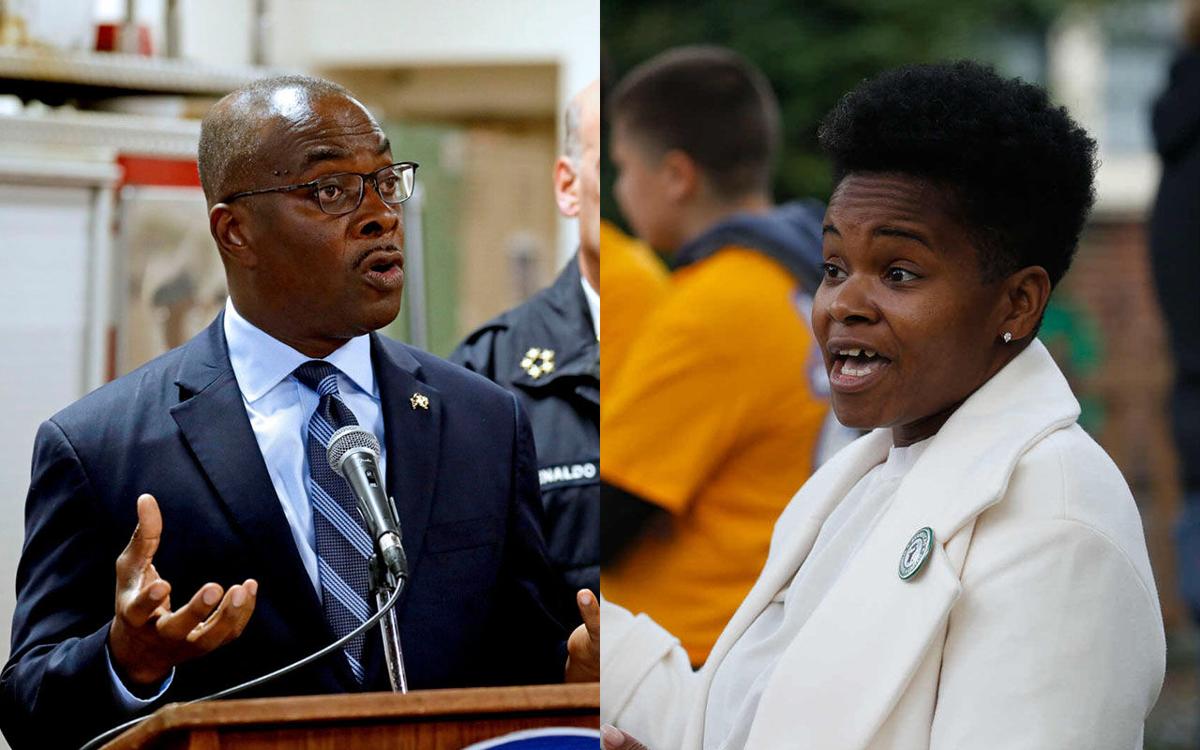 It will be a long time before the just-concluded election for mayor of Buffalo recedes from memory.
The contest between challenger India Walton and incumbent Byron Brown ranks as unique on so many levels – Walton's primary stunner, Brown's unprecedented write-in campaign and, ultimately, his convincing victory. But around the nation and state, the contest oozes all kinds of aftereffects.
Take Walton's virtual appearance last week before Our Revolution, the left-leaning group linked to Vermont Sen. Bernie Sanders. It reignited an effort to remove Brown from the Democratic National Committee because he challenged Walton – the choice of Democratic voters in the June primary. The group also launched even more debate about the future of democratic socialists like Walton in the Democratic Party, as well as new side issues.
"Grassroots Democrats are saying they've had enough of working with Republicans," Our Revolution Chairman Larry Cohen said last week of Brown. "And he's well aware that democratic socialism means focusing on working families and working people.
"I will do whatever I can to raise that narrative about using big money to defeat grassroots Democrats after they have won primaries," he added. "I will defend his right to run a write-in campaign, but not to be a Democratic leader."
Brown, you recall, is the immediate past chairman of the New York State Democratic Party, hand-picked by former Gov. Andrew Cuomo. The mayor of New York's second-largest city was the guy manning the delegation microphone at the national convention. And powerful Democrats like current state Chairman Jay Jacobs want nothing to do with any "kick him off the DNC" talk.
"Now the voters of all of Buffalo have spoken and picked the mayor," Jacobs (who serves at the pleasure of Gov. Kathy Hochul) said last week. "Now we move on."
But the rest of the world is not moving on. Groups like Our Revolution continue to make noise, and Walton said last week she is "committed to spending the next four years to building our base and getting our young people active and engaged and make sure people make it out to the polls."
Already, top Democrats are watching the situation. Charlie King, a former DNC member who is well known in state Democratic circles, also reacted to Cohen's criticism of Brown.
"Larry Cohen, head of Our Revolution, is using his considerable strength within the Democratic Party to weaken Black power inside it because a Black man, Mayor Byron Brown, defeated an ideological soulmate of Mr. Cohen's by the people on Election Day," King said in a statement. "And while he gins up a progressive mob to hang Mayor Brown out to dry within the party, Mr. Cohen does and says nothing to support the Black progressives and other progressives of color who lead the fight in the House on the core issues he and his revolutionaries care about.
"In the case of Mayor Brown, it's almost Trumpian that Mr. Cohen will not accept the fact that an election was held, the results came in, and a Black man whose views Mr. Cohen disagrees with, won," he added. "Now Mr. Cohen is using his substantial power base inside the DNC to weaken Black power within it by stripping Mayor Brown of his party post."
To be sure, Cohen never entered the racial realm in his blast against the mayor. But a top Dem like King, watching from New York City, now introduces that element to the discussion because the contest for mayor of Buffalo has poked a stick at so many below-the-radar issues.
All of this is now sure to expand beyond Buffalo's borders as battle lines for the 2022 gubernatorial election take shape. Candidates are already staking their turf – far left, center left, middle of the road. These issues are bound to enter that brouhaha.
Brown, Jacobs and others may have declared an end to the big mayoral contest of 2021. But Walton has ignited a debate that continues to hang around. And that means all kinds of Democratic debate and discussion is bound to continue.