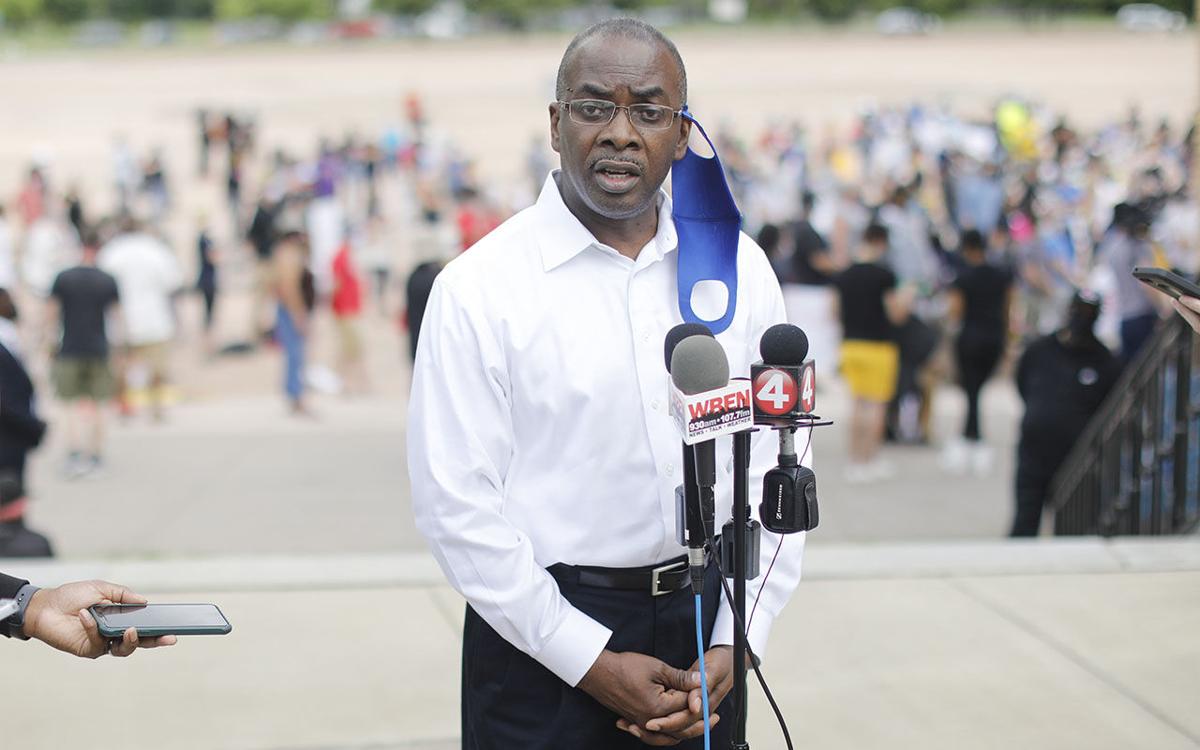 Back on May 2, 1993, Mayor Jim Griffin read a front page story in The Buffalo News headlined: "Most Surveyed Say City Is on Wrong Track."
Griffin would never admit that he read The News. But he did. And as he contemplated seeking a fifth term as mayor, the results of a News poll were hardly encouraging.
"Only 14.8 percent of those surveyed believe Buffalo to be on the right track, with 79.6 percent indicating the city has serious problems that need better handling," The News reported that day, citing a survey of 500 registered Democrats likely to vote.
Three days after the story appeared, the mayor convened a news conference in the big office on City Hall's second floor. He said his then-unprecedented four terms were enough and announced his retirement. Friends and insiders say he concluded it was "time."
Byron Brown, however, has rejected the "shelf life factor" that dogged Griffin. The News reported on Tuesday that Brown will run again, looking to shatter the four-term record he shares with Griffin. He's not big on that "Strive for Five" slogan, but City Hall insiders say it's the mantra.
The bet here is that while there was no front page poll story three days earlier, Brown has a good sense of where he stands. Polling? Probably. These days, most pols don't sneeze without gauging the reaction.
But the mayor also looked around and saw no politician of consequence even testing the waters. No Sens. Tim Kennedy nor Sean Ryan. No Council President Darius Pridgen nor Lt. Gov. Kathy Hochul. No County Clerk Mickey Kearns. No Council member nor prominent business figure.
They must know the numbers, too. And now Brown moves forward.
"I have received an outpouring of support from people in the community," he said. "They understand the importance of steady, stable, conservative, yet progressive leadership that has been important in probably one of the most challenging times in the history of the City of Buffalo."
Four years ago, then-Comptroller Mark Schroeder lambasted Brown at every chance for staying too long – for not giving way to new and fresher ideas. But on Primary Day, Brown won in a landslide.
Now the mayor seeks yet another term, when the "too long" argument will prove even stronger. His reaction?
"I feel it is my duty and responsibility to continue to work for the community to bring us through this very challenging time," he said.
And there you have it – Brown's "in a nutshell" summary of how he will conduct his campaign.
The mayor, however, must still work for a fifth term. Indeed, challenger India Walton will bring the same activist energy to the race as her bullhorn speeches last summer protesting police tactics and racial inequality.
Walton will face Brown in the June Democratic primary and in the November general election as the Working Families Party candidate. She says she won't even dwell on the five terms issue.
"It's not necessary to say he's been there too long because we can see the failure of police and bad policies that have left a lot of people behind," she said, adding this relevant kicker: "It's time for a change."
And oh, yes. Expect Walton to "immediately" denounce those cameras in school speed zones.
"There is no evidence school zone cameras change folks' behavior," she said. "And it all reflects disproportionately on folks who can't afford [the fines]."
It's no coincidence that for the first time in its existence, Working Families has rejected Brown – Gov. Andrew Cuomo's former hand-picked state Democratic chairman. The Walton endorsement underscores a growing rift between the governor and left-leaning minor party. They were not about to back a "Cuomo guy."
Right now, Walton looms as Brown's only challenger on the ballot. But Covid-19 has relaxed ballot access requirements, so maybe more candidates will surface.
And while the election featuring Brown's fifth campaign may lack the big names, it doesn't appear to lack issues.