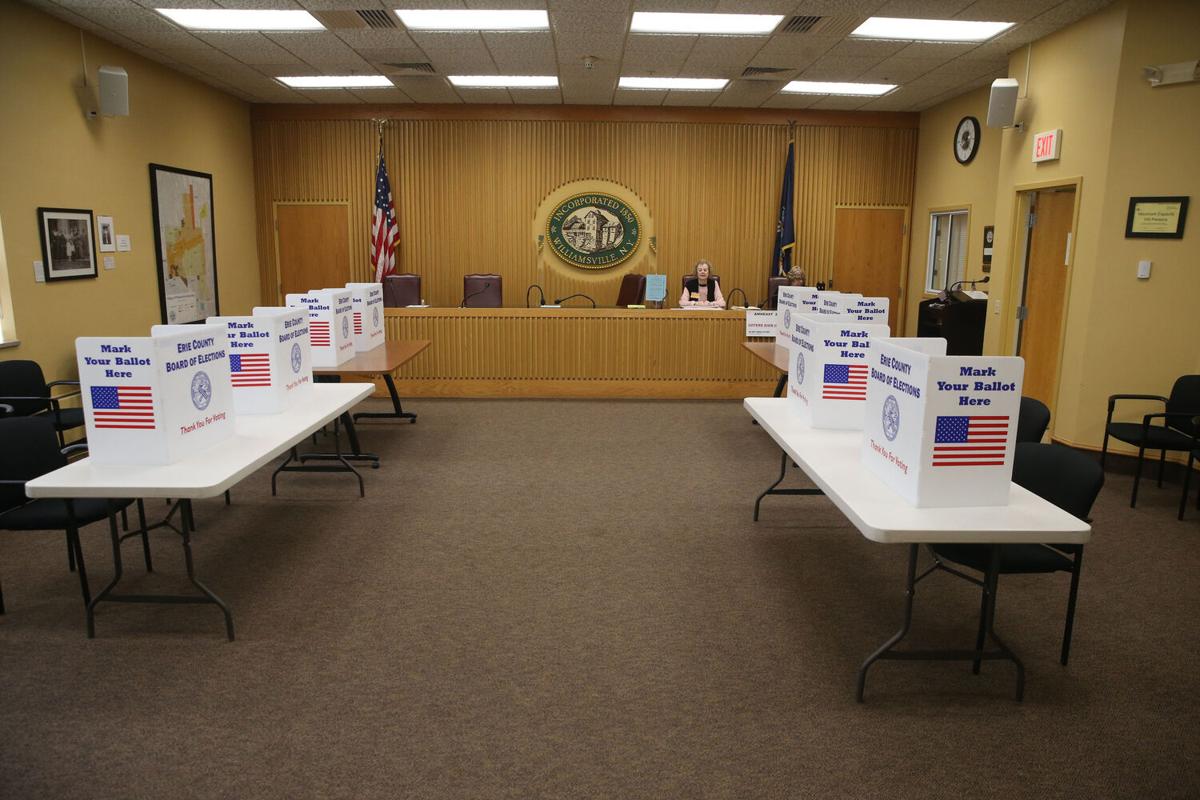 Where do we begin with notes and observations on the most stunning election upset in our city's history?
• If any of your politically astute friends claim they knew India Walton would beat four-term incumbent Mayor Byron Brown on Tuesday, don't believe them. We're not sure India Walton knew.
• Consider this: No major Democratic figure in Buffalo ever saw Brown's vulnerability in early 2021 when mayoral wannabes began viewing the political landscape. If any had spied an opening, it's a sure bet those quietly coveting City Hall would have pounced.
• Have to wonder what they're thinking down at Buffalo Republican Headquarters (some broom closet at the Buffalo Club?) following the tiny band's failure to field a GOP candidate for mayor this year. Indeed, nobody envisioned a viable Republican against a 7 to 1 Democratic enrollment advantage. Following the events of Tuesday, however, a GOP candidate would have suddenly assumed serious contender status. But it didn't happen. A golden opportunity never materialized.
• A hint of Tuesday's events may have appeared in the last minute, big-time donations suddenly filling the Brown campaign account last weekend.
Walton's team complained loudly just as the campaign was essentially ending, but it's apparent somebody started rounding up the big-bucks people in a sign of last-minute jitters at Brown Headquarters.
• Brown has always fielded a powerful organization ever since his Grassroots political club first emerged as a force. But that muscle never got flexed in the primary election. Complacency? Overconfidence? Bad polling?
You can bet those questions were posed this week in City Hall.
• The town and Council district tables appearing in The Buffalo News always draw intense scrutiny not only from political pros but ordinary voters, too. No exception this year.
Take Delaware as an example. The mostly white Council district always demonstrated the Black mayor's crossover appeal, but turned significantly against him on Tuesday. And not in favor of a white candidate, but another Black one.
• When the mayor saw weak margins stemming from his home base in Masten, it must have resembled the scene at Dennis Gorski's headquarters on election night 1992. The then-county executive running for Congress against Republican Jack Quinn knew it was over when similar and paltry numbers stemmed from his hometown of Cheektowaga.
• Is there any such thing as a strong party organization anymore? Democratic Chairman Jeremy Zellner's crew got creamed Tuesday after its two main endorsees – Brown and sheriff candidate Brian Gould – lost decisively. Isn't the party nod supposed to translate into party regulars working for the nominee?
Ditto for Republicans. They backed Karen Healy-Case, who got whipped by challenger John Garcia. Now the Wednesday morning quarterbacks are grumbling about the local party leadership – whoever that may be.
• Plenty of fingers also point this weekend at Conservative Chairman Ralph Lorigo, who for the second year in a row, failed with his choice for a major office. In 2020, Lorigo bet on attorney Beth Parlato for the 27th Congressional District. She was decisively defeated by endorsed Republican Chris Jacobs in the primary. Lorigo was at least able to extract Parlato's Conservative candidacy from the general election ballot and avoid splitting the anti-Democrat vote by shipping her off to a Supreme Court contest in Brooklyn. But no such option exists for non-attorney Healy-Case, who not only remains on the Conservative line, but promises an active campaign.
• Some pols still emerge as winners from the sheriff primary. Republican State Sen. Pat Gallivan, who has never shied away from tweaking party leadership, threw in with eventual winner John Garcia. Democratic Assemblyman Pat Burke, also known to go rogue against Headquarters, looks good after his lonely support in the sheriff race for Democrat Kim Beaty.
• Over at Cole's Restaurant on Elmwood Avenue, they must be measuring at the far end of its long bar where historic front pages from The News and Courier-Express herald the election of recent mayors of Buffalo. Nothing is yet official, but the Cole's Archives Department is reportedly making preparations for its first new entry since 2006.