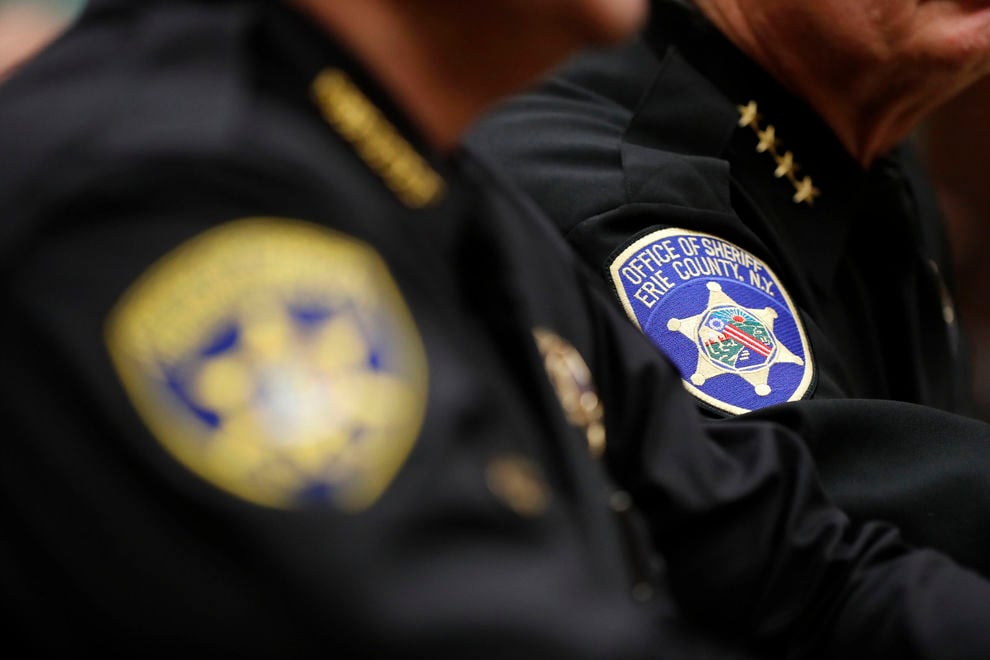 Some things to know about politics around here:
• Supporters of Democrat Kim Beaty, the former Buffalo deputy police commissioner, remain stunned over her decision to withdraw from the contest for Erie County sheriff. Nobody saw that coming.
Beaty had been gaining support from some top Democrats. And The Buffalo News a few days ago obtained an internal Beaty poll showing her faring well against either Karen Healy-Case or John Garcia, the top potential GOP opponents.
The poll was commissioned by Beaty (which, in itself, demonstrated her seriousness), so it must be viewed with a dose of skepticism. But it was helping her make her case, even if most observers believed Cheektowaga Assistant Chief Brian Gould would end up snaring the party nod.
And according to Beaty's pointed withdrawal statement, that appears to have prompted her exit.
• Now Gould is all but assured of the Dem endorsement next weekend, though activist Myles Carter still threatens a primary (announced Democrat Michael Reardon has also withdrawn).
• Had a Healy-Case/Beaty matchup for sheriff materialized, lots of national attention would have centered on Erie County for an unprecedented all-women matchup. Oh well ...
• Still on Beaty, some Democrats are also disappointed because of possible effects on the county comptroller contest. That will match Republican candidate Lynne Dixon against Democrat Kevin Hardwick (though businessman Hormoz Mansouri continues to eye a Democratic candidacy).
The disappointed Dems say the African American Beaty might very well have drawn many loyal Democrats to the November polls who might otherwise sit out a ho-hum election. That may not happen now, especially if Byron Brown wraps up the mayoral election on Primary Day in June.
Hardwick is well-known as a Canisius College political science professor, county legislator from the City of Tonawanda and former radio talk show host.
Dixon may be even better known. She is a former radio and television reporter, former county legislator and the 2019 GOP candidate for county executive who ran a competitive race against incumbent Democrat Mark Poloncarz.
Hardwick might have appreciated Beaty's unintended help in what will prove a real race.
• Dixon, meanwhile, now gives up her treasured Independence Party line after winning several County Legislature elections in her Hamburg-based seat. For years, the party label led many voters to think they were voting for an "independent" and not someone from a constituted "Independence" party.
But the minor party is now gone from the ballot after failing to gain the required number of votes in last year's presidential election. But that doesn't mean Dixon will forfeit her own "independent" status, since she will run unaffiliated with any party while nominated by the Republicans.
• Dixon apparently has not been asked the 1999 question posed by former GOP Chairman Bob Davis when Democrat-turned-Republican Joel Giambra won the county executive election, and brought several former Dem colleagues into Rath Building jobs. They included Deputy County Executive Bruce Fisher.
"I said to Bruce after the campaign: If you're going to be a member of the Republican team, are you going to wear the uniform?" Davis said then.
Fisher and others donned the GOP uniform.
• Gov. Andrew Cuomo is again expected to exercise emergency powers to reduce the number of signatures on designating petitions for ballot qualification.
That means that in most contests, just about anybody who stands on a soap box and proclaims their candidacy will make the ballot with relatively little effort. It's a beautiful thing ...
• Former State Sen. George Maziarz has told Newfane Republicans he might run for supervisor this year. His latest campaign finance report shows a balance of $545,395.
That will buy a few palm cards up in Newfane.