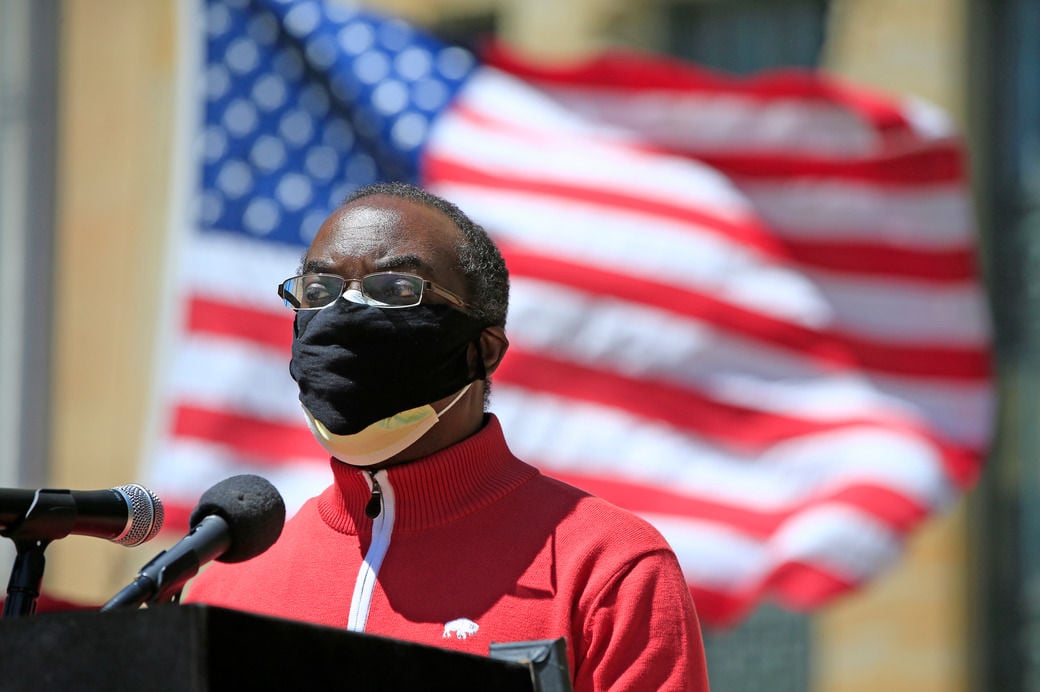 A new year, and new doings in politics around here:
• In case you missed it, Buffalo voters will choose a mayor in 2021. But so far, the normally hot contest is only simmering on the back burner.
That's because Democratic incumbent Byron Brown seems poised to launch a campaign for an unprecedented fifth term. And early in the calendar year but getting late in the state's new-look political year, Brown faces no serious competition.
A look at the first campaign finance reports of 2021 provides some insight. Brown reported about $170,000 to the state Board of Elections – a decent amount but not nearly enough if the pace quickens.
Others have announced their candidacies, but only activist India Walton has raised money. She reported a mere $8,000 – but is at least out there seeking support.
Right now, one of the few developments that could attract a big name to the race (Sen. Tim Kennedy, Council President Darius Pridgen, County Clerk Mickey Kearns, maybe even Lt. Gov. Kathy Hochul) would be negatives stemming from an ongoing federal grand jury concentrating on City Hall.
The Buffalo News reported the panel is probing campaign donations to Brown as well as city contracts with private companies. So far, no new developments.
As a result, Brown appears to be gliding toward a "strive for five" campaign. But he still has not officially announced, Democratic Headquarters seems blasé about him, and there is no huge pile in his campaign treasury to scare off opponents.
• Meanwhile, up on the 11th floor of the Rath County Office Building, Republican Comptroller Stefan Mychajliw also remains mum on his re-election plans.
Most signs point to Mychajliw opting for a shot at Hamburg supervisor in November, especially after Hamburg GOP Chairman Dan O'Connell said the current comptroller appears to be their candidate.
In addition, local Republicans are still steaming over Mychajliw's contention that "the fix was in" for Chris Jacobs' congressional endorsement a year ago, as well as the comptroller's subsequent primary challenge (Republicans, you know, don't like primaries).
Nevertheless, most Republicans are still looking to the Rath Building, where former Legislator Lynne Dixon works as a Mychajliw deputy and is viewed as a strong potential candidate.
"I'm presuming we will hear from Lynne, but we haven't yet," said Erie County Conservative Chairman Ralph Lorigo.
Republicans and Conservatives would relish fielding the former radio and television reporter against Democrat Kevin Hardwick, a county legislator and Canisius College political science professor. She waged a more-than-competitive effort against Democratic incumbent Mark Poloncarz in the 2019 contest for county executive.
Official Dixon comment: "Stefan is the comptroller."
• Official Politics Column random thought: If she runs, Dixon might have to give up her longtime registration in the Independence Party after it got tossed from permanent ballot status following recent changes to state election law.
• Hardwick's candidacy, meanwhile, appears ready for Democratic approval in coming days. That means the former Republican who has run on the Conservative line and who annually attended the C-PAC conservative conference in Washington will get no lefty Democratic challenge that might arise in New York City or other liberal bastions.
• First Quote of the Week comes from state GOP Chairman Nick Langworthy on Rep. John Katco of suburban Syracuse, one of 10 House Republicans to support impeachment of former President Donald Trump: "I think he made a drastic mistake and has a lot of angry constituents he's got to answer to."
Add this one from Cattaraugus County GOP Chairman Robert Keis on Rep. Tom Reed's refusal to challenge results of the 2020 presidential election: "I'm a little disappointed that Tom did not object a little bit when counting the Electoral College votes. I feel this last election needs to be investigated quite substantially."