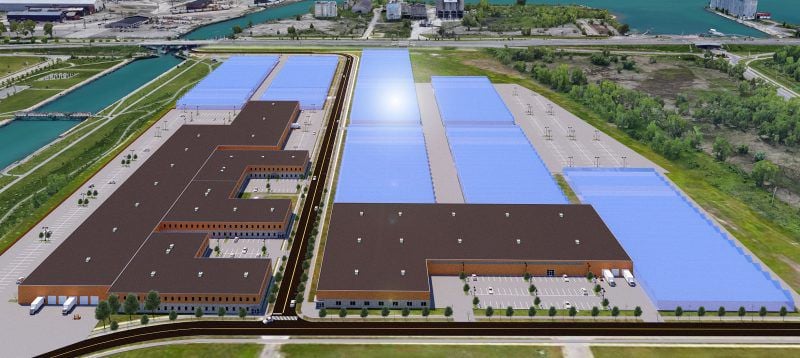 Now that New York has enacted its Marijuana Regulation and Taxation Act, we can expect Zephyr Partners to revive its application to rezone about 15 acres of land at the Buffalo Lakeside Commerce Park in South Buffalo as part of its larger plan for a 47-acre, 1.375-million-square-foot cannabis cultivation, processing and shipping facility.
Buffalo's Common Council will face a major decision with long-term environmental, ecological, aesthetic and social justice impacts.
The proposed project is not an idyllic "pot farm" or attractive "cannabis campus." Zephyr plans a massive industrial facility. Seven of its buildings would be "high tech greenhouses," 30 feet tall and ranging from 94,000 to 168,500 square feet in area. (A football field covers a mere 57,600 square feet.) This project would loom over the Ship Canal Commons – a public park and nature trail – and reside across Tifft Street from the Tifft Nature Preserve, and be visible from the Seaway Trail, a national scenic byway.
Unfortunately, Zephyr's engineering consultant, Wendel, has downplayed the adverse impacts of this project.
Wendel admits that there are "odors associated with processing" cannabis, and claims that chlorine dioxide will "neutralize" any unpleasantry. They say nothing, however, about the strong skunk-like odor associated with the growth of the plant. To address this pervasive problem, the City of Denver has issued best management practices guidelines that strongly recommend the use of carbon filtration, not ClO2, as the best odor-control technology for cannabis cultivation.
While Zephyr's engineers state that "there will be an increase in electrical demand," they fail to acknowledge that cannabis cultivation is a very energy-intensive process. According to Denver's guidelines, the energy demands for lighting and HVAC/dehumidification are a leading driver of greenhouse gas emissions. To allow Zephyr to develop this sprawling complex would contradict Lakeside Commerce Park's express goal of "attracting green companies to the City of Buffalo."
A primary motivating force behind New York's enactment of a comprehensive law to regulate the adult use of marijuana is a desire to create a social and economic equity program to assist individuals disproportionately impacted by cannabis enforcement that want to participate in the industry.
Allowing Zephyr Partners – headed by Brad Termini, son of developer Rocco Termini – the huge competitive advantage of operating such a massive cannabis production facility would neither further MRTA's goal nor enhance our environment.
Arthur J. Giacalone is a Buffalo attorney whose practice has focused for more than 30 years on zoning and environmental law.