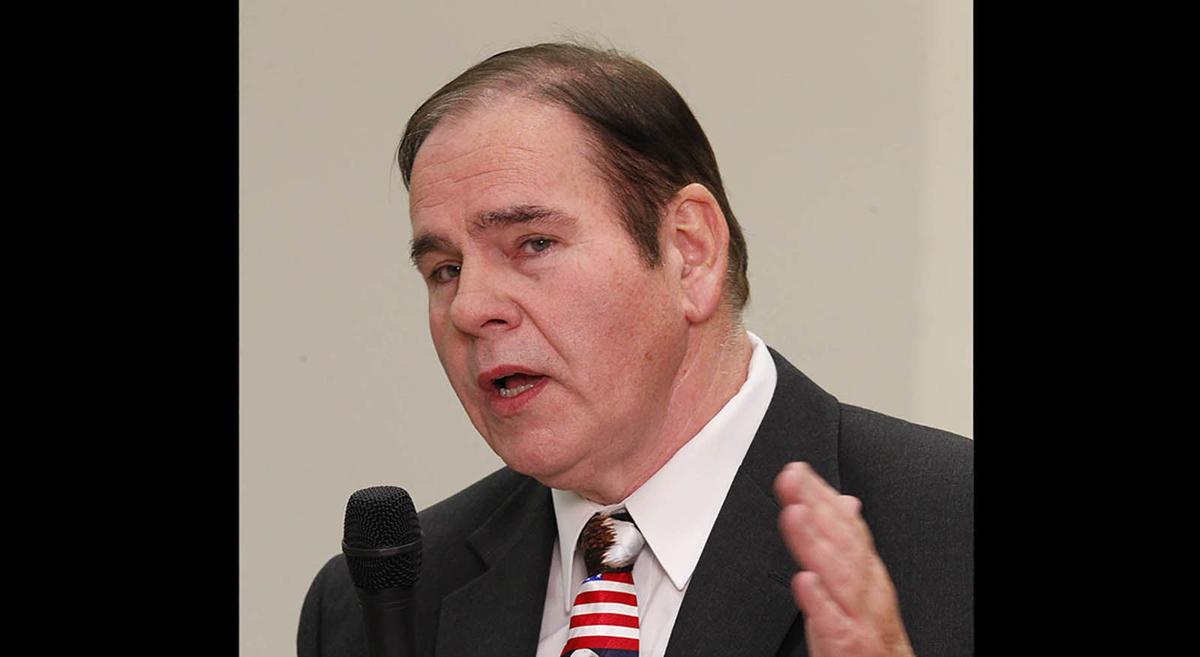 April 16, 1946 – April 7, 2021
W. Keith McNall, former chairman of the Niagara County Legislature, was remembered Thursday as a gentle, soft-spoken leader who earned the respect of colleagues both in county politics and in public education.
"You loved working with him," said William L. Ross, Mr. McNall's predecessor as Legislature chairman. "Anything you asked him to do, he would do. He was just the gentleman legislator."
Mr. McNall died unexpectedly Wednesday in Lockport, days before his 75th birthday.
Mr. McNall, a Republican, was chairman of the Legislature for four years, from 2016 through 2019. He also served 18 years on the Lockport Board of Education, many of them as either president or vice president.
Mr. McNall was first elected to the Board of Education in 1989 and continued on that board until 2007, serving the last few months while also holding his Legislature seat.
He joined the Legislature in December 2006, when he was appointed to fill the seat of Glenn S. Aronow, who resigned.
Ironically, Aronow had defeated Mr. McNall in the 2005 election, when Mr. McNall had been endorsed by the Democratic Party. Aronow recommended Mr. McNall as his successor, it was reported at the time.
"Chairman McNall was a humble servant of the people of Niagara County and a beloved individual in our local community," State Sen. Robert G. Ortt said. "It was an honor to work with him throughout our time together in Niagara County politics, and he will be missed greatly."
"I don't think I ever heard him raise his voice," Legislator Dennis F. Virtuoso said.
"He didn't say things to grandstand," Legislator Anthony J. Nemi said. "He had a calming effect."
Assemblyman Michael J. Norris called Mr. McNall "a great friend who always saw the best in everyone and was truly respected by all."
"He was a thoughtful man who was very proud of his family and loved his wife very much. He was a tireless advocate for his community and for the prudent use of county resources," County Manager Richard E. Updegrove said.
"He was very passionate and truly dedicated to the greater Lockport community," said Anne E. McCaffrey, president and CEO of Eastern Niagara Hospital and former mayor of Lockport.
"He was the ultimate husband, father and grandfather. Family always came first," said Marietta Schrader, a longtime Lockport school board member. "Through the years, he mentored me. He was an all-around great guy."
Mr. McNall was the GOP nominee for mayor of Lockport in 2018, but lost the election to Michelle M. Roman. In 2019, Mr. McNall was defeated for reelection to the county Legislature by Anita Mullane, ending his political career.
Mr. McNall was born in Lockport and graduated from the former DeSales Catholic High School. He attended Niagara County Community College.
He worked at Harrison Radiator Division, later Delphi Thermal Systems, for 37 years. He was a skilled craftsman at first and when he retired in 2001, held the title of quality audit inspector.
Mr. McNall's successor in the Legislature chair, Rebecca J. Wydysh, on Thursday ordered flags at all county buildings flown at half-staff.
"Having served with Keith during his tenure as Chairman of the Legislature, I watched and learned as Keith presided over the Legislature with integrity, grace, and professionalism. I gained much from him, and am forever grateful for his guidance and leadership," Wydysh said in a statement.
Mr. McNall was a past grand knight of Lockport Council 319, Knights of Columbus.
Survivors include his wife of 49 years, the former Diane Virgilio; a son, Todd; and two grandchildren.
Services will be private, although a Memorial Mass will be scheduled at a later date.