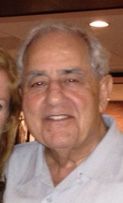 July 18, 1923 – Sept. 19, 2016
Vincent Joseph Muffoletto, a certified public accountant, former Erie County finance commissioner and World War II prisoner of war, died unexpectedly Sept. 19 at his Williamsville home. He was 93.
Born in Buffalo, the son of Sicilian immigrants, he was a graduate of Hutchinson-Central High School. He enlisted in the Army during World War II and served in the Army Air Corps, attaining the rank of sergeant.
Shot down during a bombing mission over the North Sea in April 1944, he was rescued by a German fisherman, turned over to military authorities and narrowly escaped being executed as a spy. He was held in Stalag 17b and liberated in June 1945.
Returning from service, he worked two jobs while earning a bachelor's degree in business education from the University of Buffalo. After graduating in 1952, he was a staff accountant for seven years for the certified public accounting firm of Lucker, Kennedy & Felmeden. In 1960, he established his own CPA firm with offices on Linwood Avenue, now headed by his son, James C. He retired about eight years ago.
Mr. Muffoletto served as the county's commissioner of finance from 1974 to 1979. He was an arbitrator for the American Arbitration Association and the National Association of Securities Dealers.
He was a former member of the board of directors of the Buffalo General Health System and a member of the Kaleida Trustee Council and the Kaleida Health Audit and Corporate Compliance Committee.
He was chairman of the board of directors of the former Buffalo Columbus Hospital and the Buffalo Healthcare Corp., and a director of the Buffalo Columbus Hospital Foundation and the Santiago Foundation.
A past national president of Alpha Phi Delta fraternity, he had been president of the local chapter and attended its annual convention every year into his 90s. He was given special recognition on the fraternity's 100th anniversary.
He was a past president of the Kensington Lions Club and a former treasurer of the Buffalo Junior Chamber of Commerce. He also was a former fiscal adviser to the Junior League of Buffalo and the Buffalo Affirmative Action Program.
He traveled extensively, had a strong singing voice and enjoyed cooking, vegetable gardening and all things Italian.
In recent years, he maintained a winter home in Naples, Fla.
In addition to his son, survivors include his former wife, Theresa Borzelleri Muffoletto; four daughters, MaryLou, Donna Campbell, Michele Iverson and Lisa T. Wilk; a sister, MaryLou Littlefield; eight grandchildren; and three great-grandchildren.
A Mass of Christian Burial with military honors was offered Monday in St. Gregory the Great Catholic Church, 200 St. Gregory Court, Amherst.