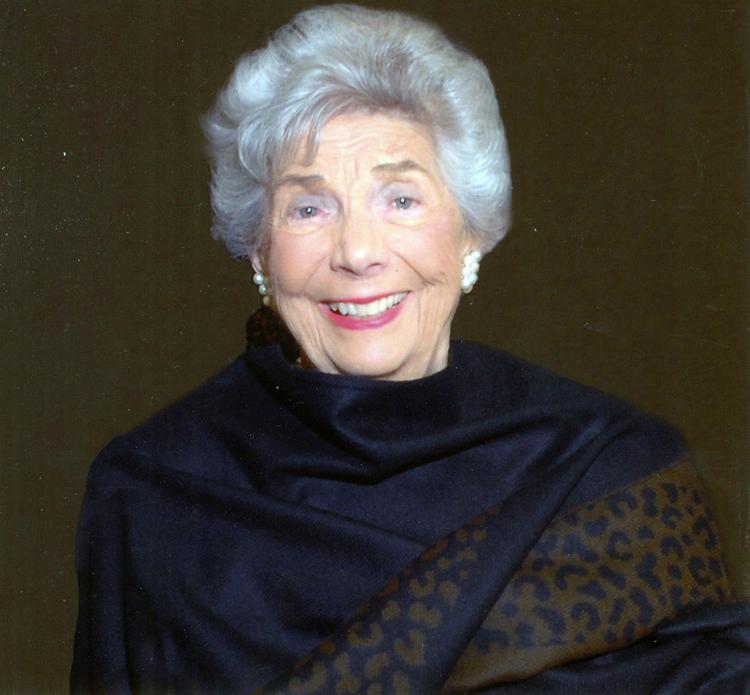 Feb. 8, 1912 - Oct. 20, 2016
At age 96, Ruth Kahn Stovroff volunteered to take a driving test, after loved ones wondered whether it still was safe for her to drive. But first she had to sign up for written and visual tests.
"You know," the driving examiner later told her, "you're the first one over 90 who got to the driving part, and you passed it with flying colors."
Mrs. Stovroff kept driving until she was 98.
"She always wanted to remain in the game," explained one of her sons, Richard Kahn. "She always wanted to remain relevant."
Mrs. Stovroff, who stayed active on local boards past her 100th birthday, served as a mentor to three generations of women and became a beloved figure in the local Jewish community, died Thursday in her Buffalo home. She was 104.
Sue Gardner, a local attorney and longtime friend, marveled at how women looked up to Mrs. Stovroff when they started becoming involved in community organizations.
"Because she was who she was, with so much beauty and grace, and the intelligence and charm to go along with it, Ruth was more than a role model for women," Gardner said. "She was an icon."
Born and educated in Denver, the former Ruth Hornbein was a trailblazer, both professionally and in her community volunteer work. At age 25, near the end of the Great Depression, she was working as a buyer for the May Co. when she was sent to New York City on a buying trip.
As a favor to a friend, she agreed to be interviewed for a job by Mr. and Mrs. Adam of Adam Meldrum & Anderson, who offered to double her $30 weekly salary if she would move to Buffalo and work for them.
She took the train here in December 1937 – and stayed for 79 years. It didn't take long for her to immerse herself in the Buffalo community, ultimately serving on the boards of about two dozen not-for-profit agencies that sought social justice; fought poverty, drug use and intolerance; and aided the Jewish community locally, nationally and internationally.
"Our mother was a great role model for us growing up, not for her community activism alone, but mostly for her unerring sense of what was right or wrong in the world," said her oldest son, Kenneth Kahn.
Mrs. Stovroff served as board president for six of those agencies: Olmsted Center for the Visually Impaired, Jewish Federation of Greater Buffalo, Child & Family Services, Community Action Organization, Foundation for Jewish Philanthropies and Camp Lakeland.
Her resume also lists 29 awards, dating from 1965 to 2006, from organizations as diverse as the United Way, the Center for Hospice & Palliative Care, the Urban League, the Jewish Federation, the Food Bank and the National Conference of Christians and Jews. And the Olmsted Center honored her just last month with its 2016 Visionary Award.
Even in her later years, Mrs. Stovroff was known for relating well to young people. At family gatherings, she often approached a young person and earnestly say, "Tell me what you're doing now."
Then she would listen intently, often ignoring the older adults in the room.
Mrs. Stovroff also was known for her smile, her impeccable appearance, her soft-spoken demeanor and the ever-present twinkle in her eye, which she maintained in her last days.
She loved telling the story about one of her first board meetings in Buffalo, in late 1937, when she met a woman who offered to introduce her to any of her three bachelor brothers.
One brother said he didn't believe in blind dates. Another said he wasn't interested. And the third, Dr. Milton Kahn, said, "What do I have to lose?"
They went out on a date and married in May 1938. Dr. Kahn died in 1987, after 49 1/2 years of marriage. In 1998, while in her mid-80s, she married Haskell I. Stovroff, a Buffalo businessman and philanthropist, who died in 2001.
Surviving are three sons, Dr. Kenneth R., Steven C. and Richard A. Kahn; six grandchildren; and seven great-grandchildren.
Plans for a memorial service are incomplete.
Obituaries Newsletter
Sign up to get the most recent local obituaries delivered to your inbox.