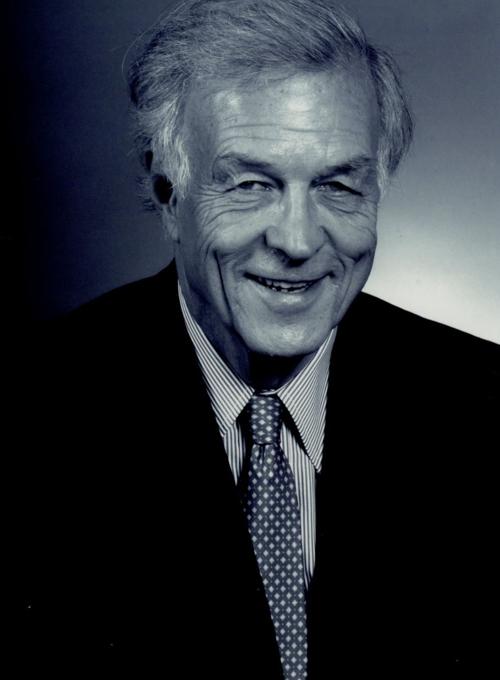 Feb. 22, 1933 - Oct. 14, 2021
Lawyers and judges who knew him called Richard F. Griffin a trusted mentor and a towering presence in Buffalo's courtrooms for six decades.
His wife of 66 years, the former Jane Flanigen, called him a guy who loved his community and devoted his career to helping people get justice.
"He loved Buffalo, he loved the law. He never sat still. He always wanted to improve things," she said after her 88-year-old husband died on Thursday.
Mr. Griffin, a prominent lawyer who began practice in 1957, died Thursday in Millard Fillmore Suburban Hospital following a short illness.
He was a former partner in two prestigious Buffalo law firms, and a former Erie County Bar Association president who won dozens of awards and honors for his work in the courts and the community.
He was a graduate of Canisius High School, Canisius College and the University at Buffalo Law School. Colleagues call him one of Buffalo's most respected lawyers.
"He was a friend and a terrific mentor to me and many other lawyers, including many who became judges," said John M. Curran, associate justice with the Fourth Department of the State Appellate Court. "Dick Griffin was a legend in the legal community, a guy who I think we'd all like to emulate."
"Dick was a fine man, a great lawyer and a towering presence in the courtroom," said Kenneth Manning, a partner at the Phillips Lytle firm who worked closely with Mr. Griffin on many cases. "He was a very smart man who had a singularly effective dignity and presence about him. When Dick Griffin walked into a courtroom, people took notice."
Similar comments came from U.S. Magistrate Judge Jeremiah J. McCarthy, who said he too considered Mr. Griffin a close friend and mentor.
Mr. Griffin grew up in North Buffalo. He excelled in baseball and football, sports he played at Canisius High School. He was a star quarterback on the football team and president of the Student Council.
After graduating from law school, he quickly asserted himself as a skilled litigator who specialized in cases involving civil rights, railroads and personal injury. He became involved in many high-profile legal battles.
In 1962, he represented a group of Black Muslim prisoners fighting for the right to worship and eat foods prescribed by their religion in the Attica State Correctional Facility.
That lawsuit, which resulted in a successful outcome for Griffin's clients, led him to a friendship with the famous Black Muslim leader Malcolm X, who once had dinner at Griffin's Buffalo home while two of Malcolm X's bodyguards stood guard outside.
"He was the most famous witness of my career," Mr. Griffin once said of Malcolm X.
In the 1970s, Mr. Griffin was hired to represent plaintiffs who alleged that Buffalo's public schools were illegally segregated by race. The case resulted in a ruling by U.S. District Judge John T. Curtin, who ordered a massive desegregation program that changed the makeup of every city school.
"That was his biggest case, and it meant a lot to him," Jane Griffin recalled. "But he still felt we all had a lot more to do in terms of race relations."
After the worst airplane disaster in Western New York history – the 2009 crash of Continental Connection Flight 3407, which killed 50 people in Clarence Center – Griffin was one of several lawyers who helped to mediate wrongful death cases filed at federal court. All of the federal wrongful death cases were settled in 2014.
"Late in his career, Dick became very skilled at mediating cases," said McCarthy, the magistrate judge. "I found that ironic, because he was such a fierce litigator through most of his career. Fierce, but always a gentleman."
Griffin's list of accomplishments includes a term as president of the Erie County Bar Association in the 1970s. He also chaired or served on many Bar Association committees concentrating on issues such as civil rights, increased opportunities for women and minorities in the legal profession, and improving legal service for the poor, elderly and disabled.
A former editor of the Buffalo Law Review, he was a former president of the National Association of Railroad Trial Counsel, former chairman of the Volunteer Lawyers Project of Erie County and a fellow in the American College of Trial Lawyers.
In 1976, he received the Medgar Evers Award from the Buffalo branch of the NAACP, and he later won distinguished alumnus awards from Canisius College and the UB Law School. The State Bar Association honored him for his work on civil rights cases, and the Western New York Defense Trial Lawyers Association once named him attorney of the year.
He served as a partner in the Moot & Sprague law firm and the Phillips Lytle law firm. He finished his career at the Kavinoky Cook law firm, and as a court-appointed mediator who helped federal judges settle difficult cases.
Curtin, the federal judge who died at age 95 in 2017, often spoke with pride of his 40-year friendship with Mr. Griffin.
Over the years, Mr. Griffin taught many courses on trial practice and case mediation at UB law school. He also delivered dozens of lectures and training sessions to local attorneys.
Outside the courtroom, he engaged in other causes. He was a co-founder of the Parkside Community Association in 1963. A devoted gardener, he spent a lot of time as a volunteer with the Olmsted Parks Conservancy and the Buffalo and Erie County Botanical Gardens. He received awards from both organizations.
Mr. Griffin enjoyed playing tennis, running, watching sporting events and read "three newspapers every day," his wife said.
In addition to his wife, he is survived by two daughters, Mary and Anne E.; two sons, Thomas M. and Richard F.; a brother, Peter; and five grandchildren. Mary, Thomas and Richard Griffin are all attorneys. Anne is a successful filmmaker in Scotland.
A Mass of Christian Burial will be held at 11 a.m. Oct. 22 at St. Mark's Church, 401 Woodward Ave.