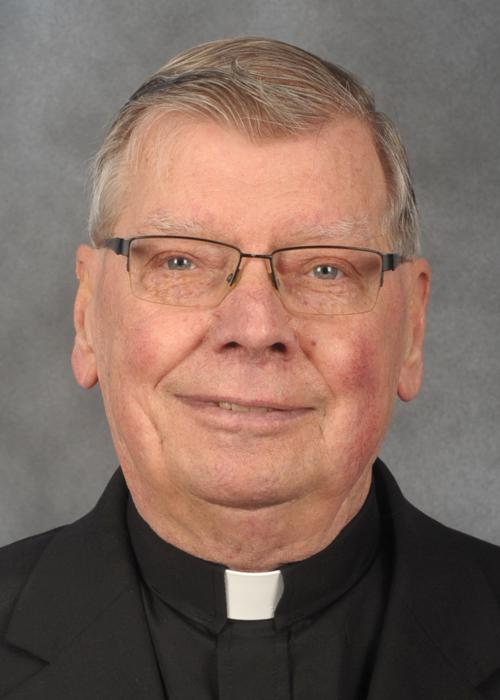 May 11, 1940 – Nov. 11, 2019
The Rev. William J. Gallagher, a Catholic priest for 50 years, made lifelong friends at every parish he served.
It may have been his piety, sprinkled with a bit of rebel mixed with a dose of common sense, that attracted friends and strangers alike. He had a knack for making them feel like family and his best friend.
He was known for welcoming all into his services, early or late, and for marrying and burying those who asked, without asking for their references.
"He felt, who was he to make that decision. If they were seeking God, he accepted them into the church," said his sister, Patricia E. "Trish" Casillo. "He felt that the mission of the church was to welcome all."
Monsignor Gallagher, 79, died Monday in Elderwood at Hamburg following a 10-week illness.
He was a study in contrasts. A graduate of Bishop Timon High School and Canisius College, he was a colonel in the Army Reserve who served in Operation Desert Storm just after he was named rector of St. Joseph Cathedral.
He once put a marriage proposal involving a couple he knew on the sign of St. John Vianney Catholic Church, and looked on as, proposal accepted, the happy couple embraced.
Last year, even as he called for those who hid evidence of sexual abuse in the Catholic church to step down, he urged Catholics not to give up on the church.
"He always told you the truth," said one of his friends, Monsignor J. Patrick Keleher, campus minister for Newman Center at the University at Buffalo. "If you didn't want to hear the truth, don't call him up."
Monsignor Gallagher did not take himself seriously, but he took his role as a priest seriously, Keleher said. His niece said he was a rebel in the best possible way.
"He felt a lot of Catholic doctrine was irrelevant at times, although he was also a very pious Catholic," said Dottie Gallagher, who is president of the Buffalo Niagara Partnership. "He really bridged the gap of common sense."
"With Monsignor Gallagher, you always knew where he stood, and he, without question, stood with the people. He was a man of acceptance and peace, starting each of his masses with the words 'you are welcome here,' " said Rep. Brian Higgins, D-Buffalo, who added, "and while there is great sadness in our loss of this faithful ambassador there is peace in knowing Monsignor Gallagher is now receiving the same welcome at the gates of heaven."
The second of 10 children born to William J. and Elizabeth Pfeiffer Gallagher, Monsignor Gallagher was raised in St. John the Evangelist Catholic Church in South Buffalo.
After graduating from Canisius College in 1961 with a degree in history, he was commissioned a second lieutenant in the military police, serving at Fort Benning, Ga., and Fort Lewis, Wash., as company commander and assistant provost marshal until 1964.
He enrolled in the former St. John Vianney Seminary in East Aurora, earning bachelor's and master's degrees in ministry. Bishop Pius A. Benincasa ordained him in St. Joseph Cathedral on June 24, 1969.
Monsignor Gallagher was a minister to migrant workers throughout the Buffalo Catholic Diocese, and served as assistant pastor of Blessed Trinity, St. John the Baptist in Lockport and St. Paul in Kenmore. Father Gallagher, as he was known even after he became a monsignor, was appointed vice rector of St. Joseph Cathedral in 1978, followed by a stint as pastor of St. Mary of the Angels Catholic Church in Olean.
He was named rector of the cathedral in 1990, and was appointed pastor of St. John Vianney in 1997. He retired from active ministry in 2012, but he offered daily Mass at St. Thomas Aquinas in South Buffalo.
Monsignor Gallagher was commissioned a chaplain in the Army Reserve in 1970, serving in the 300th Ordnance Battalion and the 365th Evacuation Hospital. Shortly after he was named rector of St. Joseph Cathedral in 1990, he was activated as a lieutenant colonel for Operation Desert Storm, serving in the Sultanate of Oman as a chaplain at a combined Army/Air Force Field Hospital.
When he returned to the United States, he was promoted to colonel and assigned to the Military District of Washington as staff chaplain at Arlington National Cemetery. He retired from the military in 1999.
He served as an advocate and judge on the diocesan Marriage Tribunal, was a member of the diocesan Finance Council, Mediation Board and the Priest's Personnel Board. He also sat as a judge in the Matrimonial Tribunal Court of Second Instance for the Archdiocese of New York City.
Monsignor Gallagher was a member of the American Legion, Veterans of Foreign Wars, Catholic War Veterans and the 82nd Airborne Association. He also was chaplain for various police and fire departments, and for the Western New York Judges and Police Conference.
In addition to his sister, he is survived by four brothers, Robert E., James F., Stephen V. and Mark B., and two sisters, M. Therese Pitrelli and Ann E. Laudisio.
A Mass of Christian Burial will be offered at 10 a.m. Saturday in St. John Vianney Catholic Church, 2950 Southwestern Blvd., Orchard Park.