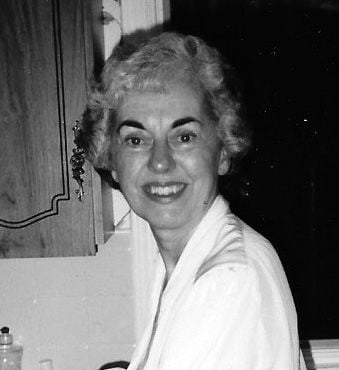 July 4, 1930 – Dec. 12, 2017
Visits to the library as a girl inspired Mary Ann Eichelberger Poth to want to have a literary career.
She went on to write two books, along with numerous poems and short stories, and became a small press publisher. She died Dec. 12 in her Williamsville home after a lengthy illness. She was 87.
Born in Buffalo, the second of four children, she grew up on the East Side and in Lancaster. After graduating from St. Mary's High School in Lancaster at the age of 16, she worked as a reporter for the Lancaster Gazette and won her first writing prize in a Seventeen magazine short story contest in 1949.
She went to stay with her older brother, who was attending college in Detroit, where she took night classes and worked in a bank. Then she moved to Greenwich Village in New York City.
She held a variety of secretarial jobs, was a house model for several fashion designers and took night classes at Fordham University.
"It was a great time to be young in New York," her daughter, Clare Poth, said. "She definitely reflected the styles of the times and she always was a writer. Her best friend and roommate worked with Harper Lee."
Convinced to return home by her mother, she worked as a bookkeeper in a downtown Buffalo accounting firm, Graef, Cutting and Coit, where she met Peter P. Poth, who became a partner there in 1960 and went on to be president of Delaware North Companies. They were married in 1961.
The mother of two children, she became noted as a hostess.
"She was an executive wife," her daughter said. "My father was the president of the board of the Buffalo Philharmonic Orchestra and they entertained all the visiting dignitaries. Our home was filled with musicians and dancers and politicians and philanthropists. She had a lot of flair and they had beautiful parties."
Mrs. Poth did volunteer work for Millard Fillmore Suburban Hospital, Gateway-Longview, the Buffalo Philharmonic Orchestra and Nichols School.
She also continued her literary pursuits. She took part in writing workshops and created poems and stories. When Just Buffalo Literary Center organized as a non-profit agency in 1989, she was the first president of its board of directors.
Her experiences provided the basis for her best-known work, "Is Mid-Life Easier in a Mink Coat?: The Choices and Challenges of Today's Mature Women," a collection of interviews with women married to successful men. Following its publication in 1989, she was interviewed on the CNN talk show, Sonya Live.
She collaborated with her good friend and fellow writer Gay Baines to establish July Literary Press in 1998. They published five anthologies of poems and short stories by local and international writers.
She also authored a romance novel, "A Cloud Slipped Across the Moon," based on her time in New York City, which was published in 2002.
An advocate for women's rights, she was a member of the Amherst Domestic Violence Task Force and volunteered as a court watcher in domestic violence cases. She also assisted the TargetCancer Foundation, which her son, Paul, an attorney in Boston, Mass., established in 2009 prior to his death from the disease.
She and her husband were divorced in 1989. He died Sept. 7, 2017.
In addition to her daughter, survivors include three grandchildren.