When Keith M. Cahill joined the Army, he may not have intended it to be a life-changing experience.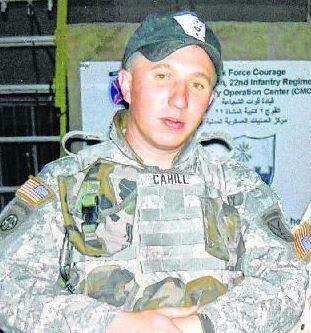 But his mother, Wende Edwards, said that for Mr. Cahill, it was.
"He went in, went into basic training ... he was there not quite a year and he was deployed to Iraq," Edwards said of her son.
Mr. Cahill died on Dec. 7. He was 38. His mother said her son had attended the Buffalo Bills game on Dec. 6, the night before he died. A cause of death was not determined.
Mr. Cahill served in the U.S. Army, out of Fort Drum, in the 10th Mountain Division.
"He stayed in because he was very patriotic," Edwards said of her son. "It broke his heart to be there. ... He saw a lot of bad things there ... it shaped his life."
Not everything about his time in the service went smoothly for Mr. Cahill.
His mother said that he suffered from post-traumatic stress disorder, a condition common among combat veterans. 
"There were times in his life when he struggled," she said. " Certain things triggered him. He did have anxiety, coping and things like that. Being overwhelmed."
Mr. Cahill received a medical discharge, Edwards said.
"It just destroys their esteem ... it does a lot of damage,"  Edwards said. "The pain isn't only physical."
At the time of his death Mr. Cahill was living in Cheektowaga.
For his high school education, despite a move, Edwards said that Mr. Cahill was able to spend his senior year at Lake Shore. "We let him go to Lake Shore where all his friends were," Edwards said. He graduated in 2001.
According to his Facebook page, Mr. Cahill attended Canisius College after his time in the military and earned a degree in public relations and marketing in 2015. He worked a variety of jobs after leaving the Army, his family said. 
Over the years, Mr. Cahill may be remembered by those who knew him when they see one type of ornamental item: nutcrackers. He had an outsized collection.
"He probably had 100 or more," Edwards said.  "This is many, many years of getting nutcrackers for Christmas." 
"There is even a picture of him with a nutcracker sweater outfit," Edwards said. "I was going to make him a nutcracker wreath this year, and I didn't get to." 
Overall, Mr. Cahill had a personality that was friendly, his mother said.
"He was a people person," she said. "If you met him, you were never a stranger."
"He always had a heart for something being fair or just," Edwards said of her son.
Survivors include his mother, Wende Edwards; his father Timothy Noworyta; his partner, Elizabeth Walsh; a sister, Leahann Edwards; two step-sisters, Jacquelin M. Edwards and Amanda Sierras; two step-children; and uncles, aunts and cousins.