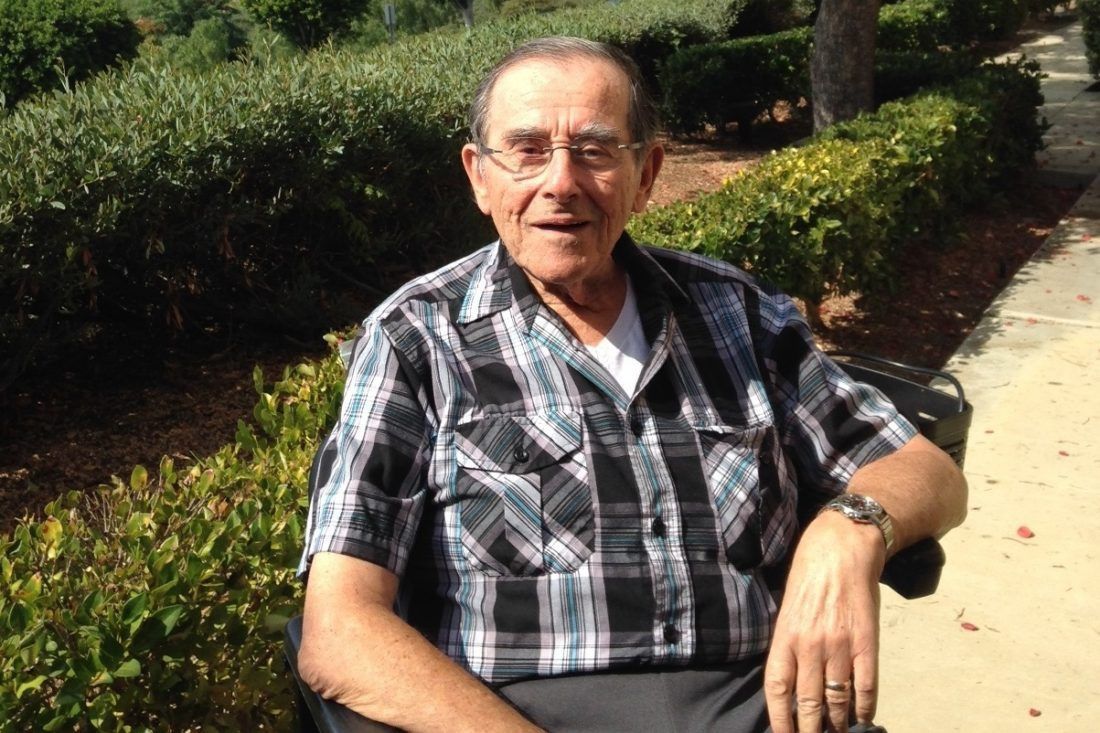 Irv Weinstein, 87, the legendary WKBW-TV anchor who used alliterative expressions like "pistol-packing punks" as the king of local television news in Buffalo for decades, died Tuesday morning in a Irvine, Calif., assisted living residence after a battle with Lou Gehrig's disease, ALS.
Weinstein, who retired at age 68 in 1998 after 34 years at the ABC affiliate, announced in October 2016 that he was battling the neurodegenerative disease that quickly silenced his voice but not his spirit.
"We all knew it was coming, but it's still a real shock," said WKBW-TV (Channel 7) anchor Keith Radford, a co-worker and longtime friend who replaced Weinstein in the anchor seat and visited him almost a year ago. "I'm just so glad I went out to see him in California when he was diagnosed and we could still talk and joke around. He was an original, never will be another. I was blessed to be close to him."
Radford was one of many local media members who made the pilgrimage to Irvine to see Weinstein and share memories with him after the diagnosis.
One of Weinstein's more significant memories came on the newscast he announced that Dec. 31, 1998 would be his final night on the air. In a brief commentary, Weinstein said he was retiring "to investigate some other challenges and pleasures before the train passes me by." He concluded by telling a story about his then-5-year-old grandson, who had innocently asked him: "Grandpa, if you didn't do the news on television, would you still be Irv Weinstein?' "
"Well, folks," said Weinstein. "I'm about to find out."
He found out after his diagnosis that he is still the Irv Weinstein that Western New Yorkers loved as they pulled for him in his final months battling the crippling disease that robbed him of the use of his legs, and voice. He communicated with friends via email, often in characteristic good humor.
"Dad's amazing spirit was evident throughout his illness, but ALS took away everything bit by bit," his daughter Beth Krom said Tuesday. "We are grateful for the outpouring of love and support throughout. Dad knew he was loved and lived an extraordinary life. He left an impressive vault of memories. How lucky we were to have him in our lives."
Upon Weinstein's 1998 retirement, then General Manager Bill Ransom said it was the anchor's choice and he agonized over it for months before deciding to start his second life.
"If I could clone him, I'd clone him," Ransom added at the time. "I could have him for the rest of his life."
Weinstein, who arrived at Channel 7 in 1964, certainly was far from the typical TV news clone. The pudgy little guy with glasses successfully survived numerous competitors at Channel 4 and Channel 2; changes in the way news is covered; and the life span of five Buffalo News TV critics who have tried to explain the unexplainable — the reason for Weinstein's unprecedented ratings success.
Out-of-towners were often surprised when told that Weinstein was the most popular anchor in town for decades.
He started his broadcasting career at WHAM in his native Rochester at 15. He was hired as a part-timer to act on one of the station's drama shows. Many would say that he was just as much an actor as a news reader throughout his Channel 7 career, using colorful, alliterative phrases to describe the news, such as "pistol-packing punks" (for criminals) and "Buffalo's blaze busters" (for firefighters).
But he adapted to the station's change in tone in his final years, away from the fires and crime coverage that first made "Eyewitness News" so popular.
He was so important to Channel 7's success that two former Channel 7 owners, Granite Broadcasting and Queen City Broadcasting, wanted the assurance that Weinstein would stay when they purchased the station.
"He was truly a legend in Buffalo Broadcasting but also touched so many others through his generosity via The Variety Club and other charities," Channel 7 General Manager Michael Nurse said Tuesday after learning of Weinstein's death.
Weinstein, weatherman Tom Jolls and sports director Rick Azar were the legendary trio that led the station to No. 1 status in the market for about 24 years. Azar was the first to break up the gang, retiring in 1988.
At that time, Weinstein signed a new deal that year and cracked: "Right now my ambition is not only to be the best anchor in television but the oldest."
He fulfilled that goal in this market at the time of his retirement, though it could be broken as anchors are staying on the air longer in a market that values the consistency it gets from its veteran newscasters.
Weinstein's star status was not only legendary in Buffalo, but also nationally and in Canada, where he was considered a cult favorite.
In his final broadcast, Weinstein thanked some Buffalo and Canadian columnists for kind words "normally reserved for people who break sports records or walk on the moon."
If Buffalo is known for anything besides the Bills nationally, it is for Irv Weinstein.
During a Buffalo News interview with high-powered, Hollywood agent-television producer and studio head the late Brad Grey a few decades ago, the University at Buffalo graduate recalled watching Weinstein during his college years and asked if he was still on the air.
In his book, "Canada," "Saturday Night Live" and film star Mike Myers sent Weinstein an autographed copy that had a couple of pages about Myers growing up in Toronto watching Weinstein.
"We developed a drinking game," wrote Myers. "Everyone had to take a sip of Molson's Export every time Irv Weinstein said, 'arson is suspected' or 'the suspect died later of multiple gunshot wounds.' "
Myers concluded by saying that there were so many fires and gun battles one August evening that he almost died of alcohol poisoning.
Weinstein's initial goal was to make it in California as an actor. As a teenager, he skipped college and headed west and met Robert Mitchum through a friend.
"I was totally speechless," recalled Weinstein in a 1983 interview. He finally asked Mitchum how he could get into the movies. Mitchum said he was having trouble staying in the business himself and couldn't offer any good advice.
Weinstein eventually returned to his native Rochester, enrolled in the School of Radio and TV Technique in New York City and had jobs in Waterloo, Iowa and Parkersburg, W.Va., before moving back to Western New York to work at WKBW-AM in 1958.
At the time, the station manager thought Weinstein sounded too much like Walter Cronkite so the anchor changed his style to be more like Paul Harvey, as he had done in West Virginia. He found his own unique style in Buffalo.
He moved from KB radio to WKBW-TV in 1964 on a 15-minute newscast when the station was a low No. 3 in the market. It took several years before Channel 7 became the news leader, a position it held with a few interruptions for decades before falling to No. 3 in recent years.
His success earned him the respect of his competition.
"Obviously, the guy is a Western New York institution," said former Channel 4 News Director Chris Musial at the time of Weinstein's retirement. "For many years, he set the tone for what news in Buffalo was — for better or for worse. Obviously, it worked. He was No. 1 for all these years."
During an interview with Buffalo News reporter Phil Fairbanks after his final broadcast, Weinstein said one of the keys to his success was his ability to connect with ethnic, blue-collar Western New Yorkers because, as the son of Lithuanian immigrants, "I was one of them."
Former anchor Carol Jasen, at one time his competitor at WIVB Channel 4, saw a simple reason back then when asked why she thought Weinstein was so special to Western New York viewers.
"Because he was just himself," she said. "No one owned him. No consultant, no owner owned him. He was so unique in looks and style."
He is survived by his wife, Elaine;  two daughters, Beth Krom of Irvine, Calif., and Rachel Lloyd of suburban Pittsburgh; a son, Marc, of Los Angeles; and three grandchildren.
A graveside service will be held Thursday morning at Harbor-Lawn Cemetery in Costa Mesa, Calif. For those wishing to make a donation in Weinstein's memory, the family requests they be made to the ALS Association.