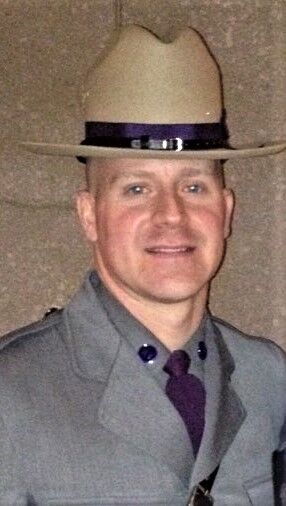 April 19, 1982 – March 26, 2021
Trooper Joseph J. Gallagher, a former Buffalonian who died Friday on Long Island more than three years after he was critically injured by a distracted driver, never wanted a desk job.
"He always wanted to be out in the action," his brother Rev. Martin Gallagher, parochial vicar at Our Lady of Charity Catholic Church in South Buffalo, said in a telephone interview.
While his classmates at the SUNY Maritime College gravitated toward work as technicians and engineers, Mr. Gallagher became a Coast Guard pilot, flying helicopters on patrol and rescue missions throughout the Great Lakes.
"On some occasions he would fly over Buffalo," his brother said. "My father would go out with the binoculars and see if he could spot him."
When his Coast Guard hitch was over, his contacts from the Maritime Academy led him to a job as a design engineer on Long Island, but after a couple years he started looking for something more satisfying. He applied to become a state trooper.
The rigorous training and physical requirements at the State Police Academy "were already second nature to him," his brother said. "He loved being a trooper."
His first assignments after he joined the ranks in 2014 were with Troop T, patrolling the Thruway, and Troop F in Middletown in the Hudson Valley. A transfer to Troop L in Farmingdale on Long Island brought him closer to his home in East Northport in Suffolk County.
Shortly before 2:30 p.m. on Dec. 18, 2017, on an overpass connecting the Sagtikos Parkway with the Long Island Expressway in Commack, Trooper Gallagher spotted a disabled motorist. He pulled over his patrol car, turned on the flashing lights and got out to help. Cars swerved around him as he placed warning flares on the pavement until a 23-year-old driver came along who was text messaging.
"Joe flew through the air, landing on his head," his brother said. "He had to undergo a couple different surgeries. They had to remove a section of skull to remove the pressure on his brain. He could no longer speak or walk under his own power. He could hear and understand what was said to him, but he couldn't communicate with us."
Under constant care until he died Friday in the Gurwin Jewish Nursing Home and Rehabilitation Center in Commack, he was 38. Flags are flying at half-staff across New York State in his honor. 
Born in Buffalo, the second of four children, he attended Waterfront Elementary School. He also went to religious instruction classes at St. Teresa's Catholic Church in South Buffalo "every week without fail," his brother said. "We were a very devout Catholic family."
An Eagle Scout in Troop 335 at St. Martin of Tours Catholic Church in South Buffalo, he also joined the U.S. Naval Sea Cadet Corps, which drilled on the ships at the Buffalo and Erie County Naval and Military Park.
Like all of the Gallagher children, he went to a Catholic secondary school, graduating in 2000 from Bishop Timon-St. Jude High School, where he played soccer and lacrosse.
He also played lacrosse at the SUNY Maritime College in the Bronx, spending a summer sea term on a cruise to Europe and earning a degree in marine engineering, which qualified him as a U.S. Coast Guard engineer.
He first was stationed with the Coast Guard in Charleston, S.C., serving on patrols of the Caribbean that intercepted shipments of illegal drugs. He then signed up for two years of flight training at the U.S. Naval Air Station in Pensacola, Fla.
"What he really wanted to do," his brother said, "was to become a pilot to fly rescue helicopters."
Based in the Detroit area, he piloted choppers throughout the lower Great Lakes, but began looking for another career. That took him to Long Island and then the State Police Academy.
"He thought about the Secret Service or the FBI," his brother said. "He always wanted to move onto the next exciting thing."
A lifelong Buffalo Bills fan, he also was a runner and enjoyed camping and hiking.
Survivors include his wife, the former Laura Gandolfo; a son, William; a daughter, Catherine; his parents, James F. and Mary Beth; a sister, Jamie Hiltz; and two brothers, Rev. Martin and Michael.
State Police will pay their respects at a wake Wednesday on Long Island.
His brother will officiate at a Mass of Christian Burial at 10:30 a.m. April 7 in Our Lady of Victory Basilica, South Park Avenue and Ridge Road, Lackawanna.