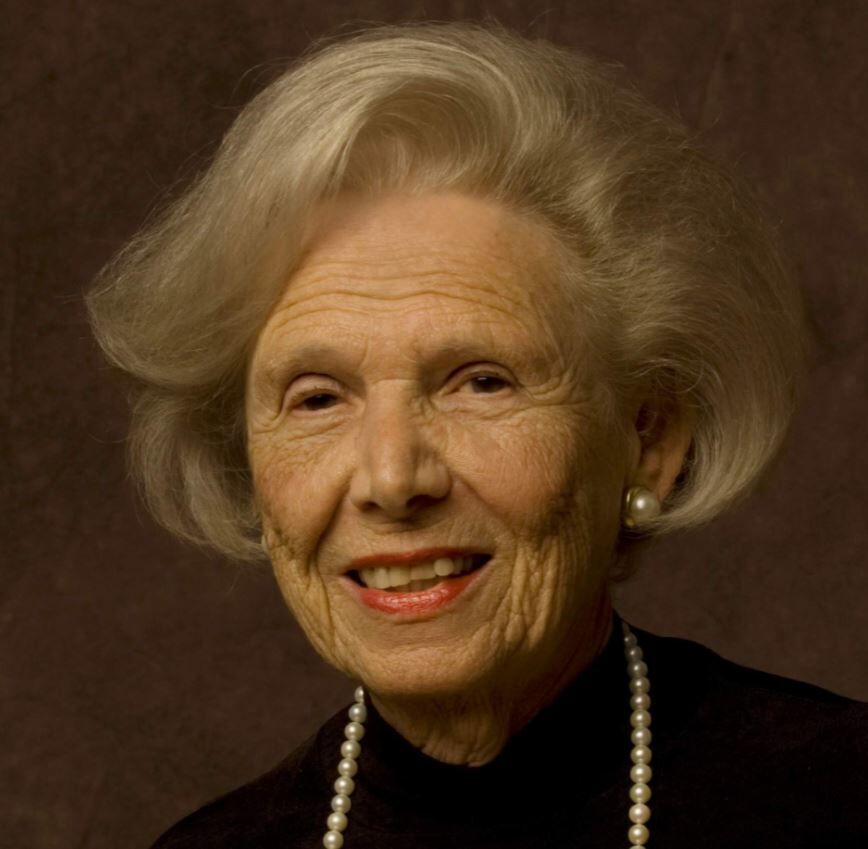 Dec. 19, 1919 – Jan. 6, 2022
It never made sense to Sylvia L. Rosen – a ceramic artist, educator and philanthropist – that a distinct line should be drawn between fine art and crafts, with the latter occupying a lower status than the former.
An October 2004 feature on Mrs. Rosen by Buffalo News art critic Richard Huntington noted that her discontent with the status quo at Buffalo art galleries stretched back to 1943 when she arrived in Buffalo from Cleveland with her husband, Nathan. Mrs. Rosen found that the Albright-Knox Art Gallery would not exhibit her ceramics, or any crafts, because such items were not considered fine art. This despite the fact that her ceramics had been shown two years in a row at the Cleveland Museum of Art.
"The assumption must have been that we were all making potholders," Mrs. Rosen told Huntington, regarding the art gallery's assessment of the work of craftsman.
It took several years before she was able to address what she considered a blatant injustice, but by 1987 she and her husband had established an endowment, Burchfield Penney Art Center's biennial Art in Craft Media.
Mrs. Rosen died Thursday in Millard Fillmore Suburban Hospital in Amherst. She was 101.
"Craft arts was her passion," said her son, Michael. "She brought it to the same level as fine arts."
Born in Columbus, Ohio, the former Sylvia Korn was the daughter and granddaughter of artists, a pedigree that influenced her choice to study fine arts at the Ohio State University in Columbus, according to her Burchfield Penney Art Center biography. It was there that the young student was exposed to various craft media, such as enameling, jewelry-making and, of course, ceramics, including porcelains from China and Korea, of which she became enamored.   
She graduated with a bachelor of science degree in education from Ohio State in 1941, and shortly thereafter married a young lawyer. The couple moved to Cleveland the same year, where she studied at the Esther & John Sills Ceramic Studio before moving to Buffalo two years later.
Not satisfied to be just a housewife, Mrs. Rosen in 1963 began teaching at the Creative Craft Center at the University at Buffalo, an organization she helped to establish. It was her first position as a ceramics teacher and through the center she was further exposed to other craft media.  
According to her biography on the Burchfield Penney Art Center webpage, she was compelled to keep her teaching activities a secret from her husband.
"I hired a woman to come in and do the housework. Then before I left to teach I would put an apple and an onion in the oven and put it on low," Mrs. Rosen said.
The subsequent aroma from the oven was a ruse to convince her husband that she was keeping up with her domestic duties while he was at work.
In 1968, Mrs. Rosen began teaching a special program in ceramics for academically challenged students at Amherst Senior High School, where she remained until 1970. Simultaneously, she was also pursuing her master's degree in education from Buffalo State College. Throughout the 1970s, as a member of the college's design department, she taught a "Workshop in Crafts" class that introduced students to hand-built ceramics, frame-woven tapestries, hooked rugs, batik and other materials.
Through it all, she continued to harbor misgivings about the low status accorded fine crafts in the local arts community.
"We had the Buffalo Craftsmen from Buffalo State who showed in different venues around the city, sometimes in unused storefronts. After they went out in the '70s, craft artists had nowhere to go other than the 100 American Craftsmen (at the Kenan Center in Lockport)," Rosen said in 2004.
The solution to what had long vexed her came in the form of the Sylvia L. Rosen Endowment at the Burchfield Penney Art Center, which funds juried craft-art exhibitions and lectures.
"We wanted craft artists to have a museum setting in which to show their work," Rosen said. "Nathan gave the original amount to get the endowment started."
The first exhibition was launched in 1988 with the Burchfield Penney helping with the funding. It was characterized by Mrs. Rosen as "more than a great success," and after so many years, nothing short of a miracle.
"I'm very happy that I lived long enough to see things I wanted for so long come to fruition," Mrs. Rosen said.
In 2009, the Arts Council in Buffalo and Erie County bestowed the Knox Lifetime Achievement Award on Mrs. Rosen.
"She was loving and generous and ambitious," said her granddaughter, Anna Rosen.
"She was a beautiful role model, a talented artist and a great cook," Anna Rosen added.
Mrs. Rosen was predeceased by her husband of 51 years, Nathan D., who died in 1992.
She is survived by a daughter, Judith Martina; a son, Michael; three grandchildren; and three great-grandchildren.
A private funeral service was planned.