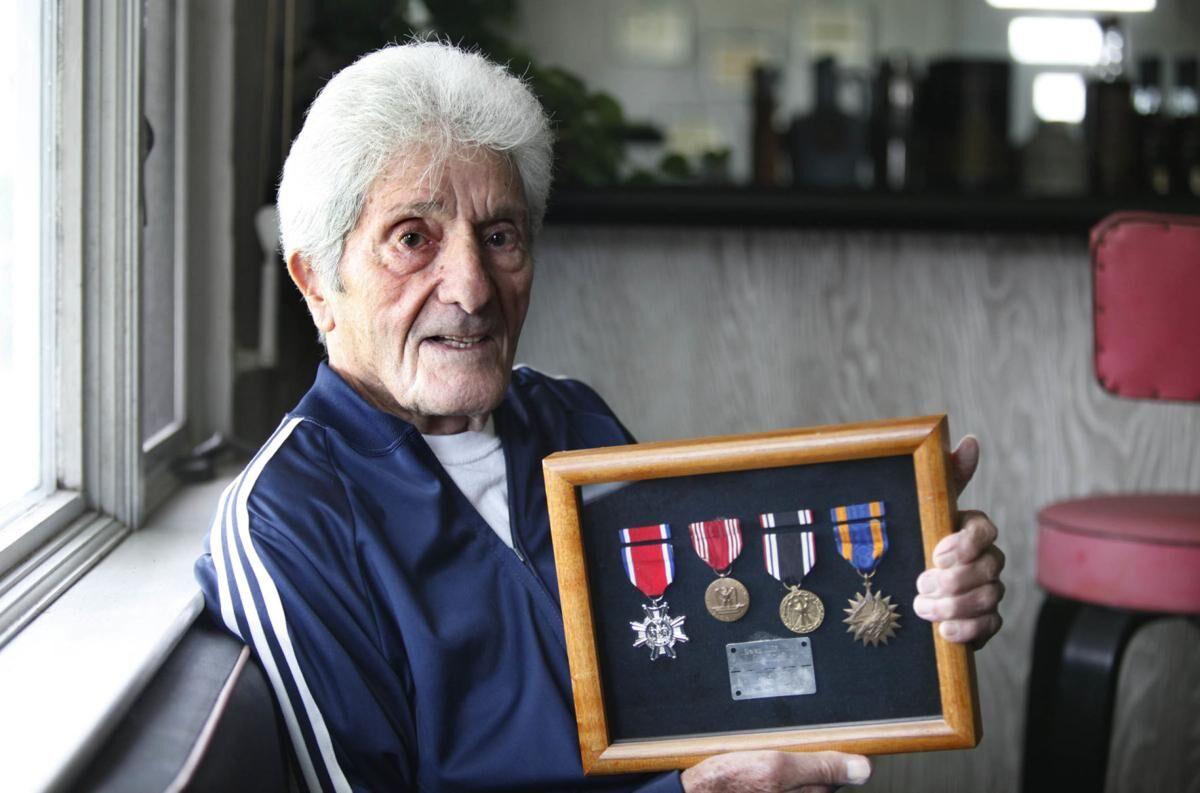 Sept. 1, 1914 – Nov. 19, 2021
Sydney L. Cole, a World War II Army pilot who survived as a prisoner of war after he was shot down over Belgium during the Battle of the Bulge, died suddenly Nov. 19 in United Memorial Medical Center, Batavia. He was 107.
It was the day after New Year's in 1945 when Mr. Cole, a lieutenant and an observation plane pilot for the 776th Field Artillery Battalion, took off into snow and sleet to scout German positions so they could be shelled by artillery.
But before he could return to base, his plane was hit by anti-aircraft fire. He used his experience as a glider pilot to bring it down slowly and, when his co-pilot got tangled while trying to bail out, he delayed his exit long enough to free him and allow him to land safely in Allied territory. Mr. Cole, however, came down behind enemy lines and was struck by gunfire as he descended.
"When I landed, I was shot in the leg, in the arm, everywhere," he told Buffalo News reporter Collin Binkley in 2009. "I still have shrapnel in my arm."
As soon as he hit the ground, he got rid of his dog tags, which carried the letter H, designating his religion as Jewish.
"The smartest thing I ever did in my life was throw those dog tags as far into the woods as I could," he told Joseph H. Radder, a freelance writer for Living Prime Time magazine in 2002.
He lay wounded in a snowbank for nearly two days before he was found by retreating German armored troops. They strapped him to a tank and took him to a hospital tent.
He was thrown into a Hitler Youth Camp as a prisoner, questioned, beaten and then sent in a boxcar to Stalag IVF, a concentration camp near the German-Polish border. As one of three officers in the prison, he was in command of some 150 enlisted men who were prisoners.
The citation for his Prisoner of War Medal said that he "was instrumental in maintaining high levels of discipline and morale among the enlisted men and served as an inspiration and an example of American military conduct while in enemy custody."
He told a reporter after the war that he lived on one meal a day that consisted of a few cold potatoes, a slice of dark bread and sometimes "soup that tasted like grass." He went from 140 pounds to about 90 pounds before the camp was liberated April 14, 1945, by Russian troops. He was returned to the American Army in a prisoner exchange.
Mr. Cole was awarded three Purple Hearts. Discharged with the rank of captain, he returned to Buffalo and opened his own car sales business, Cole Motors, on Main Street, selling English Fords and used cars. He operated it from various locations until 1972, when his lot was bought for the Summer-Best Metro Rail station.
Active athletically until he was past 100, he was part of what was believed to be the longest-running handball game in the country, a four-day-a-week doubles contest that began in 1946 in the old downtown Buffalo YMCA and continued for 50 years, until Mr. Cole outlived the rest of his team and their replacements.
When the downtown Y closed, the game moved to the nearby Buffalo Athletic Club. Mr. Cole took over as manager of the BAC in 1978 and salvaged it from bankruptcy.
"There would be no BAC if I hadn't started it back up," he told Binkley.
He was still swimming laps daily at the BAC in 2009 and walking at least 4 miles a day. He gave up his car – a red Mini Cooper – when he was 100.
Born in New York City, the son of Max and Lena Cohn, Jewish immigrants from Russia, he was one of five children. When his father, who restored older homes, was sent to Buffalo to work on a Delaware Avenue mansion, he found so much other work that he moved his family here.
Mr. Cole grew up in North Buffalo and began swimming as a pastime while he was a student at School 32. At Fosdick-Masten Park High School, now City Honors, he was captain of the swimming team. He won the All-High Medal and led the team to city championships in 1932 and 1933.
He qualified for the U.S. Olympic team as a swimmer in 1936, but did not go to the controversial competition in Berlin.
After high school, he worked as a salesman for Brost Motors and Packard Buffalo on Main Street and in his father's Cohn Plumbing Supply Co. on William Street.
He wanted to become a pilot and when World War II began in Europe, he applied to join the Army Air Corps, but was turned down. Instead, he went to Toronto in 1941 and enlisted in the Royal Canadian Air Force. He was discharged in 1942, returned to Buffalo, signed up for the draft and eventually joined the Air Corps.
Mr. Cole was the oldest member of Chapter 187 of the Military Order of the Purple Heart.
He was the grand marshal of the 2015 Buffalo Veterans Day Parade and was awarded the first D'Youville College Sydney Cole Award in 2016.
In 2017, his name was added to the Wall of Honor in Old Erie County Hall and he was inducted into the City Honors Distinguished Alumni Hall of Fame. Last December he was inducted into the Caterpillar Club, which honors those who successfully bail out of a disabled airplane using a parachute.
In recent years, he was a resident of the community living care unit at Buffalo Veterans Affairs Medical Center. He moved to the Batavia VA Medical Center in 2020.
His wife, the former Sybil Richard, an executive secretary for MGM Studios, a buyer for an upscale women's store and an avid tennis player, died in 1998.
Survivors include a son, Richard.
Information regarding funeral services was not immediately available.