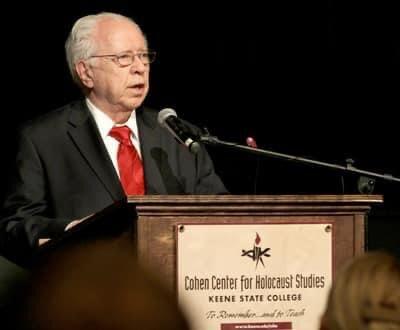 March 11, 1925 – Nov. 9, 2011
Stephan H. Lewy, a Holocaust survivor and World War II veteran whose compelling life story was an inspiration to many, died Nov. 9 in Buffalo after a short illness. He was 96.
Born Heinz Stephan Lewy into a Jewish family in Berlin, Germany, he was sent to live in a Jewish orphanage after his mother died when he was 6. He got to visit his home on Sundays up until 1935, when his father was arrested and thrown into a forced labor camp.
During the attacks on Jews on Kristallnacht on Nov. 9, 1938, Nazis invaded the orphanage, locked all the children in the orphanage's synagogue and cut a gas line, intending to kill them. It was only after an older boy was able to break windows that they managed to survive.
His father, released from the work camp because of poor health and remarried, arranged for him to be sent with other orphanage children on a Kindertransport to France in July 1939. He stayed in occupied and unoccupied zones for almost three years.
By 1942, his father and step-mother were living in Haverhill, Mass., near Boston, after her relatives had brought them to the U.S. Thanks to his step-mother writing letters on his behalf to senior officials in the State Department and to President Roosevelt, Mr. Lewy was granted an American visa and sailed aboard a Portuguese registry ship from Casablanca, Morocco, to join them.
Nevertheless, he was considered an illegal alien. He was prevented from traveling in the U.S. and feared that he would be deported until he was drafted into the Army in 1943.
With his knowledge of Europe and his ability to speak several languages, he was trained as an interrogator at Camp Ritchie, Md., and was sent to Europe to join Gen. George Patton's 6th Armored Division.
Mr. Lewy interviewed captured German soldiers, made maps of enemy positions and fought in the Battle of the Bulge. He helped liberate the Buchenwald concentration camp, for which he was later inducted into the French Legion of Honor. He also received the Bronze Star and five campaign stars for meritorious service. After the war ended, he took part in door-to-door patrols to arrest high-ranking Nazi officers.
Granted American citizenship after he completed his Army service, Mr. Lewy received his high school diploma and earned a bachelor's degree in accounting from Northeastern University in Boston in 1949. That same year, he married the former Frances Silver, whom he had met at a dance.
He worked in accounting for a mining company in Salt Lake City, Utah, then returned to the Boston area, where he became a certified public accountant and worked for Sheraton Hotels. In 1970, he accepted an offer to become vice president of Dunfey Family Hotels in Hampton, N.H., and moved to Manchester, N.H. When Dunfey acquired Omni International Hotels in 1983, he became Omni's senior vice president and treasurer. He retired in 1992.
He had occasionally recounted his experiences to religious and school groups prior to his retirement, but a visit to Berlin and the 1993 film "Schindler's List" inspired him to go out and speak more frequently.
After moving to Amherst in 2015, he volunteered with the Holocaust Resource Center of Buffalo and spoke in schools throughout Western New York. He also was a presenter for the Erie County Department of Senior Services University Express program.
"Perhaps if enough people hear my story, history will not repeat itself," he told Buffalo News reporter Gene Warner in 2016. "I only hope that the world has learned a lesson."
He was awarded an honorary doctorate by Daniel Webster College in Nashua, N.H., and was recognized by Erie County as the Senior of the Year in 2019.
Survivors include a daughter, Ellen Dubie; a son, Arthur; and two grandchildren. His wife died in 2010.
A graveside service was held in Sharon, Mass.