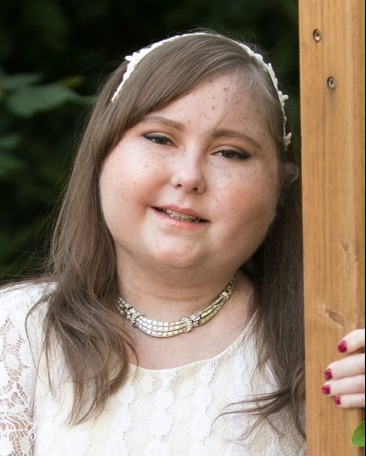 June 5, 2003 – Jan. 9, 2021
As Stella Louise Usiak took her final breaths in Oishei Children's Hospital, she urgently shared a message.
"Love," she said, over and over again, said her grieving mother, Jennifer Usiak.
"Stella was such a beautiful person; she knew she was loved, she said the word with her very last breath," her mother said.
Stella was diagnosed with leukemia in 2011, which recurred in 2014. A bone-marrow transplant in 2015 with a well-matched donor unexpectedly resulted in her developing Graft vs. Host Disease, which damaged her lungs beyond repair.
The day before she died, Stella received her Regents diploma with honors and mastery in science from North Tonawanda High School. In lieu of congratulating her onstage, the school's principal, James Fisher, taped a ceremonial message for Stella.
"She had it in her mind that she needed to get all the credits for the high Regents diploma," Jennifer Usiak said, "no matter what she's gone through with chemo, radiation."
Despite her sterling academic records, Stella never applied to any colleges, her mother said, possibly because she knew that her time was short.
Stella was born in North Tonawanda, the oldest of two children of Jeffrey and Jennifer Usiak. She was a graduate of North Tonawanda Middle School.
After her diagnosis in 2011, she finished her treatment in June 2013. The leukemia returned about a year later.
Through the years, she battled kidney failure, acute chronic lung failure, fractured bones that were weakened by her medications and a stroke that left her temporarily blind and unable to walk.
Stella belonged to the National Junior Honor Society, the National Honor Society and the Tri-M National Music Honor Society.
She won the 2012 North Tonawanda City Council Easter Bunny Writing Contest.
An avid fan of Taylor Swift for years, she used the name Stella Swift on Facebook.
Stella bested some 45,000 entries to win the 2014 Scholastic Reading Club's "This is How I Shake it Off!" national essay contest, named for the Taylor Swift song.
"We were told that her essay had the most positive outlook," her mother said.
Reading from her essay at a news conference at Roswell Park Comprehensive Cancer Center after the win, Stella said of Taylor Swift, "You are an awesome role model for not letting bad things get you down, and I can't let cancer get me down because I'm just going to shake it off.
"The whole time I've listened to your records to feel better and, as I sing along, trying to shake off all the sick feelings that happen in treatment."
As part of her prize, the family toured the Scholastic headquarters in Manhattan.
There, "they treated her like the rock star that Stella was," her mother said, including whisking her out of the building via the freight elevator that Taylor Swift had used when she visited the offices.
But the highlight was meeting Taylor Swift backstage at a Miami concert in October 2015. On Facebook, Stella wrote: "Even though I only talked to her for a minute, Taylor told me I was very brave. I gave Taylor my email and phone number and when I mentioned it would be awesome to hang out with you someday she said sounds like fun it might be in your cards! I told her my entire story just before I had to go. That was one of the best hugs I ever got!"
Stella was a 2019 winner of the state attorney general's Triple C Award, which recognizes the courage, character and commitment of outstanding students.
Stella loved Camp Good Days and Special Times, which she first attended when she was 8, and missed only in 2015 and in 2020, when the camp was closed due to Covid-19.
"It was her most happy childhood place, free of worrying about the medical stuff," Jennifer Usiak said. "She had gone there with infusions and pain, and she had a great time."
In July 2019, Stella was happy to earn her learner's permit, specifying on it that she was an organ and tissue donor. 
The past year was extremely difficult for the family, with Stella hospitalized repeatedly, except for a respite from mid-July to mid-October "that was wonderful," her mother said.
For years, Stella made and sold jewelry and spoke publicly to raise money and awareness for childhood cancer organizations. She also helped organize several blood donation drives. 
Two days before she died, Stella completed a painting to thank those who donated to the Patricia Allen Fund for Oishei Children's Hospital. The painting depicts a football helmet with quarterback Josh Allen's number on it and a blue hand with the index finger raised.
Her family said Stella loved animals, especially  a cat Chloe and her dog Lucy, singing, science, camping, arts and crafts, mysteries, board games, fantasy fiction, archery, swimming, makeup, shopping and dressing up.
She is survived by her parents, Jennifer and Jeffrey Usiak; brother, Nigel Usiak; grandmother Charlene Chase; grandfather, James Phelan; and her great-grandfather, Dale Chase.
Tissue from her damaged lungs has been harvested for research into Graft Vs. Host Disease.
"She is going to make sure the next person has more of an opportunity to live longer, have a better quality of life, or cure it if possible," her mother said.
The funeral will be private by invitation only, but a future "Stellabration of Life" will be announced on the Stella Swift Facebook page, her mother said.