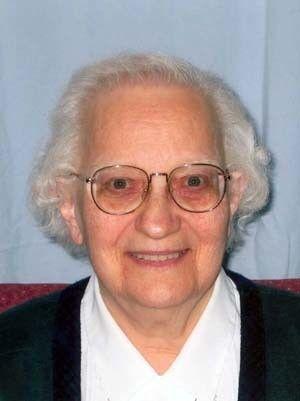 Jan. 26, 1934 – Sept. 7, 2020
Sister Dorothy M. Smith, a teacher and administrator for the Sisters of St. Francis of the Neumann Communities, died Sept. 7 in St. Mary of the Angels Regional House, Williamsville. She was 86.
Born in Buffalo, one of eight children, she attended St. Mary of Sorrows and Blessed Trinity elementary schools in Buffalo and was a graduate of Bishop Neumann High School.
She worked for a year at Marine Midland Bank, then entered the Sisters of St. Francis on Aug. 15, 1953.
She initially took the name Sister Mary Catherine Rose, but later returned to her baptismal name.
She earned bachelor's and master's degrees from Canisius College, a certificate in religious education from the Notre Dame Institute of Religious Studies in Middleburg, Va., and took addition graduate studies at Niagara University and D'Youville College.
Sister Dorothy taught at Our Lady Help of Christians School in Cheektowaga, St. James and St. Mary of Sorrows schools in Buffalo and St. Mary's High School in Lancaster. At Archbishop Carroll High School in Buffalo, she was a teacher and assistant principal.
She left the classroom in 1981 to become general treasurer of the Sisters of St. Francis Congregation, a position she held until 2004.
She chaired the congregation's Constitutional Committee and went to Rome, Italy, in 1982 to present the revised constitution to the Vatican.
From 1985 to 1983, she was a member of the congregation's Leadership Team. Beginning in 1987, she coordinated the St. Mary of the Angels refugee program and was the community's representative on the board of directors and advisory board of Vive, a shelter for refugees here.
Sister Dorothy served as the Sisters of St. Francis of the Neumann Communities' representative to the Diocese of Buffalo's Retirement Fund for Religious and was a member of the National Association of Religious Treasurers and the local and state Conferences of Religious Treasurers.
She also was treasurer for the local Leadership Conference of Women Religious and was a board member of Mount St. Mary's Hospital in Lewiston and St. Francis Geriatric and Health Care Services in Buffalo.
Survivors include three brothers, Albert E., Harold K. and Richard; two sisters, Norma Gerland and Carol Kaufman; and nieces, nephews and cousins.
A private Mass of Christian Burial will be offered at 9:30 a.m. Thursday in the chapel of St. Mary of the Angels Regional House, 201 Reist St., Williamsville.