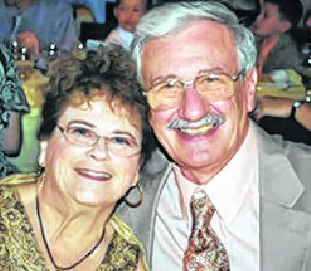 Ronald R. and Carole Bieler had been married for 59 years, had six children and endured the loss of their youngest daughter together. So when they died after a crash on Route 219 after Mr. Bieler, who was driving, apparently suffered a medical emergency, their family found some consolation in the circumstances.
"I'm at peace that they were together," said their daughter, Marlea Malota. "One couldn't live without the other."
On the morning of March 12, the couple were  driving north on Route 219 Boston State Road. 
Around 11:12 a.m., near the Armor Duells Road exit, Mr. Bieler apparently suffered an incapacitating medical event. Witnesses saw their car  swerve, then go off the road and accelerate, striking a large tree.
Mr. Bieler, 79, was pronounced dead on arrival at Mercy Ambulatory Care Center on March 12. Mrs. Bieler, 78, was cut from the SUV and taken by Mercy Flight helicopter to Erie County Medical Center, where she died early the next day.
"It was a sunny day and they were together, and that's what they always did, went for a car ride," Malota said. "A joyride is what they called it."
They loved to load their children into the car and take a drive, their daughter said. "There was usually a lunch or ice cream involved, so you didn't mind," she said.
Mr. Bieler was born April 30, 1941, a son of Edwin and Dorothy Bieler; Mrs. Bieler, born June 25, 1942, was the daughter of Wilbert and Helen Bott. Each lived on Bieler Road in Orchard Park, which is in the West Seneca School District, and had two siblings, Arnold Bieler and Diane Agnello and Donald and Raymond Bott.
His brother Arnold Bieler and her brother Donald Bott were best friends, but the pair attended different high schools – Mr. Bieler graduated from Orchard Park and Mrs. Bieler from West Seneca West. The family recalls that the couple were introduced by Mr. Bieler's uncle when they were in their late teens. Their romance took off and they were married on Sept. 8, 1962, in St. Peter's United Church of Christ in West Seneca.
"They were inseparable," said Malota. "Camping, church, they were very involved in the church, family picnics, company functions, they were always together. My mom was a big party planner, she loved to have a party and go all out with the decorations and everything."
Mrs. Bieler was an avid crafter, skilled in knitting, sewing, crocheting, quilting and photography – "My mom was into all of it," Malota said. She knitted prayer shawls to donate and donated many of her other creations.
Mrs. Bieler "used to sew our clothes when we were younger, right down to the underwear," said Malota. "With six kids, she would make our clothes for us, but if we wanted something extra, we had to go out and get a job, so we were raised very well."
For 25 years, they were supporters of and volunteers at Dunkirk Camp and Conference Center, which offers camping, Christian education and retreats.
The couple were so close that Malota said she had worried about how one of them would go on if the other one died.
"I have emails from people from the church camp saying that they were inseparable and at least they were together," said Malota. They had celebrated their 59th wedding anniversary.
Both the Bielers had been members of St. Peter's United Church of Christ in West Seneca and Faith United Church of Christ in Boston. 
The Bielers enjoyed antiquing and Mr. Bieler restored and refinished pieces, which he consigned for sale, their daughter said. 
"They had pride in their family and love and respect for each other," said Malota. They teased their mother by calling her "the town mayor," because she loved to converse with everyone she met; their father was known for clicking a ballpoint pen, once prompting a friend at a meeting to remove the spring from the pen while he was out of the room. Several of his children carried their father's characteristic pens at the couple's funeral.
Their youngest daughter, Angel, was born in 1977 with Down syndrome and died after having surgery for a heart defect as a toddler. Several of her siblings have angel tattoos in her memory.
Mr. Bieler retired from Polymer Conversions in the early 2000s after 25 years of employment there; Mrs. Bieler retired from Enidine around the same time.
After retirement, they did some traveling and continued to enjoy camping.
Besides their daughter Marlea Malota, the Bielers are survived by two other daughters, Laurel Bieler and Robin Jaehn; two sons, Jeffrey Bieler and Marc Bieler; and four grandchildren .
A Celebration of Life will be held at a later date.