Robert J. Kresse left an indelible impression on Howard Zemsky when they first met in 1998.
Mr. Kresse, a founding member of a nonprofit seeking to restore the Darwin Martin House, was chairing a meeting that Zemsky attended as its newest board member.
"The meeting started precisely on time and ended precisely on time," said Zemsky, a Buffalo developer. "There was no rambling. In Bob's way of looking at the world, he was always in a hurry, always had a lot to do and always in a limited time to do it.
"He would have been a bad poker player. But he was a great leader for Buffalo. He measured his life in accomplishments and not collectibles."
Mr. Kresse, whose outsized, civic-minded commitment to Buffalo over several decades was exemplified by his efforts on behalf of early child education, improving the East Side and preserving historic buildings, died at 1:30 a.m. Monday in his Buffalo home. He was 93.
"Service and community were innate to him," said his son William Kresse. "He didn't know any other way of life except to be giving back and to help rebuild this city."
As one of three trustees of the Margaret L. Wendt Foundation between 1984 and 2018, Mr. Kresse championed numerous projects. They included helping save the former St. Mary of Sorrows Church, which became the King Urban Life Center; the Roycroft Inn; the Darwin Martin House; and Asbury Delaware Methodist Church, now known as Babeville.
Mr. Kresse and his wife, Mary Ann Kresse, helped start a Montessori program that is now the Bennett Park Montessori School.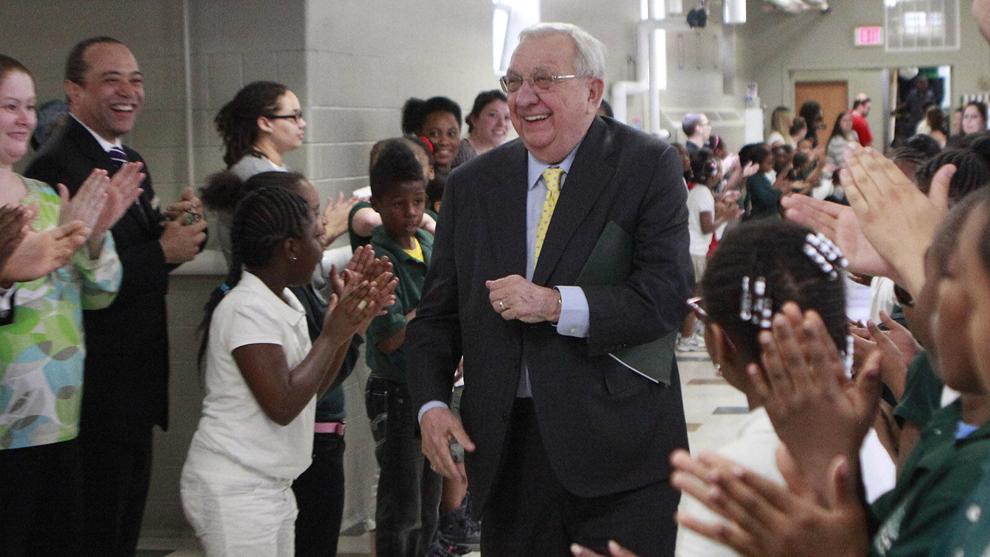 He was the first chairman of the Niagara River Greenway Committee. And Mr. Kresse played a pivotal role in the foundation's decision to buy a carousel and donate it to Buffalo Heritage Carousel, a nonprofit organization that will open the carousel next year at Canalside.
"Bob was a tremendously passionate supporter and worker for the Buffalo community," Mayor Byron Brown said. "He was a real giant in philanthropy, and the giving initiatives he championed touched the lives of countless people in Buffalo and Western New York."
"He made a tremendous difference in the city and Western New York," said Thomas Lunt, a Wendt trustee. "He encouraged us as trustees and deserves a lot of credit for the things he did and sponsored. I have great respect for everything he did."
Mr. Kresse was born the sixth of seven children on Aug. 8, 1927, to Polish immigrants on the East Side. He attended school at St. Mary of Sorrows Church. He enjoyed tennis and ice skating at Humboldt Park, later known as Martin Luther King Park.
He graduated from Canisius High School in 1945, thanks to tuition paid for by a German neighbor, despite wartime animosities between the Poles and Germans.
Mr. Kresse enlisted in the U.S. Navy at the tail end of World War II, serving for a brief time before graduating Canisius College on the GI Bill. He earned a law degree from Georgetown University Law School and passed the bar in 1954.
His first law firm – Hellings and Morey – later named him a partner and added his name to the title. Mr. Kresse went on to become a founding partner of Hiscock & Barclay's Buffalo office, now known as Barclay Damon. He spent his 70-year law career focused on trusts and estates, commercial real estate and preservation law before retiring in 2018.
During most of those years, it was Mr. Kresse's volunteer work to advance the public good that, along with his family, animated his life the most.
The painful loss of his childhood home on West Parade for construction of Route 33 added to his resolve in later years to save, reuse and, where possible, restore the city's threatened architecture.
The Wendt Foundation's saving of St. Mary of Sorrows Church, when it faced demolition, and its rebirth as the King Urban life Center and Buffalo's first charter school was the project dearest to his heart, William Kresse said.
"It was blocks from where he grew up and his family's home parish," his son said. "It was the school he went to. His brothers and sisters were able to climb the ladder, but he never forgot there were other people behind them that needed to use that ladder."
An oil painting of the King Urban Life Center – lit up at night, stars overhead – hangs over Mr. Kresse's bed. Other images are in his sitting room and office.
Mr. Kresse's daughter Claire Kresse White said the Wendt Foundation, often at her father's prodding, would push for projects that many thought they were crazy to pursue. But Mr. Kresse found he could use the foundation's support to bring in partners who together could make the projects possible.
The Wendt Foundation was also an early and crucial supporter of PUSH Buffalo, a community organization on the West Side.
"Bob never lost the connection to the neighborhoods that he grew up in," said Aaron Bartley, who co-founded the group.
Bartley said Mr. Kresse also knew something about being an outsider.
"He broke through barriers as a Catholic attorney at the highest levels in a town that at that point had not had that many," Bartley said. "I think he brought that experience of being marginalized to his community work."
As a founding member of the Darwin Martin Restoration Corp., Mr. Kresse and the Wendt Foundation played a major role in what would ultimately become the largest and costliest restoration of a Frank Lloyd Wright property in the world.
"Bob really was a titan," said Mary Roberts, the Martin House's executive director. "He was a real champion of historic preservation, and his loss is a big one for this community."
The carousel wouldn't be coming to Canalside without Mr. Kresse's passion for it, said Joan Bozer, a founding member of Buffalo Heritage Carousel.
"He loved Buffalo's past and history and he loved the authenticity of the carousel, and once he got behind it he was a strong advocate," Bozer said.
Scot Fisher said Mr. Kresse was critical in his and musician Ani DiFranco's ability years ago to save the Asbury Delaware Methodist Church and turn it into a performing arts center.
Fisher said Mr. Kresse devised a plan in which the project became financed with historic and new market tax credits, which had never been done before.
Mr. Kresse, then in his 70s, got the idea after attending a seminar in Washington, D.C. on how to use the new tax credits.
"When he returned, he was full of ideas and boundless energy," Fisher said. "I don't think the building could have been saved without him."
Mr. Kresse's numerous accolades include the Lifetime Achievement Award from New York State Department of Parks, Recreation and Historic Preservation, the Wall of Honor from the Buffalo & Erie County Naval and Military Park and the Corporate Leadership Award from the Community Action Organization. He was twice named a Buffalo News Outstanding Citizen, the second time with Mary Ann Kresse.
In addition to his wife, survivors include three daughters, Mimi Kresse Frederiksen, Ann Kresse Gegelys, and Claire E. Kresse White; five sons, Joseph A., William A., Andrew L., Bartholomew J., and Thaddeus R.; and 19 grandchildren.
A Mass of Christian Burial will be held at a future date.
Mark Sommer covers preservation, development, the waterfront, culture and more. He's also a former arts editor at The News.