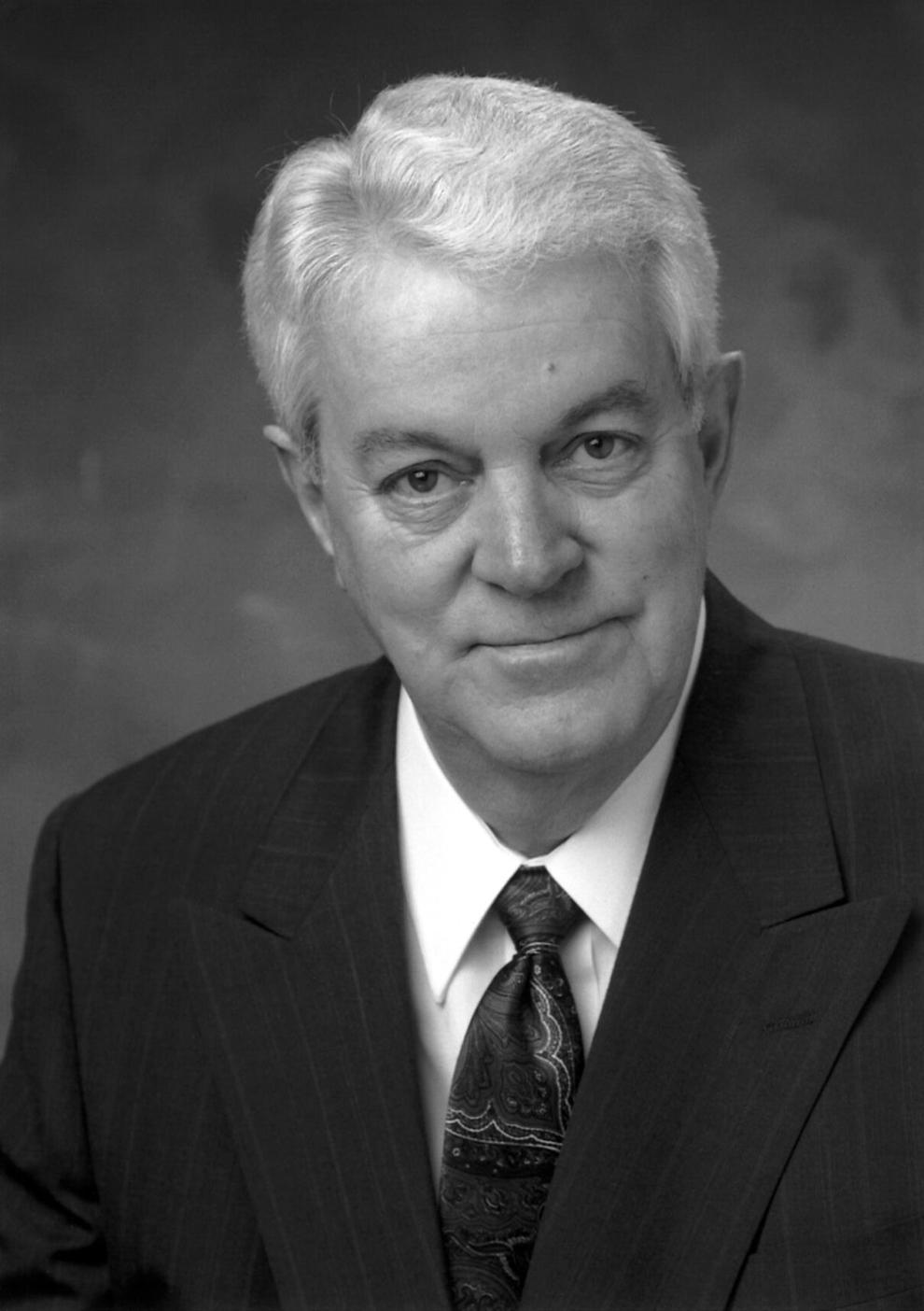 Feb. 16, 1927 – Dec. 15, 2021
They called Robert E. Coon "Mr. Fredonia." And for good reason.
For 35 years, in various administrative roles, he was the man who welcomed and made accommodations for almost everyone enrolling at SUNY Fredonia.
Living only a few steps away from the campus, he stayed involved, even after he retired, leading fundraising drives for capital improvements and representing the college in a variety of settings.
He died Dec. 15 in Brooks Memorial Hospital, Dunkirk, after a brief illness. He was 94.
Already a Fredonia State alumnus when he began in 1956 as the college's coordinator of field service, Mr. Coon greeted hundreds of graduates and incoming students as he oversaw student recruitment, alumni relations, college tours and campus visits.
Promoted to director of admissions in 1961 and dean of students in 1965, he was appointed vice president for student affairs by then-college president Oscar Lanford in 1969. In 1978, he became vice president for student affairs and college services, which included the college's physical plant, as well as student life.
He was instrumental in making the campus a year-round center for a variety of activities, bringing in Elderhostel, the New York State Summer School for the Arts, and the Buffalo Bills summer training camp.
When Mr. Coon retired in 1991, then-college president Donald A. MacPhee noted: "His impact on the college, through fundamental changes in size, complexity, facilities and service, is unprecedented and extends far beyond his particular areas of responsibility. Over these many years, he became known to many as 'Mr. Fredonia,' and brought a unique blend of firm and caring leadership to each and every position he held."
Born in Silver Creek, one of four boys, he joined the Army Air Corps Enlisted Reserve, the "Acers," hoping to become a pilot after graduating from Silver Creek High School in 1944. The Army sent him to study at Clemson University, where he played alto saxophone with the Clemson Tiger Dance Band.
Mr. Coon told an interviewer from the Robert H. Jackson Center that in May 1945 "they told us the war was winding down and there was no need for all the pilots. We were all given five days to decide to either join another branch of the service or go into the ground school, the gunnery school or the infantry. And all of us were so damn mad that we decided to go into another branch of the service. I enlisted in the Navy."
He served as a deck aide aboard a troop transport ship, the USS General W.C. Langfitt, carrying troops to join occupying forces in Japan and bringing soldiers back from the Philippines. He and other crewmen who were musicians formed a band and played for their shipmates on Sunday afternoons.
Returning from service, he worked building barracks on the campus lawn to house married veterans attending Fredonia State, then decided to enroll in the college himself on the G.I. Bill. He married his high school sweetheart, Shirley Pattyson, on Aug. 16, 1947.
Mr. Coon, who played several instruments, started as a piano major at Fredonia, and then switched to saxophone.
"I was the first sax major east of the Mississippi," he told the Robert H. Jackson Center interviewer. He also played on the varsity basketball team and earned a bachelor's degree in music education in 1950.
He went on to complete a master of music degree in 1954 at the Eastman School of Music in Rochester and pursued additional studies at Columbia University and the University of Buffalo, where he took doctoral courses in higher education administration.
Mr. Coon was director of music in the Holley Central School District from 1950 to 1953, then was owner and manager of Kuchen Music Co. in Fredonia until he began his career at the college in 1956.
He was named an honorary member of Fredonia State's Athletic Hall of Fame in 1998 and was an honoree of the NFL Community Quarterback Award program. He nurtured the growth of the college's athletic program in the 1960s and 1970s, developed facilities and was a founding member of the Blue & White Booster Club.
Also a founding member of the Fredonia College Foundation, he served on its board of directors for 41 years, 13 of them as treasurer. In retirement, he was alumni chairman for the foundation's first capital campaign and national chairman for its second one.
He later was named an honorary member of the foundation board. He was further honored with the foundation's Distinguished Service Award and by the establishment of the Robert E. Coon Recognition Scholarship, which the foundation grants to junior-level students.
Mr. Coon served for 25 years as president the Hillman Memorial Music Association, which stages highly-regarded student productions of operas. He also was president of the SUNY Fredonia Faculty Student Association, the Fredonia Alumni Association board of directors and the Western New York College Personnel Association.
He was a member of the St. Columban's on the Lake Retirement Home Advisory Board. He served 20 years on the Salvation Army board of directors, eight years as treasurer.
He also was president and a charter member of the Chautauqua County Vacationlands Association and chairman of the Council of Chief Student Affairs Administrators for the State University of New York.
An avid golfer and bridge player, he was a member of the Shorewood Country Club. He also was a parishioner of Trinity Episcopal Church in Fredonia.
Survivors include his wife; a niece and seven nephews. He was predeceased by a son, Joseph.