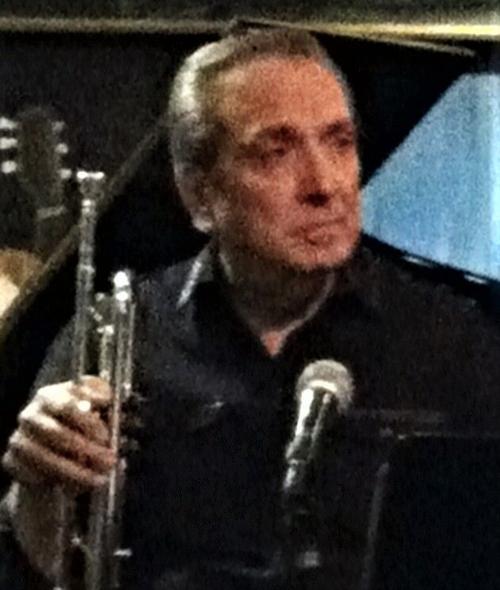 Sept. 3, 1941 – July 5, 2021
When the Buffalo Music Hall of Fame presented Richie Merlo with a lifetime achievement award last December, it capped a career that spanned more than six decades and stretched from coast to coast.
A crooner and jazz trumpeter, Mr. Merlo was featured in the Buffalo area's leading nightclubs, past and present. At the fabled Town Casino in the early 1960s, he was vocalist and emcee for appearances by the major stars of the day.
Throughout his career, he played alongside other local jazz greats. In 2011, he convinced saxophonist Phil DiRe to come out of retirement and join with him and saxophonist Bobby Militello, pianist George Caldwell, bassist Sabu Adeyola and drummer Lou Marino in the group Buffalo Bop. It quickly captured an Artvoice Best Jazz Act award.
Diagnosed in 2015 with myasthenia gravis, which forced him to stop performing professionally in recent years, he died July 5 in his East Amherst home. He was 79.
Born in Buffalo, Richard Carl Merlo was given his first trumpet by his mother when he was 8 after he saw a friend's trumpet and fell in love with it.
He began studying the instrument at age 9 with Patrick "Patty" Vastola, the band leader at the Chez Ami nightclub, and at age 11 with Eugene Bishop, principal trumpeter with the Buffalo Philharmonic Orchestra.
While a student at South Park High School, where he graduated in 1959, he began frequenting Bafo's, a downtown jazz club, to hear a quartet led by tenor saxophonist Sam "Sammy Cal" Calcaterra, who became his jazz mentor. Before long, he became the fifth member of Calcaterra's group.
At 17, en route home from playing with the Sam Noto Big Band one night at the Jazz Center on Washington Street, he began singing along with Frank Sinatra on the radio.
"The more I sang," Mr. Merlo said, "the more I realized I sounded like him with my timing and phrasing."
He studied with vocal coaches Angelo Bruno and Vincent Mattina, former New York Metropolitan Opera singers, and put his own group together. Tutored by Lenny Page from the Town Casino, he soon developed as an all-around master of ceremonies.
He acquired an agent and was featured, sometimes as Richie Marlo or Richie Marlow, in floor shows at Frank's Casa Nova, Ellicott Manor, the Stage Pigalle, the Anchor Bar and the Old Barn in East Aurora, as well as clubs on the East Coast.
In the 1960s, he left Buffalo and toured extensively from Toronto to Miami, then went to Los Angeles, where Bobby "Boris" Pickett, of "Monster Mash" fame, invited him to join his band playing Hollywood clubs.
He then appeared for three years in Las Vegas, including the lounge at the Sands Hotel, got married and came back to Buffalo to raise his family.
He was an emcee at McVan's and the Stage Door and a singer at Mr. Anthony's, the Niagara Falls Hilton, Paul McGuire's Arches and the Williamsville Inn. In 1978, he opened his own club, the Curtain Call Lounge in Clarence, and performed there regularly, with a break in 1980 when he answered a call from Florida to perform six nights a week at the famous Downstairs-Upstairs Club in North Miami Beach.
After selling the Curtain Call in 1983, he led his own groups at Salvatore's Italian Gardens, the Charter House and the Lobby Lounge at the Radisson Hotel. For several years, he and partner Carl Barone were featured at Marinaccio's in Williamsville. From 1997 to 2001, he was featured singer at Harry's Harbour Grille and sang Sunday nights for seven years in the Elmwood Lounge with a band led by his lifelong friend Joey Giambra.
One of Mr. Merlo's favorite stories, which he recounted in the magazine of the Per Niente Club, an Italian-American cultural organization, involved driving Giambra to Atlantic City in 1959 to audition for singer Al Martino. Mr. Merlo, who was broke, agreed to do it for meals and gas money.
When Giambra vanished after failing get the job, Mr. Merlo, in desperation, tracked down Martino in his hotel room.
"I said, 'Have you seen Joe?' He said he didn't and didn't know his whereabouts and asked why. I said, sadly, I could not get back home because Joe had the money and I was hungry and out of gas. At that point, Al went to a dresser drawer and came back with $40 and said, 'Is this enough to get you home?' Since gas at the time was 28 cents a gallon, I said, 'It's more than enough.' I thanked him and headed for the car and still no Joe, so I proceeded to return to Buffalo."
When Mr. Merlo told this story to his fiancee's family a few years later, they greeted it with disbelief. To prove it, he reserved a table for them at a club in Batavia when Martino was going to perform.
"The music started," Mr. Merlo recalled, "and the opening number was one of Al's hit songs at the time. A theatrical spotlight followed Al as he glided so gently from table to table singing to all the women, mesmerizing them with his voice. As he approached our table, the room was in a trance. ... Suddenly, Al caught my eye, he stared at me for a second and said to the band, 'Stop the music.' He turned to me and gently said, 'You owe me $40.'
He smiled and picked up where he left off, not missing a note. ... After the show, Al came to the table and I introduced him to my future in-laws. Needless to say, I repaid the $40 he lent me and he thanked me."
Survivors include two daughters, Christine Ruffino and Michelle Merlo; his longtime companion, Susan R. Adelman, president of Servey Service, a research and testing company; her children, Deny Adelman and Alyson Wells; his two grandchildren and her four grandchildren.
A Mass of Christian Burial was offered July 8 in St. Mary's Catholic Church, Swormville.