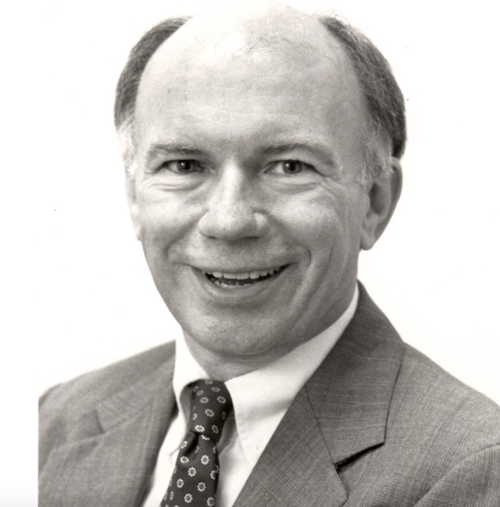 May 24, 1932 – March 16, 2021
Thirty years ago, Peter Wendel left his family engineering business to become an adviser, mentor and consultant, helping people visualize and realize their dreams.
With that career change, he became an example for the people he would help.
Educated as a civil engineer, Mr. Wendel went directly into the family business, Wendel Engineers, after leaving the Navy. He became president in 1973 and expanded and diversified the business, taking on partners.
In 1989, he sold Wendel Architects and Engineers to his partners and founded the Peter Wendel Group, later named Life-Work-Transitions. Mr. Wendel helped people plan and implement deliberate changes to, he wrote, "move into a new chapter of their lives."
Mr. Wendel, of Lockport, died in Mercy Hospital, where he had been a patient for 12 days. He was 88.
Mr. Wendel never retired, and the day after his unexpected death, his son Chris was taking calls on his father's business phone from people he had been mentoring. "They're taking it very hard," said Chris Wendel.
Mr. Wendel was an enthusiastic, lifelong booster of Western New York. In a 1997 letter to The News, he suggested that people imagine gathering with others from all over the area to discuss "How do you want Western New York to be in 2020?"
Eventually, he predicted, "there would emerge ideas in which we'd find some common threads; areas of agreement and shared aspirations. Over time, our shared vision would take shape.
"Then we could begin the journey with our shared vision as the standard by which we choose our actions, focus our resources and measure our results."
"Western New York was his home; he was always very bullish about the potential of Western New York," said Tim Wendel. "And he was everywhere."
Mr. Wendel was born in Lockport, the oldest child of Leon H. Wendel and Ethel Bundy Wendel. A 1950 graduate of Lockport High School, he earned a bachelor's degree in civil engineering from the University of Michigan in 1954.
In Ann Arbor, he also met Jane Harry. They married on April 2, 1955, in Flint, Mich.
He served as an engineering officer in the U.S. Navy from 1954 to 1957, then returned to Lockport and joined the engineering firm his father had founded in 1940. "The call came from his father, 'Come back home, I need your help,' " said Tim Wendel.
Mr. Wendel worked in several positions at the firm, then was named president in 1973. He transformed the company from a 12-person land surveying and municipal engineering group to a nationally recognized firm that now has 15 offices and more than 300 employees.
"His philosophical approach to management and his personal style contributed to the success the firm enjoys today," Anthony McKenna, a former managing partner, said in a statement.
With the Peter Wendel Group, Mr. Wendel assisted business owners in transition – including retirement, sale or transfer to partners or family.
"He was much more into management, organizations and team-building," said Tim Wendel.
Mr. Wendel was a founding board member and past president of Leadership Niagara, serving from 1983 to 1992. He received the group's Leader of the Year Award in 1994.
He was named Citizen of the Year by the Lockport-Eastern Niagara Area Chamber of Commerce and received the Lockport Jaycees' Distinguished Service Award.
Mr. Wendel served on the board of the Niagara USA Chamber of Commerce from 2007 to 2016 and of the Niagara Erie Regional Coalition from 1998 to 2013.
He was an active member of the Western Economic Development Corp., the University at Buffalo's Center for Entrepreneurial Leadership, the Niagara County Community College Scholarship Foundation, the Red Cross of Eastern Niagara County, the Eastern Niagara United Way, the Lockport Chamber of Commerce and the Rotary Club of Lockport.
For more than eight years, starting in 2007, he was chair of Vistage International, previously known as the Executive Committee. He gathered local CEOs for a full day each month to discuss both business and personal challenges, in addition to one-on-one meetings.
An avid sailor on Lake Ontario, Mr. Wendel was a former commodore at Olcott Yacht Club and a board member of the Lake Yacht Racing Association.
"Working with people makes me happy," Wendel once said. "I like to be in a situation where I'll help people and organizations grow. Then, I'll go sailing."
His son, Eric, 10, died of leukemia in 1973; Tim Wendel told his brother's story in his book, "Cancer Crossings: A Brother, His Doctors and the Quest for a Cure to Childhood Leukemia."
Mr. Wendel is survived by his wife of 65 years, Jane; three sons, Tim, Chris and Bryan; two daughters, Susan Och and Amy Foster; a sister, Lynn Copp; 11 grandchildren; and three great-grandchildren.
A memorial service will be scheduled for later this year.