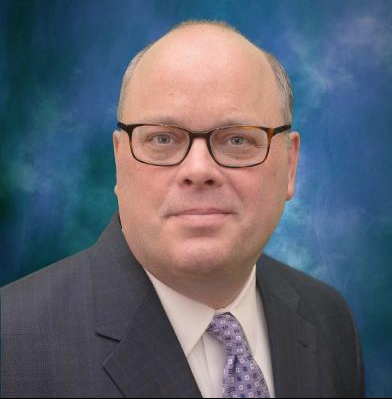 Sept. 25, 1963 – Dec. 27, 2020
As executive director of the Buffalo Niagara Convention Center, Paul W. Murphy excelled in "a very stressful business with lots of moving parts and pressure to perform," said Patrick Kaler, president and CEO of Visit Buffalo Niagara.
But it was the attitude he brought to the challenges of such large events as the World's Largest Disco, The Turkey Trot, the Home Show and the Auto Show – his "soothing and reassuring presence," Kaler said – that distinguished his work. "Our customers loved him for it," Kaler said.
Mr. Murphy died in his Buffalo home, surrounded by his family, after being diagnosed Aug. 30 with end-stage cancer. He was 57.
"He was a humble man, and so kind," said his wife, Kim Murphy. "Everyone who knew him loved him."
"Our hearts are heavy today with the news of the passing of longtime friend and colleague Paul Murphy, a member of our Erie County family and a man who positively impacted the lives of thousands of visitors to our area annually," Erie County Executive Mark C. Poloncarz said in a statement.
"Paul's staunch advocacy for Buffalo and belief in Western New York infused and energized his work while his great attention to detail made him a terrific team partner and planner, with a dry sense of humor and warm manner that put people at ease and made working with him a joy," Poloncarz said.
On Mr. Murphy's 57th birthday, Buffalo Mayor Byron W. Brown signed a proclamation naming Sept. 25, 2020 as Paul Murphy Day in the City of Buffalo.
The focus of Mr. Murphy's life was his dedication to his wife of 31 years, Kim, and their three daughters, Natalie, Tara and Ella, his family said. Described by his family as "a proud girl dad," he celebrated all his daughters' important milestones. 
"Paul and I made a conscious decision to put our girls even before each other, and we did," Kim Murphy said.
In the months after his diagnosis, when he was cared for by Roswell Park Comprehensive Cancer Center, Willcare, Home Connections and Hospice Buffalo, Mr. Murphy spent many hours in the company of his family. They shared stories, reminisced about their lives together and relived many experiences captured in hundreds of photos.
In his final months, he was able to enjoy walks in his neighborhood, a weekend in Ellicottville and a special backyard Mass said by the Rev. Pat Keleher with his wife, daughters, siblings and close friends.
Mr. Murphy was born in Lockport, a son of Lucille Tumulty Murphy and Matthew J. Murphy, who served nine terms in the state Assembly and was known as an avid promoter of tourism.
Paul W. Murphy was a 1981 graduate of DeSales Catholic High School. He earned an associate's degree in Hotel Management from SUNY Delhi in 1983 and a bachelor's degree in Hospitality Science from Florida International University in 1985.
He and Kim Sanders met in their native Lockport as teenagers after she took a driver's education class with three of his friends. They married on Aug. 3, 1989, in St. John the Baptist Church in Lockport.
After working in Niagara Falls and New York City, Mr. Murphy worked from 1998 to 2001 as general manager of the Beaver Hollow Conference Center in Java Center, then in 2001 started work at the Buffalo Niagara Convention Center, where after a month he was named executive director.
While excelling in his busy and demanding career, Mr. Murphy focused on "their family's unbreakable bond and unconditional love," his family said.
He enjoyed family dinners, both at home and at restaurants, summer days in the backyard pool, and trips to explore new cities and landmarks. He enjoyed traveling with his family, including to Miami, Disney World, Mexico, the Dominican Republic, Seattle, Vancouver, California and Hawaii, where he and his wife celebrated their 30th anniversary. He also loved to visit his high school and college friends and loved to attend film openings, museums and concerts.
He was deeply interested in the opportunities offered in Western New York, "which he proudly and passionately promoted," his family said.
Mr. Murphy was a member of St. Mark Church in Buffalo.
Mr. Murphy was also an avid Buffalo Sabres and Bills fan, who loved attending games with his brothers and friends.
Besides his wife, Mr. Murphy is survived by his three daughters, Natalie, Tara and Ella Murphy; three brothers, Matthew, John and Patrick Murphy; and three sisters, Jean Murphy, Barbara DeSimone and Diane Revelas.
Private funeral services will be held, and a Mass and celebration of Mr. Murphy's life will be planned for a later date.